Counties in Texas and Arizona have both ordered refrigerated trucks to operate as makeshift morgues amid rising death rates connected to each state's spikes of new COVID-19 infections.
As of July 14, Texas ranks fourth and Arizona ranks seventh among the U.S. states with the highest number of COVID-19 cases—Texas has had 3,331 coronavirus-related deaths overall and Arizona has had 2,341. Over the last seven days, Texas has averaged 82 deaths a day and Arizona has averaged 62—both marked increases from all previous weeks.
In Texas, the counties of Austin, Cameron, Hidalgo, Nueces and Travis have all ordered refrigerated trucks. But while Cameron reportedly purchased a 53-foot refrigerated trailer in anticipation of a coming death-surge, the morgue in Nueces is already at full capacity, according to the Texas Tribune.
"We have seen very few deaths for the first few months of the pandemic, so the FEMA trailer was placed in another city. But the need is here now," said Nueces County Medical Examiner, Dr. Adel Shaker.
In Arizona, both Abrazo and Banner Health—two hospital systems located in Maricopa County, the county containing Phoenix—have made preparations to obtain refrigerated trucks.
"Our planners at Unified Command are moving toward acquiring coolers and staffing because the Office of the Medical Examiner is currently near capacity for body storage," the Maricopa County Medical Examiner's Office said in a statement. "This is a situation that occurs almost every summer and is further complicated by the current pandemic."
According to FOX 10, Arizona state hospitals are hovering around 90 percent capacity for admitting new patients. FOX 6 reports that the number of deaths could be higher than Arizona's current infection rate suggests, due to a continued lack of widely available COVID-19 testing and the virus's ability to reside in humans without any symptoms.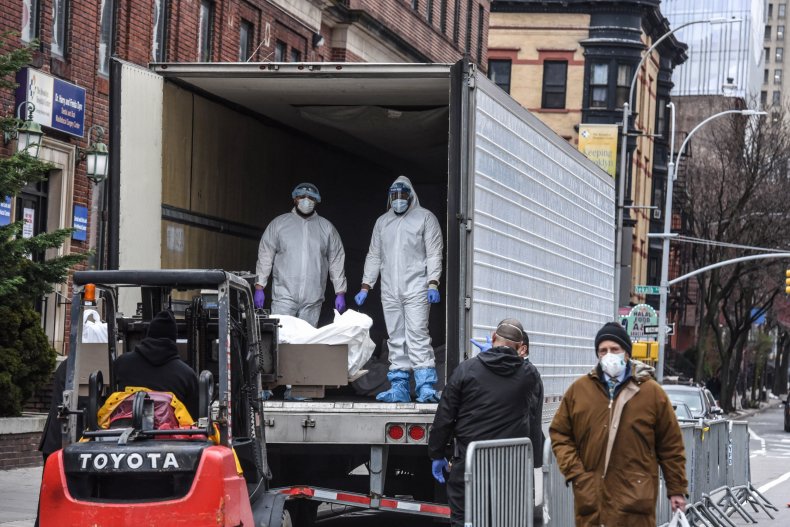 In mid-June, Arizona's Republican Governor Doug Ducey said he wouldn't require mask use in the state. By the end of the month, Arizona set a single-day record for new COVID-19 cases and hospitalizations. As of July 8, more than one in four COVID-19 tests in Arizona have come back positive, and the state's hospitals' intensive care units (ICUs) are 91 percent full.
On Sunday, Arizona reported 3,858 new cases of the virus. On Monday, Ducey paused his state's reopening strategy and called for the closure of bars, nightclubs and water parks for 30 days.
Last Friday, the Republican Governor of Texas, Greg Abbott announced that a medical team from the U.S. Department of Defense (DOD) would be deployed to the Houston area to provide additional hospital support.
The DOD task force would join seven other federal Disaster Medical Assistance Teams (DMAT) announced for deployment in Austin, Dallas, El Paso, Houston, Laredo, McAllen and San Antonio.
Hospitalizations continue climbing in Texas, reaching 10,002 last Friday, the highest level recorded since April 4, according to the Texas Department of State Health Services (DSHS).