Hillary Clinton Gets Help Choosing a Running Mate on 'Ellen'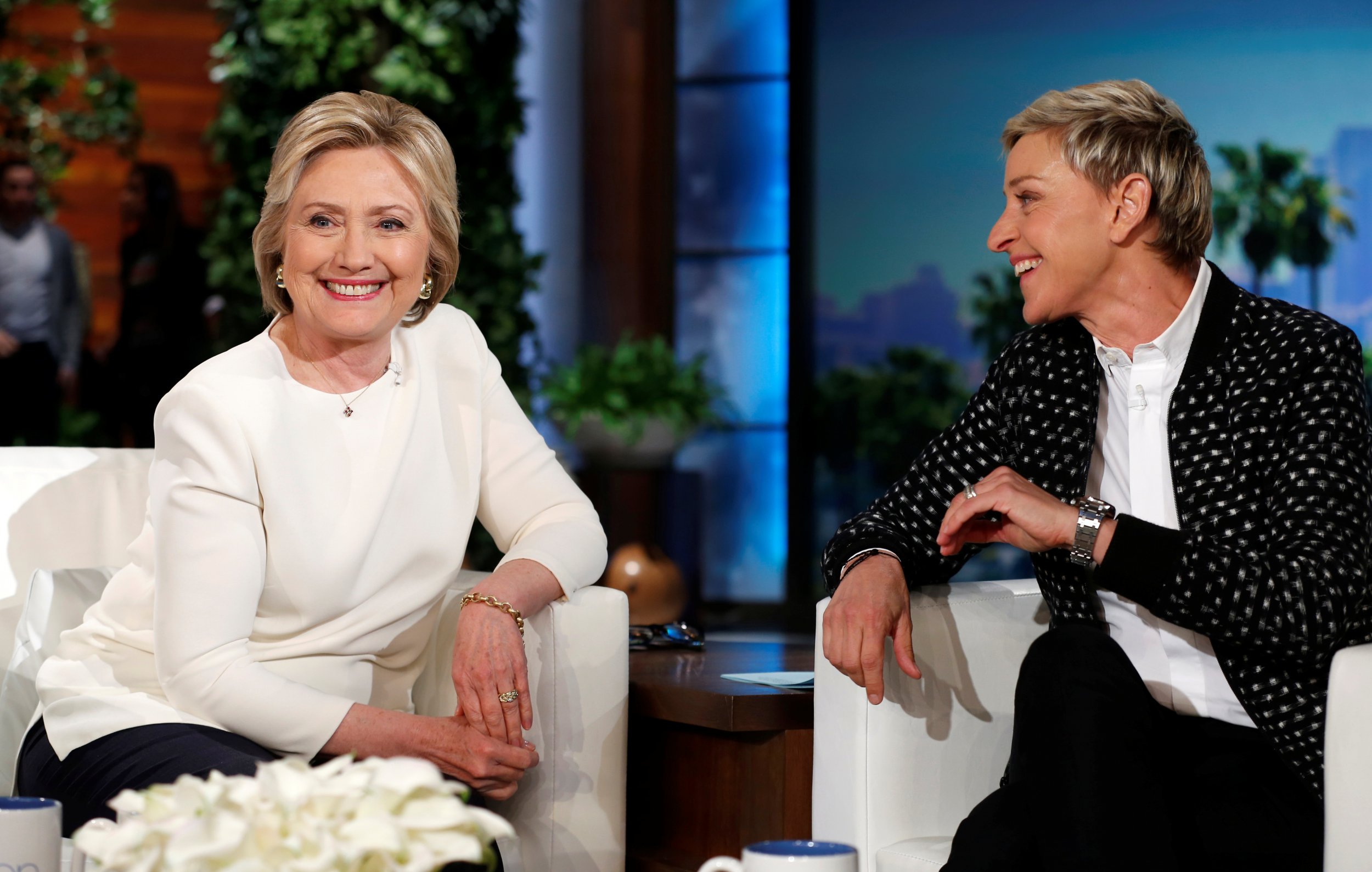 Comedian Ellen Degeneres pressured Hillary Clinton to choose a vice presidential candidate in a game of "Who'd You Rather" on Wednesday's episode of The Ellen DeGeneres Show.
As the former secretary of state inches closer to claiming the title of the Democratic presidential nominee, the media have speculated about her possible veep picks. As a guest on Ellen, she was shown a split-image of two individuals and had to choose who she would hypothetically pick as a running mate. Scandal star and political activist Tony Goldwyn won most significantly over her rival, Bernie Sanders, and Vice President Joe Biden.
"This is very helpful," Clinton said. "Don't tell anybody because we want it to be a big surprise." Later, she favored First Lady Michelle Obama over DeGeneres and her own daughter, Chelsea Clinton. The daytime talk show host previously endorsed Clinton, saying she stands "for everything that I want in a president."
Clinton's appearance was seemingly an attempt to reach out to women voters before the slew of upcoming primaries on June 7. Donald Trump, the presumptive Republican nominee and Clinton's likely opponent in November, has accused Clinton of "playing the woman's card" to gain support. He also says, "Nobody has more respect for women than me," despite his involvement in a nine-month feud with Fox News anchor Megyn Kelly, who had challenged him on his comments about women during the first GOP debate in August.
"I would need a lot more information based on what I hear him say, because he has been very derogatory toward all kinds of women…. I'm sure there is somebody, somewhere that he might be good for," Clinton said, to chuckles from the audience gathered in the Burbank studio. "But I think overall there is just no evidence that he has an understanding of what women's lives are like today."
Clinton also spoke briefly about Sanders, against whom she is running against during the upcoming primaries. "He has to do what he chooses to do. I understand that," she said, explaining how she ran until the end in 2008 against then-Senator Barack Obama. She added that she thinks the Vermont senator eventually will withdraw from the race and throw his support behind her.
Clinton previously appeared on Ellen—dancing the whip and nae nae—last September. She filmed her third and most recent interview Tuesday in between campaign stops in California, which will hold its crucial primary in less than two weeks on June 7. The full interview aired Wednesday at 4 p.m. ET, in the same episode as the all-women cast of the new Ghostbusters.