House Republicans Share Jack Sparrow GIF After Johnny Depp Trial Victory
After a jury ruled in favor of Johnny Depp in his defamation trial against ex-wife Amber Heard on Wednesday, House Republicans shared a GIF depicting the actor in one of his most iconic roles.
House Judiciary Republicans tweeted a brief clip of Depp as the character Captain Jack Sparrow in the first installment of the Pirates of the Caribbean film series. No caption was included in the tweet.
The scene shown in the GIF marks Depp's first appearance as Sparrow in the film. Notably, though it isn't apparent in the clip, he is standing atop a sinking ship and steps off the vessel onto a dock just before it goes completely under.
It was not immediately clear why the House Judiciary Republicans shared the clip, but the high-profile and controversial trial has gained national attention in recent weeks. Depp was awarded $15 million in damages by the jury, though the judge adjusted the $5 million he was specifically awarded in punitive damages to $350,000, while Heard was also awarded $2 million in compensatory damages from her countersuit against Depp. The trial lasted about six weeks, and jury deliberations took a little more than half a day.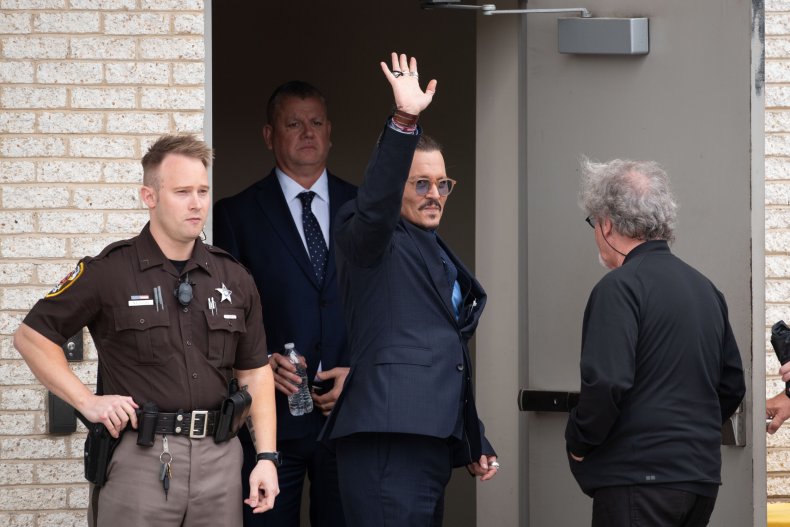 Heard was found liable for defaming Depp in an op-ed published by The Washington Post where she described herself as "a public figure representing domestic abuse," even though the article never mentioned Depp by name. Depp has also accused Heard of domestic abuse, allegations that were explored during the long trial.
In a statement, Heard said that she was "heartbroken" by the decision and "disappointed" by what it means for other women.
"It is a setback," the statement read. "It sets back the clock to a time when a woman who spoke up and spoke out could be publicly shamed and humiliated. It sets back the idea that violence against women is to be taken seriously."
Depp, who was not present in court on Wednesday, said in a statement after the trial outcome was read that "the jury gave me my life back."
"From the very beginning, the goal of bringing this case was to reveal the truth, regardless of the outcome. Speaking the truth was something that I owed to my children and to all those who have remained steadfast in their support of me," he said. "I feel at peace knowing I have finally accomplished that."
Depp has taken aim at so-called "cancel culture" in the past, Deadline reported, and so have Republicans.
GOP Representative Jim Jordan, who serves as a ranking member of the House Judiciary Committee, used the term when coming to the defense of fellow Republican Representative Marjorie Taylor Greene of Georgia after she was stripped of House committee assignments over controversial views and comments, NPR reported.
"Everyone has said things they wish they didn't say. Everyone has done things they wish they didn't do," Jordan said. "So who's next? Who will the cancel culture attack next?"
Newsweek reached out to House Judiciary Republicans for comment.
Update 06/01/22, 6:00 p.m. ET: This story was updated with additional information and background.