Lauren Boebert walked back denials her spokespeople initially made about her vaping during a theater show last week after a longer surveillance video was released.
The congresswoman, a Republican from Colorado, was escorted out of the Beetlejuice show in Denver on September 10, clips later released showed. The venue said it followed complaints of vaping, singing, using phones and causing a disturbance.
Extended footage released later appeared to show she and a male companion were touching each other intimately during the Beetlejuice show in Denver.
Here's what happened when...
Tuesday, September 12
The Denver Post breaks the story that Boebert was kicked out of a performance of the Beetlejuice musical at the Buell Theatre, Denver, the previous Sunday.
An incident report from the theater's operator, Denver Arts & Venues, obtained by journalists, stated that two patrons, who were not named, were asked to leave the theater after being issued with a warning during the intermission about their behavior, which had prompted multiple complaints from other theatergoers.
Boebert appeared to respond to the incident, admitting in a post on X, formerly Twitter, to "laughing and singing too loud."
"It's true, I did thoroughly enjoy the AMAZING Beetlejuice at the Buell Theatre and I plead guilty to laughing and singing too loud," she said in the post. "Everyone should go see it if you get the chance this week and please let me know how it ends!"
Theatre officials had said at least three other patrons and several ushers noticed Boebert and her companion vaping and using cell phones. They were warned again and told that they "need to be respectful to their neighbors."
According to the incident report, about five minutes into the musical's second act, a theater official radioed that there had been another complaint about the patrons "being loud" and using their phones to record. At that point, staff called the Denver Police Department and the theater's security manager was asked to escort the patrons out.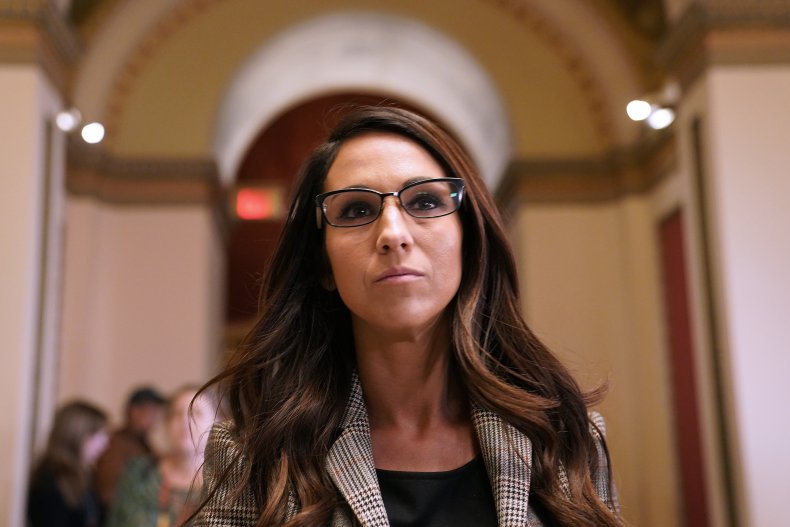 They refused to leave, the theater officials said, and were informed if they did not that they would be trespassing. After arguing with staff, they left "on their own" but became combative again in the vestibule, the report added.
The theater worker recorded that: "I speak to the patrons in the vestibule, again telling them they have to leave the property and they argue.
"They say stuff like, 'Do you know who I am?' 'I am on the board.' 'I will be contacting the mayor.'"
Wednesday, September 13
Surveillance footage is released of Boebert being escorted out of the theater. Videos, up to just over four minutes in length, were shared by the theater's operator.
The clips show Boebert and a male companion sitting next to the aisle when they are approached by two members of staff.
After a discussion, the pair leave their seats and are directed out of the auditorium by two men wearing earpieces. The footage ends with Boebert and her friend walking away from the theater outside while holding hands.
At one point in the footage, Boebert appears to raise a finger at the two men who are escorting her outside. One X user suggested the congresswoman was "flipping security the bird," though this was not immediately clear in the footage.
Boebert's campaign manager confirmed Boebert was kicked out but denies she was vaping, blaming claims about vaping on heavy fog machines and electronic cigarettes used during the play.
"I can confirm the stunning and salacious rumors: in her personal time, congresswoman Lauren Boebert is indeed a supporter of the performing arts (gasp!)," Drew Sexton told The Post. He said Boebert "pleads guilty to singing along, laughing and enjoying herself," adding that the congresswoman encourages people to go see the musical.
Friday, September 15
New footage reveals that Boebert was vaping inside the theater.
In CCTV footage, Boebert can be seen talking with a male companion and vaping. Further footage shows the congresswoman dancing and using her phone to take photos of the performance.
Boebert was identified in the video by The Post.
Saturday, September 16
Boebert issued an apology after the video of her vaping and taking photographs was revealed, contradicting her spokesperson's previous claim.
In a statement, the House Republican said she "fell short of my values" and "genuinely did not recall vaping that evening," adding: "That's unacceptable, and I'm sorry."
Footage also appears to show Boebert being groped by a male companion, and groping him in return, though this wasn't referenced explicitly in her apology. The video appeared to show Boebert's breasts being groped by a male companion, with her reaching for the area around his groin in return.
Boebert receives criticism because of the footage, having previously decried drag queens for "sexualizing public spaces."
In her statement, the Colorado politician said: "The past few days have been difficult and humbling, and I'm truly sorry for the unwanted attention my Sunday evening in Denver has brought to the community. While none of my actions or words as a private citizen that night were intended to be malicious or meant to cause harm, the reality is they did and I regret that."
Boebert added: "There's no perfect blueprint for going through a public and difficult divorce, which over the past few months has made for a challenging personal time for me and my entire family. I've tried to handle it with strength and grace as best I can, but I simply fell short of my values on Sunday. That's unacceptable, and I'm sorry."
The congresswoman announced in May that she had filed for divorce from her husband of 18 years, Jayson Boebert.
Boebert added that she genuinely did not recall vaping during the performance before the video was released: "Whether it was the excitement of seeing a much-anticipated production or the natural anxiety of being in a new environment, I genuinely did not recall vaping that evening when I discussed the night's events with my campaign team while confirming my enthusiasm for the musical.
"Regardless of my belief, it's clear now that was not accurate; it was not my or my campaign's intention to mislead, but we do understand the nature of how this looks. We know we will have to work to earn your trust back and it may not happen overnight, but we will do it," Boebert said.
Sunday, September 17
Boebert's date as seen in the film footage and reported on is identified as Quinn Gallagher, a co-owner of Hooch Craft Cocktail Bar.
Reports noted that Gallagher's bar has hosted drag nights and gay-friendly events despite Boebert's history of opposing LGBTQ+ rights in Congress. She has promoted the narrative that members of the LGBTQ+ community are "groomers," a term critics say baselessly associates the community with pedophilia.
Boebert has not addressed her link to Gallagher. Following the news, Gallagher's bar was flooded with negative reviews on social media, pointing out the dissonance between its hosting of gay-friendly events and its owner's choice to spend time with a prominent anti-LGBTQ+ politician.
Some conspiracy theorists begin to suggest, without evidence, that the date was a Democratic set-up intended to undermine the Colorado representative.
Boebert appears on One America News on Sunday evening, telling viewers: "I was a little too eccentric. I'm very known for having an animated personality, maybe overtly animated personality. I was laughing, I was singing, having a fantastic time.
"Was told to kinda settle it down a little bit, which I did, but then my next flip up was taking a picture."
And she denied that she had been argumentative or had threatened to contact the mayor.
"There's reports saying I was arguing, threatening to call the Denver mayor—I don't know why I would ever call the Denver mayor, I think he would have tried to lock me up," she said.
What Happens Next?
Boebert has still not commented specifically on her relationship with Gallagher, nor the seeming distance between some of her political views and the communities his bar has invited.
Nor has she addressed the footage which appears to show her being intimate in the theater. Under Colorado law, public indecency is committed when a person performs certain acts in a public place, or in a place where the public is likely to see, including lewdly fondling or caressing another individual.
A spokesperson for the Denver District Attorney's Office told Newsweek via email on Monday however that it has no plans to charge Boebert.
Newsweek reached out to Boebert via email for comment.