How Marianne Williamson, RFK Jr. Compare to Biden on 6 Key Issues
President Joe Biden and his Democratic challengers, Marianne Williamson and Robert F. Kennedy Jr., are taking different stances on a wide range of issues ahead of the 2024 primary election.
All three candidates have put forward their plans to deal with inflation, with Williamson, an author who ran for president in 2020, calling for "fundamental economic reform."
While Biden and Williamson support aid for Ukraine amid Russia's invasion, Kennedy Jr., an environmental lawyer, has taken a more critical tone with regards to Biden's leadership.
President Joe Biden's Democratic challengers are differentiating themselves on key issues including the economy, the Russia-Ukraine war, and transgender rights ahead of the Democratic primary.
Biden announced in April plans to run for reelection, despite concerns from some Democrats about his age and electability. He remains the frontrunner in the primary, but has drawn two major challengers–former presidential candidate and author Marianne Williamson and environmental lawyer Robert F. Kennedy Jr., a member of the Kennedy political dynasty.
Biden's opponents have broken from him over key aspects of his agenda as they work to win over Democratic voters skeptical of another Biden term. Williamson positioned herself to Biden's left, while Kennedy Jr. has aligned himself with conservatives over some cultural issues, including his skepticism surrounding the COVID-19 vaccine.
Both campaigns are viewed as long-shots, however, and Biden remains heavily favored to snag the nomination. Incumbent presidents rarely lose primaries, but polls show many Democratic voters are vying for a Biden alternative.
Here is an overview of where each Democratic candidate stands on key issues facing voters ahead of the 2024 election.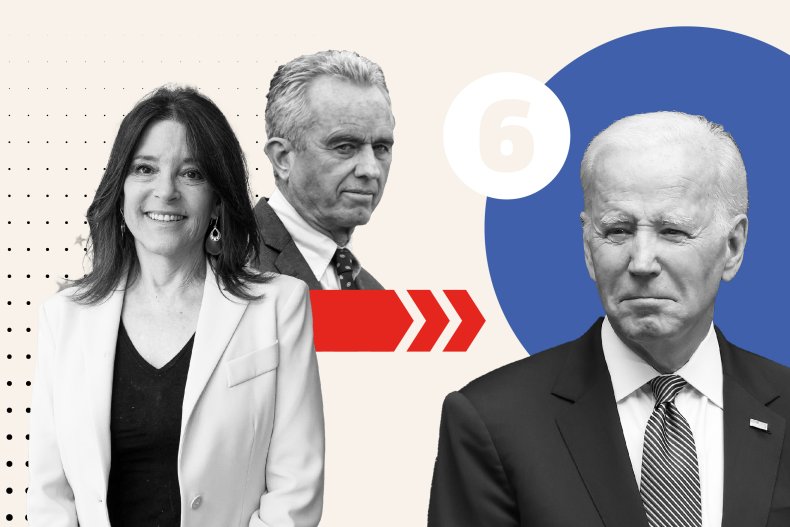 Inflation and the Economy
The economy is a major issue in the Democratic primary, with Biden facing criticism from both his right and left over his handling of myriad issues including inflation and high gas prices. Biden has sought to tie inflation to the COVID-19 recovery and the economic fallout from the Russia-Ukraine war.
He has highlighted his administration's efforts to combat high inflation, including the Inflation Reduction Act of 2022, a bill he signed into law that proponents say would reduce inflation through corporate taxes and IRS enforcement while also investing in areas like climate change and health care. Democrats have praised the legislation for investing in progressive priorities while also tackling inflation, the rate of which has decreased in recent months.
Williamson, however, blamed inflation on "price gouging" by corporations in an April 2022 interview with MarketWatch. She has also supported stronger regulations to reign in corporate rule in the United States.
"All of those CEOs should testify before Congress and talk about the ways that they have—for the sake of their own profits—gouged the American people, particularly at such a time as this. And this is what happens when we normalize such a lack of conscience and such a lack of ethics within our system," she said.
Beyond inflation, Williamson called for "fundamental economic reform" in a previous interview with Newsweek. She said she supports wide-reaching economic policies including universal health care, tuition-free higher education and tech schools, free child care, paid family leave, sick pay, and a guaranteed living wage.
Kennedy Jr. has also made reigning in corporate rule a cornerstone of his campaign. During an April appearance on Tucker Carlson Tonight, he said corporate power is turning the U.S. into a "corporate kleptocracy."
"There's a cushy socialism for the rich and this kind of brutal, merciless capitalism for the poor. It keeps us in a state of war. It bails out banks at the same time," Kennedy Jr. added.
He also criticized Biden's reassurance that the banking system is "safe and sound" after First Republic Bank failed earlier in May. He tweeted, "Today, bank stocks are crashing. The American people deserve more than glib assurances and perception management."
Kennedy Jr.'s campaign website also highlights his economic focus on "revitalization," including support for rebuilding industrial infrastructure that he says has been "ruined" by free-trade agreements, policies to support small and medium-sized businesses, and breaking up "too-big-to-fail" banks and monopolies.
The Russia-Ukraine War
The Russia-Ukraine war continues dominating U.S. foreign policy. The Biden administration has overseen the supply of billions of dollars worth of weaponry and aid to Ukraine, who has been fighting Russian forces since last February. A key ally to Ukrainian President Volodymyr Zelensky, Biden has also offered sharp criticisms against Russian President Vladimir Putin.
"When Putin launched his invasion nearly one year ago, he thought Ukraine was weak and the West was divided," Biden said in February. "He thought he could outlast us. But he was dead wrong."
However, Kennedy Jr. has broken from Biden's Ukraine policy, blaming the war on Zelensky's refusal to say Ukraine would not join the North Atlantic Treaty Organization (NATO). He has also accused the White House of trying to prolong the war, calling on the U.S. to broker peace to end the ongoing conflict, rather than continuing the supply of aid.
"My understanding of the war is that Zelensky is pushing this war as hard as he can, but that the neocons in the White House want this war. They want regime change with the Russians," Kennedy Jr. said in a recent interview with the podcast All In, adding that Biden's goals is the "opposite of a humanitarian mission."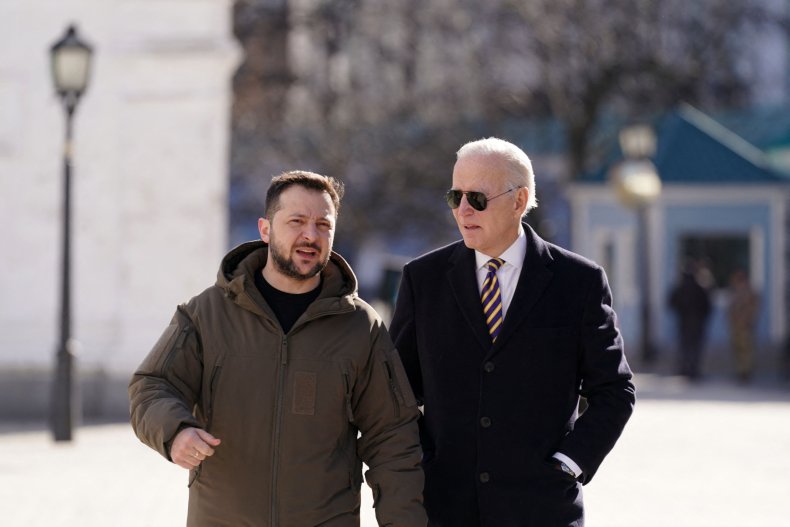 Williamson, who notably called for a U.S. Department of Peace and has been critical of the U.S. foreign policy establishment, has been more supportive of Biden's approach to the Russia-Ukraine war. She wrote in a February Substack post that the U.S. "should not give Vladimir Putin a pass on perpetuating an imperialistic war."
With regard to aid, Williamson said she does not support giving Ukraine a "blank check," but does believe the U.S. should continue giving it support "to push back an aggressor who would end its sovereign right to exist."
"The battle for America's economic soul exists separately, though tangentially, to our foreign policy demands. Franklin Roosevelt passed the New Deal and he led us through World War II," she wrote.
Abortion
Abortion remains a top priority for Democratic voters after the U.S. Supreme Court overturned Roe v. Wade, the landmark decision that guaranteed reproductive rights across the country, last June. After the decision was overturned, many Republican-led states quickly moved to place restrictions around or pass outright bans on the medical procedure.
Biden and Williamson have positioned themselves as strong advocates for abortion rights, with Williamson's campaign website describing her as "one hundred percent pro-choice."
Biden highlighted his stance on abortion during his campaign announcement, accusing "MAGA Republicans" of trying to dictate "what health care decisions women can make."
Kennedy Jr., however, has not made recent remarks about abortion, nor does his campaign site clarify his position on reproductive rights. When reached by Newsweek, a campaign spokesperson said Kennedy Jr. "believes strongly in the principle of bodily autonomy, whether the issue is abortion or medical mandates."
"He will keep government away from women's childbearing choices. The moral issues are best left to the woman, her family, and her religious community," the spokesperson added.
Immigration and Border Control
All three candidates have embraced different plans to tackle immigration and border control. Biden has sought to establish a more humanitarian-focused approach to immigration than his predecessors. He supported letting Title 42, a pandemic-era immigration policy that allows the U.S. to return migrants to their home countries without the former asylum process, expire.
In January, Biden announced several new immigration policies, including an increase of the use of expedited removal, the tripling of refugee resettlement from the Western Hemisphere, increasing humanitarian assistance in Mexico and Central America, and a surge in resources to the U.S.-Mexico border.
He has also introduced a policy crackdown last month that could disqualify a vast majority of migrants from being able to seek asylum at the southern border, sparking criticism from some progressives.
Meanwhile, Kennedy Jr. has recently knocked Biden's immigration policies, criticizing him for not closing the border.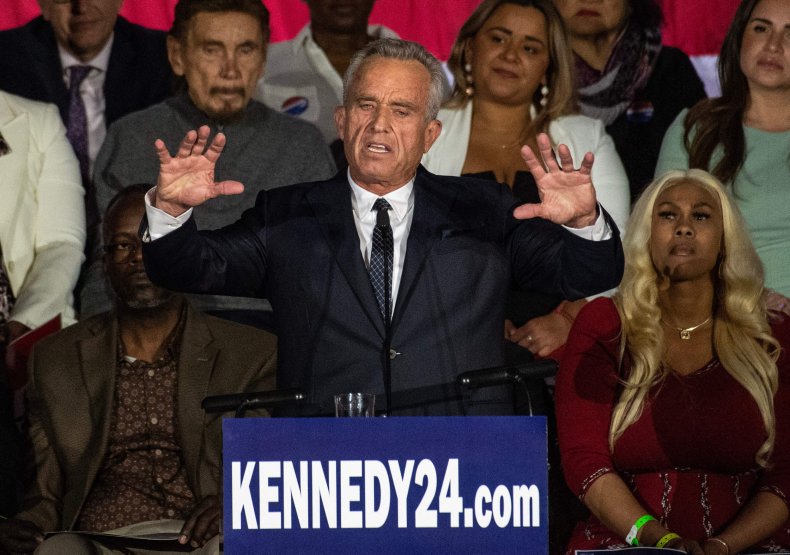 "It's not racist or insensitive to say that we need to close our borders and have an orderly immigration policy. I would expand legal immigration to this country that's orderly, that makes sense for our country, but also that our borders are impervious," he said, according to the New York Post.
He also tweeted that he would change U.S. policy in Central America, including ending the "War on Drugs" and "neoliberal extraction of resources," which he said "create desperate conditions south of the border" that compel migrants to seek to immigrate to the U.S.
Williamson has pledged support for comprehensive immigration reform, an expansion of the number of visas available to immigrants, and an end to family separation among her priorities to tackle immigration. She also supports abolishing U.S. Immigration and Customs Enforcement (ICE) and replacing it with an Office of Citizenship, Refugees, and Immigration Services under the Department of Labor.
"I support legislative reforms that include a full path to citizenship for undocumented immigrants who do not have serious criminal background issues. I would also work to reduce the cost of naturalization and increase resources to help people navigate that process more easily. Furthermore, our foreign policy should seek to ensure economic stability in other countries so that people do not want to seek economic refuge in the United States," her campaign website reads.
Transgender Rights
Transgender rights are a hot-button social issue, with Republican-led legislatures passing laws targeting transgender rights, including restrictions on access to gender affirming care for transgender youth and limiting the ability to discuss gender identity in schools.
Biden has voiced support for transgender rights, but has faced some scrutiny from LGBTQ+ advocates over his plan for transgender athletes in high school sports. His administration unveiled changes to Title IX that "recognizes that in some instances, particularly in competitive high school and college athletic environments, some schools may adopt policies that limit transgender students' participation."
Williamson has called for more protections for the LGBTQ+ community, including for transgender individuals. She supports declaring transgender murder and suicide rates a national emergency, legislation requiring police departments to "ensure fairer interactions with transgender people," and implementing LGBTQ+ inclusive public education, according to her campaign site.
Kennedy Jr., however, has broken from most Democrats on one key issue surrounding transgender rights. He told CNN in April that he is "against people participating in women's sports who are biologically male." He has not weighed in on other issues affecting the transgender community.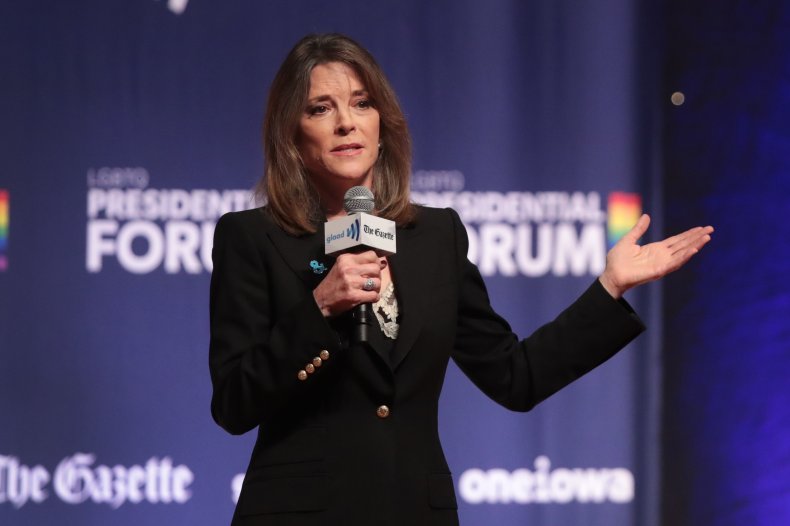 Health Care
Biden, during his 2020 presidential campaign, backed policies protecting and expanding the Affordable Care Act, passed under former President Barack Obama. He also expressed support for a public option, but has not embraced calls for single-payer health care, also known as "Medicare for All," from some progressive Democrats.
The Inflation Reduction Act, viewed as Biden's signature legislation, also allowed Medicare to negotiate some drug prices in an effort to lower costs for consumers.
Kennedy Jr., who has faced scrutiny over his stance on COVID-19 vaccinations, has highlighted efforts to fight "chronic disease" as his health care policy, per his campaign website.
"A Kennedy administration will go beyond making existing modalities available to all, to include low-cost alternative and holistic therapies that have been marginalized in a pharma-dominated system. We will move from a sick care system to a wellness society," his campaign reads.
Meanwhile, Williamson has called for an overhaul of the country's health care system, including pivoting to a "Medicare for All" system, which she says will "end the incredible amount of waste in our health care system." Her plans also include expansion to long term health care, requiring health professionals to inform patients of different treatment options, and support for the government to negotiate drug prices.
Update 05/15/2023 3:48 p.m. ET: This story was updated with additional information from Kennedy Jr.'s campaign spokesperson.