Meghan Markle was the subject of a review into allegations she bullied her staff, and the findings could have blown up whichever way they pointed.
An email leaked to U.K. broadsheet The Times days before Prince Harry and Meghan's Oprah Winfrey interview last year suggested the Duchess of Sussex bullied two personal assistants out of the royal household. Buckingham Palace announced it would "look into" the allegations and said workplace bullying would not be tolerated.
However, The Sunday Times reported the findings will now not be published.
The revelation led to social media speculation that the review had been kept quiet because it exonerated Meghan.
However, its publication ran the risk of triggering a new war in which both sides may have gone into battle whatever the findings.
Many of the staff who worked for Meghan at the time are no longer employed by the palace and may have stories to tell that have not yet been printed.
While they will likely be on non-disclosure agreements, there is no guarantee they would not leak to the media if they felt Meghan had been unfairly exonerated.
On the other hand, Meghan has made it clear through a friend that she kept "receipts" and felt one employee in question had to leave due to "gross misconduct."
It is still not clear what the individual was accused of, meaning there are also allegations against palace staff that have not yet been made public.
Janina Gavankar, a friend of Meghan's, told U.K. network ITV in March 2021, days after the Winfrey interview: "I can also say that I'm personally glad that people are doing their due diligence because I also know why someone had to leave and it was for gross misconduct. The truth will come out. There's plenty of emails and texts about that."
A royal source Newsweek spoke to at the time summed up the nature of the palace's double bind when they expressed concern such a disclosure might breach the former staff member's data protection rights under EU law.
In other words, some palace staff clearly have a story they want to tell. But if their experiences are published to the world via the bullying review, Meghan and Harry will mount a spirited counterattack.
Those self-same staff may then find themselves wanting to retaliate again to whatever material the Sussexes put into the public domain with the threat of legal action from either side hanging over the entire affair.
The palace, meanwhile, risks being damaged by both sides as from one perspective it allowed staff members to be bullied and did nothing about it.
From the other perspective, any criticism of Meghan and Harry will be interpreted by supporters as a conspiracy to undermine their Winfrey interview and a form of bullying in itself.
Meanwhile, Queen Elizabeth II is fresh out of triumphant Platinum Jubilee celebrations and looking ahead to a quieter final chapter of her reign in which she will likely be able to perform fewer of her formal duties because of health problems.
Prince Charles has extended several olive branches to Harry, including in an exclusive essay for Newsweek at the beginning of 2022 in which he praised his son's record on climate change.
Newsweek has also been told the future king enjoyed seeing Meghan during a stopover in Britain as the Sussexes made their way to the Invictus Games in April.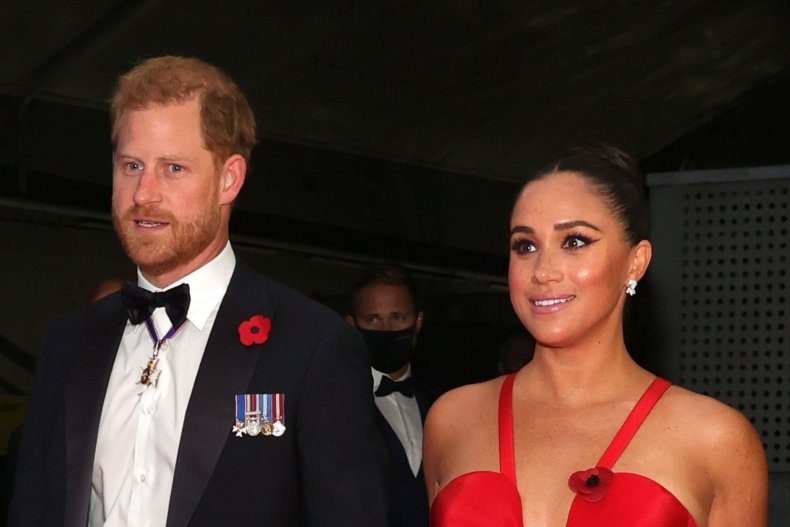 The Prince of Wales has been taking on an increasing share of the queen's workload as he looks ahead to becoming king—a transition that would not be helped by a transatlantic war with Meghan and Harry.
The palace is often described in the media as though it is a single, homogenous entity. In reality, it is made up of multiple households, with the queen and minor royals at Buckingham Palace, and Charles and Camilla, Duchess of Cornwall, at Clarence House.
The bullying allegations themselves blew up at Kensington Palace at a time when Prince William, Kate Middleton, Harry and Meghan were all there together, working with a shared office and shared team.
The central allegation of bullying was expressed in an October 2018 email by Jason Knauf, who was communications secretary for all four royals and went on to work for William and Kate's charity, the Royal Foundation.
Robert Lacey's biography, Battle of Brothers, outlines the Duke of Cambridge's feelings on the subject.
It read: "William, for his part, felt just as strongly about Meghan and the need for her subversive 'agenda' to be removed from the operations of the British monarchy, which she did not appear to understand or respect.
"He certainly wanted Meghan removed, for a start, from the hitherto harmonious joint household that he and his brother had operated together for the best part of a decade. William simply did not want her or Harry around any more."
A friend of the prince told Lacey: "William threw Harry out."
It may well be that if the palace were to publish its findings, then whatever the report said, one side or another would feel let down and open fire in the media, or in Harry's case, in his upcoming memoir.
When that happened, the others would want to have their say as well and arguments that now date back four years would continue to tarnish the reputation of the monarchy at a time when it escaped the Winfrey interview less damaged than many expected.
Meanwhile, Harry and Meghan remain unpopular in Britain more than a year later while the queen was the U.K.'s most popular public figure in the first quarter of 2022.
YouGov data suggested 75 percent of people liked her compared to 9 percent who said they did not.
Senior royals may, in other words, see no benefit to them in publishing a review that will inevitably lead to them facing fresh criticism.
For more royal news and commentary check out Newsweek's The Royal Report podcast: