Meghan Markle celebrated her children's book becoming a bestseller days before allegations she bullied her staff resurfaced.
The Duchess of Sussex announced The Bench had topped the New York Times list of bestselling children's picture books on Wednesday, June 16, and on Sunday, June 20, her only promotional interview was broadcast on NPR.
In the pre-recorded chat, Meghan said the book was about "growing with someone" who would be there through "good times or bad."
The duchess said: "While this was inspired by the love that I see between my husband and our son, this story and this connection, that bond that you're seeing play itself out—that could be with a mom.
"That could be with a caregiver," Meghan continued. "That could be with a sibling. It's really just about growing with someone and having this deep connection and this trust so that be it good times or bad, you know that you have this person, and you know you can always go back to this place that you share together. And I think that really is the larger message in it."
However, in between the two landmark moments, new chapters of a different book were serialized in the U.K. newspaper The Times, on Saturday, June 19.
Biography Battle of Brothers—also a New York Times bestseller—revisited allegations Meghan bullied her staff while at Kensington Palace and offered new insight into Prince William's reaction to the claims.
Historian Robert Lacey quoted a friend of the Duke of Cambridge saying William "threw Harry out" of Kensington Palace over the dispute, which started in October 2018.
The author detailed how William first became aware of the bullying allegations ahead of Harry and Meghan's tour of Australia and the South Pacific that month.
And when the couple returned, their communications secretary Jason Knauf made them official with an email to William's private secretary Simon Case.
The joint household at Kensington Palace was then split as the future king decided he wanted to rid himself of his brother and sister-in-law, according to Lacey.
Buckingham Palace announced in March 2019 how Harry and Meghan would have a new private office at Buckingham Palace and the pair also moved their home to Frogmore Cottage, in Windsor.
The book states: "William, for his part, felt just as strongly about Meghan and the need for her subversive 'agenda' to be removed from the operations of the British monarchy, which she did not appear to understand or respect.
"He certainly wanted Meghan removed, for a start, from the hitherto harmonious joint household that he and his brother had operated together for the best part of a decade. William simply did not want her or Harry around any more."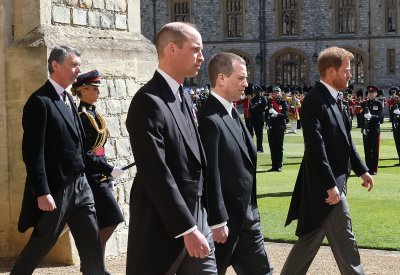 The book appears to offer Prince William's narrative through friends and staff in response to the bombshell revelations of Harry and Meghan's Oprah Winfrey interview.
Meghan and Harry's team declined to comment when contacted by Newsweek but the saga brings back to the fore an issue that left Meghan crying into her pillow as recently as March.
The couple's bombshell CBS tell-all had been announced but not broadcast when the email from Knauf to Case alleging bullying was leaked to The Times.
Prince Harry told his Apple TV docuseries The Me You Can't See of the impact on his wife at the time.
Harry said: "The interview was about being real, being authentic and hopefully sharing an experience that we know is incredibly relatable to a lot of people around the world despite our unique privileged position.
"But before the Oprah interview had aired, because of their [the media's] headlines, and that combined effort of the firm and the media to smear her, I was woken up in the middle of the night to her crying in her pillow because she doesn't want to wake me up, because I'm already carrying too much.
"That's heartbreaking. I held her, we talked, she cried, and she cried, and she cried."
And for Prince Harry, there is another question lurking in the background as he digests the latest chapter in the unfolding narrative of his royal exit.
The Duke of Sussex may potentially see his brother as soon as July 1 at the unveiling of a statue to their mother Princess Diana at Kensington Palace.
The eyes of the world were watching when they saw each other face to face for the first time in more than a year at Prince Philip's funeral on April 17.
Then, the brothers appeared to talk cordially, brought together by the memory of their grandfather.
However, since then Harry has also leveled more damaging accusations at the royals, accusing them of "total neglect" over his pleas for help dealing with the media.
He told The Me You Can't See: "It went to a whole new depth with not just traditional media but also social media platforms as well. I felt completely helpless.
"I thought my family would help but every single ask, request, warning, whatever it is, got met with total silence or total neglect.
"We spent four years trying to make it work. We did everything that we possibly could to stay there and carry on doing the role and doing the job, but Meghan was struggling."
If the duke does wrench himself away from Meghan, son Archie, and newborn baby Lilibet to make the journey to the U.K. there will now be a new source of conflict for the pair to resolve.