How to Watch Prince Harry and Oprah's New Documentary for Free
Prince Harry and Oprah Winfrey are following the worldwide phenomenon that was their interview on CBS with The Me You Can't See, a documentary series in which they and a roster of guests open up about their struggles with mental health.
The series is expected to have five episodes, all of which will be released on Friday, May 21, on Apple TV+. Prince Harry will detail his experiences of therapy, his grief after the death of his mother Princess Diana when he was 12 years old and the mental health difficulties experienced by him and his wife Meghan.
Celebrities such as Lady Gaga and Glenn Close discuss their own struggles in The Me You Can't See, while Winfrey deals honestly with some of the unintended consequences of her charity work on the people she was trying to help.
How to watch 'The Me You Can't See' online
If you are intrigued by that description but do not want to shell out for Apple TV+, read on to find out about the streamer's numerous free trials.
All new subscribers are given a seven-day free trial. After that week, the service costs $4.99 a month or $49.99 a year.
Although Apple TV+ has the smallest line-up of any of the major streaming services, it has a few breakout series such as The Morning Show and Golden Globe winner Ted Lasso, plus films including Greyhound starring Tom Hanks, Sofia Coppola's On the Rocks and the documentary Visible: Out on Television, ranked as one of the best TV shows of 2020 by Newsweek.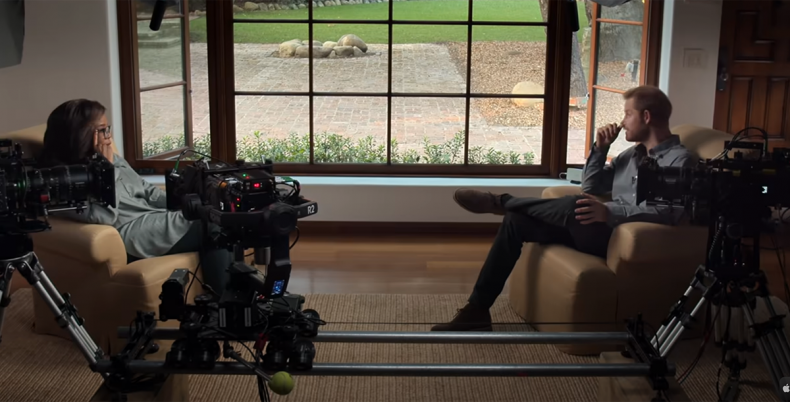 If you have recently bought a new Apple product, you may be entitled to a longer free trial of Apple TV+. All purchasers of new and refurbished products from official Apple stores are given the streaming service free for one year.
The website says: "Any new iPhone, iPad, iPod touch, Apple TV or Mac capable of running the latest iOS, iPadOS, tvOS or macOS purchased after 10 September 2019, from Apple or an Apple authorized reseller, is eligible."
The official synopsis for The Me You Can't See reads: "Oprah Winfrey and Prince Harry join forces to guide honest discussions about mental health. This series features illuminating stories from across the globe, giving us the opportunity to seek truth, understanding and a newfound hope for the future."
In the three episodes released to journalists before the show airs on Friday, Harry speaks openly about the difficulty of mourning his mother amid the national outpouring of grief in the U.K. He also describes the day in 2019 that Meghan called one of her lowest moments in the couple's earlier interview with Winfrey.
In other segments, Lady Gaga discusses the mental health impact of rape and Robin William's son Zak reveals his issues with substance abuse before and after his father's death.
Winfrey herself opens up about her school for girls in South Africa, and how she did not anticipate the mental health challenges that the students were facing.
The Me You Can't See is released on Friday, May 21, on Apple TV+.