President Obama: Clementa Pinckney Encouraged Progress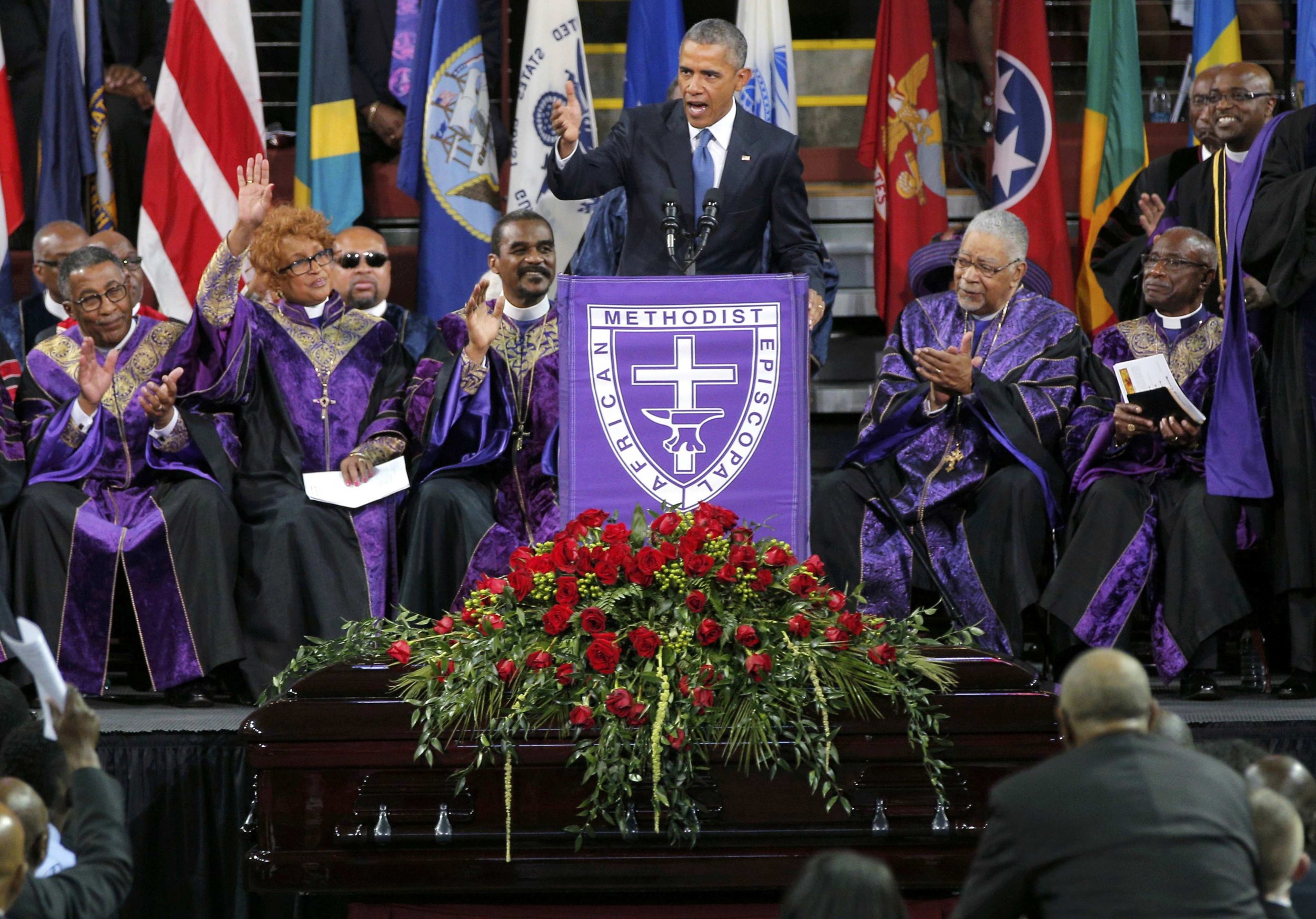 Speaking to thousands of people gathered inside an arena in South Carolina, President Barack Obama on Friday remembered Clementa Pinckney, the late reverend and state senator, as a man who encouraged progress as a leader.
"He embodied a politics that was neither mean nor small. He conducted himself quietly, kindly and diligently. He encouraged progress, not by pushing his ideas along, but by seeking out your ideas, partnering with you to make things happen," Obama said Friday afternoon during his eulogy for Pinckney inside the TD Arena at the College of Charleston in South Carolina.
Pinckney, 41, was among the nine people fatally shot last week at Emanuel African Methodist Episcopal Church in Charleston. Pinckney, the chief pastor, was leading a Bible study group on the night of June 17 when he and eight other worshippers were murdered allegedly by a gunman who had sat with them for an hour.
"We are here today to remember a man of God who lived by faith. A man who believed in things not seen. A man who believed there were better days ahead, off in the distance. A man of service who persevered, knowing full well he would not receive all those things he was promised, because he believed his efforts would deliver a better life for those who followed," he said.
Thousands of Americans from all over the country traveled to Charleston to attend the funeral and hear Obama speak. Beginning in the early morning hours on Friday, hundreds of people lined up outside of the arena.
The president addressed the country last week in the wake of the deadly shooting. He had encouraged Americans to reckon with the fact that mass violence does not happen in other advanced countries with as much frequency as it does in the United States.
Again on Friday, Obama touched upon gun violence during the eulogy: "For too long we've been blind to the unique mayhem that gun violence inflicts upon this nation," he said.
He also mentioned other controversial topics, including race relations and the Confederate flag. He seemingly joined a bipartisan group of legislators who are calling for the removal of the flag from the South Carolina statehouse grounds.
"The flag has always represented more than ancestral pride," he said to applause. "For many, black and white, that flag was a reminder of systemic oppression and racial subjugation. We see that now."
"Removing the flag from the South Carolina Capitol would simply be an acknowledgement for the cause of which they fought. The cause of slavery was wrong," he added.
Obama personally knew Pinckney and said he first met him in South Carolina. "The first thing I noticed was his graciousness, his smile, his reassuring baritone, his deceptive sense of humor, all qualities that helped him wear so effortlessly a heavy burden of expectation," he said.
Pinckney began preaching at the age of 13. In 1996, he became the youngest African-American state legislator in South Carolina's history, at the age of 23. Four years later, he was elected to the state Senate. The Democratic legislator recently was a co-sponsor of a state bill aimed at requiring police to wear body cameras.
"Even from a young age, people knew he was special," Obama said. At one point, the president led those gathered at the arena in singing "Amazing Grace."
The reverend was "full of empathy, able to walk in somebody else's shoes and see through their eyes," Obama said, adding that he never gave up and stayed true to his convictions, never growing tired after a full day spent at the Capitol.
Earlier this week, Pinckney's body lay in state under the South Carolina Capitol dome. Services for some of the other victims were held Thursday.
House Speaker John Boehner was also present at the funeral, as well as first lady Michelle Obama, reverends Jesse Jackson and Al Sharpton and National Association for the Advancement of Colored People President Cornell William Brooks. Several of Pinckney's family members spoke at the memorial service and funeral, which together lasted for more than four hours.
Obama has given the eulogies for other prominent figures in the past, including Vice President Joe Biden's son, Beau, earlier this month, and Massachusetts Senator Ted Kennedy, in August 2009.
Earlier in the day, Obama applauded the U.S. Supreme Court for legalizing same-sex marriage throughout the country, in an address to Americans before he traveled to South Carolina for the funeral.