As Hurricane Ida's "catastrophic" storm system sweeps inland after making landfall on Sunday, forecasters have warned that heavy rain and potentially severe flooding could hit regions across Louisiana, Alabama and Mississippi in the coming days.
Ida, which was downgraded from a Category 4 hurricane to a tropical storm on Monday, is expected to continue losing strength but will remain a dangerous storm system as it moves across much of the Southeast and into the North.
According to the National Hurricane Center, heavy rainfall could result in "catastrophic impacts" and flash flooding, with rain totals reaching as much as 24 inches in some parts of Southeast Louisiana. In coastal Alabama, rainfall could reach four to eight inches through Tuesday, while Mississippi could see up to a foot of rain.
"Heavy rain combined with storm surge has resulted in catastrophic impacts along the southeast coast of Louisiana, with considerable flash flooding and riverine flooding continuing farther inland,'' the hurricane center said.
The National Weather Service shared a map of vulnerable areas and said flash flooding will continue throughout Monday afternoon in Western Alabama, Eastern Mississippi and far southeastern Louisiana.
Furthermore, the hurricane center warned that a combination of a dangerous storm surge and tidal waters could cause normally dry areas near the coast to be flooded by rising waters.
Areas that could be effected by the storm surge include the Pearl River from Alabama to Florida, Morgan City, Louisiana and Southeastern Louisiana lakes, including Lake Borne, Lake Maurepas and Lake Pontchartrain, which could each experience several feet of floodwater.
"Surge-related flooding depends on the relative timing of the surge and the tidal cycle, and can vary greatly over short distances," the hurricane center said on Monday afternoon.
As Ida moves northeast on Monday, the hurricane center also warned of flash flooding across the Lower Mississippi Valley through the Middle Tennessee Valley, Ohio Valley, Central/Southern Appalachians and into the Mid-Atlantic states.
"Widespread minor to isolated major riverine flooding is occurring or forecast
from the Lower Mississippi Valley into far western Alabama. Rivers will remain elevated into next week," the center said.
Tornadoes are also possible on Monday night in southern Mississippi, southwest Alabama and the western Florida Panhandle, the hurricane center added.
By Monday afternoon, Ida was about 20 miles west-southwest of Jackson, Mississippi, and moving north-northeast at 9 miles an hour with maximum sustained winds of 40 mph.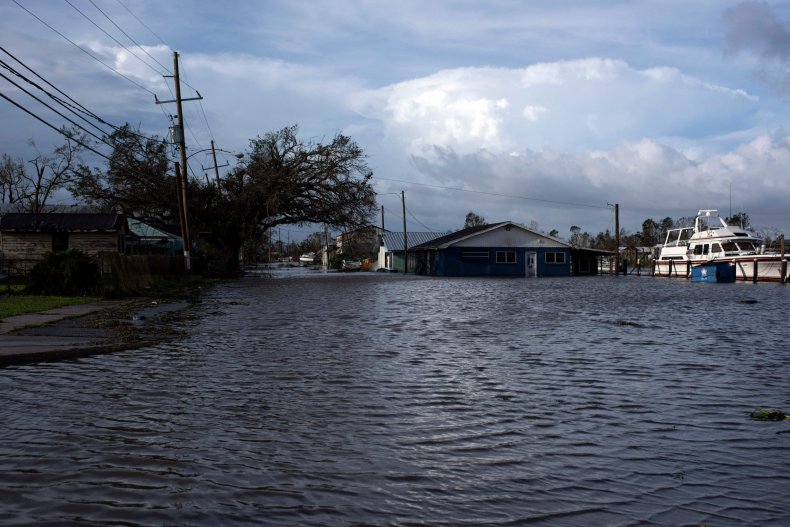 Ida made landfall near Port Fourchon, Louisiana, just before noon local time on Sunday, with winds up to 150 mph. The storm arrived on the 16th anniversary of Hurricane Katrina, and it sent hundreds of thousands of people evacuating, while many others sheltered in place.
As the storm tore through Southeast Louisiana, buildings were destroyed, trees were uprooted and power lines were completely knocked down. By Monday morning, over 1 million customers in Louisiana and 130,000 in Mississippi were left without electricity.
So far, at least one person has been confirmed dead from the storm's impact after police responded to a report of someone injured by a fallen tree on Sunday evening in Prairieville, located outside Baton Rouge.
Footage in LaPlace, which is located between New Orleans and Baton Rouge, showed rushing floodwaters and crippling winds tearing through regions on Sunday. In some parts of the area, at least 200 people were reportedly stranded and in "imminent danger" on Sunday after floodwaters reached more than 10 feet.
The storm is expected to weaken to a tropical depression and to continue on a northeast path. In the coming days, over a dozen states from the Southeast into New England could see strong winds and potential flooding.