If Russia Brings Peace to Syria's South, Will Israel Keep Bombing Iran There?
The Syrian military has successfully reclaimed the country's southwest from insurgents in an offensive supported by Russia, which has consented to broker an agreement that could hinder neighboring Israel's campaign against Syria's other ally, Iran.
The Syrian Ministry of Defense announced Friday "the rapid collapse of the armed terrorist groups and the qualitative progress" of Syrian troops storming one of the country's final rebel-held bastions, the southwest provinces of Daraa and Quneitra. The victories placed the Syrian military at a de facto border with the Israel-occupied Golan Heights, which was seized in a 1967 war between Israel and several Arab countries. With Israel and Syria still technically at war, mutual partner Russia has sought to allay fears of a new conflict between them by overseeing the 1974 truce that prevailed until the Syrian side was taken over by rebels in the wake of the West-backed uprising.
Israel has claimed neutrality in the civil war that followed, but has reportedly offered assistance to some rebel groups and has launched airstrikes against Syrian military positions associated with Iran and its allies. As Israel National News highlighted, however, a return to the relative state of normalcy detailed in the 1974 Separation of Forces Agreement would require Israel to abide by its side of the bargain, including ending cross-border airstrikes.
"Air forces of the two sides will be permitted to operate up to their respective lines without interference from the other side," point 6 of the agreement reads as posted on Israel's own Ministry of Foreign Affairs site.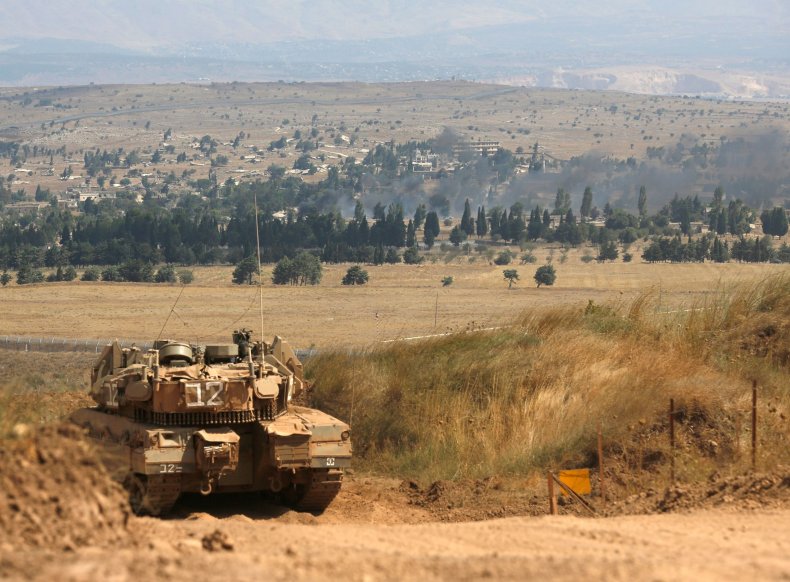 The 1973 Yom Kippur War was the last major engagement between Israel and rival Arab states. In the 1980s, the Israeli military became involved in an ongoing civil war in neighboring Lebanon and occupied the country's south. In response, it was confronted with a new, powerful foe—Hezbollah. One of the many factions of Lebanon's 15-year sectarian conflict, the Shiite Muslim movement was established with Iranian support and spearheaded efforts to expel Israeli forces and continued to clash with Israel into the 21st century.
Israel used national security to justify its 2006 intervention against a heavily armed Hezbollah in Lebanon as well as its 2007 airstrikes against a suspected Syrian nuclear reactor. Israel became increasingly involved in Syria following the 2011 rebellion there and—especially as Russia helped turned the tides of the conflict by intervening in 2015—Israel began bombing sites held by Iran, Hezbollah or other pro-Iran groups. In recent months, these strikes have grown in frequency and intensity, and Russia has sought to balance its ties to the two powers, meeting with officials from both sides.
Related: Can Russia and Iran solve Syria? Top officials discuss Helsinki as thousands freed from rebel rule
Following their first full bilateral talks in Helsinki on Monday, President Donald Trump and Russian President Vladimir Putin appeared to establish significant common ground on their respective stances on Syria. While the U.S. initially tried to overthrow Syrian President Bashar al-Assad, it was now focused on defeating the Islamic State militant group (ISIS). Russia, meanwhile, was also battling ISIS and would help restore the Syrian government's control of the country's southern borders, where Israel and Jordan have expressed their acceptance of the pre-war status quo.
"I would also like to note that after the terrorists are routed in southwest Syria, in the so-called 'southern zone,' the situation in the Golan Heights should be brought into full conformity with the 1974 agreement on the disengagement of Israeli and Syrian forces," Putin told reporters during his joint press conference with Trump.
"This will make it possible to bring tranquility to the Golan Heights and restore the ceasefire between the Syrian Arab Republic and the State of Israel. The president devoted special attention to this issue today," he added. "I would like to emphasize that Russia has a stake in this course of events and will adhere to exactly this position. This will constitute a step towards establishing a just and durable peace on the basis of U.N. Security Council Resolution 338," which brought an end to the 1973 conflict.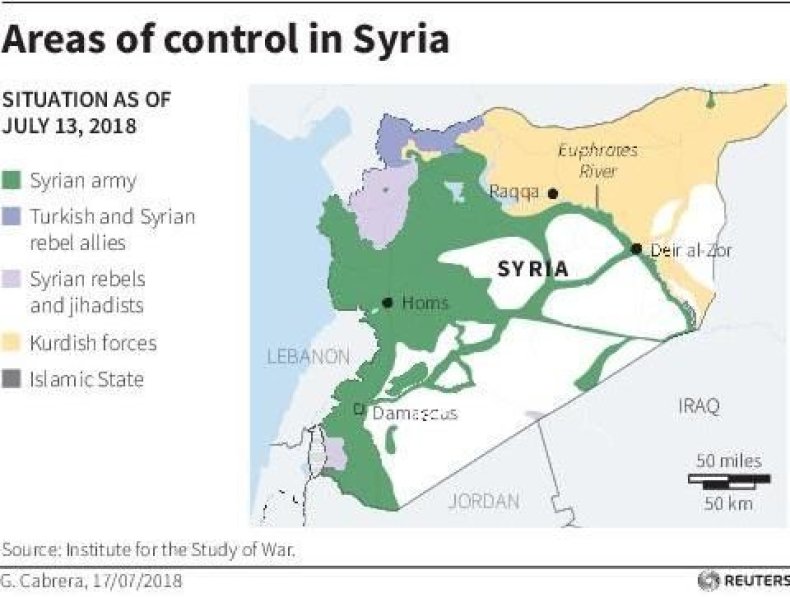 The occupied Golan Heights has been the source of recent tension, as suspected Syrian drones were shot down days apart last week after crossing into an Israel-controlled territory. In response, Israel has conducted more airstrikes as far north as Aleppo. In May, an Israeli airstrike hit a military position south of Damascus and forces that Israel said were Iranian launched rockets at the occupied Golan Heights. Israel responded with the most powerful air assault on Syria since the Yom Kippur War.
To prevent the situation from escalating any further, Russia reportedly negotiated the exclusion of Hezbollah and other Iran-backed fighters from Syria's southwest offensive. Citing sources on both sides, Reuters reported Thursday that a new arrangement had been reached that would see the Syrian army's 90th and the 61st brigades return to the frontier accompanied by Russian military police.
"At present, the Syrian government troops supported by the Russian Aerospace Forces are liberating the rest parts of the country from terrorists. Syrian authorities supported by the Russian Federation take measures to establish peaceful conditions in Syrian regions and restore infrastructure," Russian Defense Ministry Mikhail Mizintsev said Friday during a briefing on the situation in southwest Syria.
"The Russian military police assist local authorities to ensure security, and law and order," he added.