Iran Extends Missile Range, Compares Its Military Might to Russia, China and North Korea
A senior Iranian military leader announced Tuesday that the country has extended the range of its naval missiles to about 435 miles, claiming it set Iran ahead of the region and among some of the world's top powers.
Amir Ali Hajizadeh, head of the air force of Iran's elite Revolutionary Guards, proclaimed that his nation "ranks first in the region and seventh or eight in the world and is ahead of the [North] Koreans in the missile field," according to the semi-official Fars News Agency. He claimed Iran was also in the top 15 drone-building powers, saying its armed forces "enjoy good capabilities in the air defense field and are in possession of equipment more advanced than those of Russia, France, China and Britain."
"Today, we have managed to produce a coast-to-sea ballistic, not cruise, missile, which has a complicated technology," he said, as reported by the semi-official Tasnim News Agency. "We can target warships from a distance of 700 kilometers [345 miles]."
"Today, all of our produced missiles with ranges from 200 kilometers to 2,000 kilometers [about 124 miles to 1,240 miles] have pin-point accuracy," he added.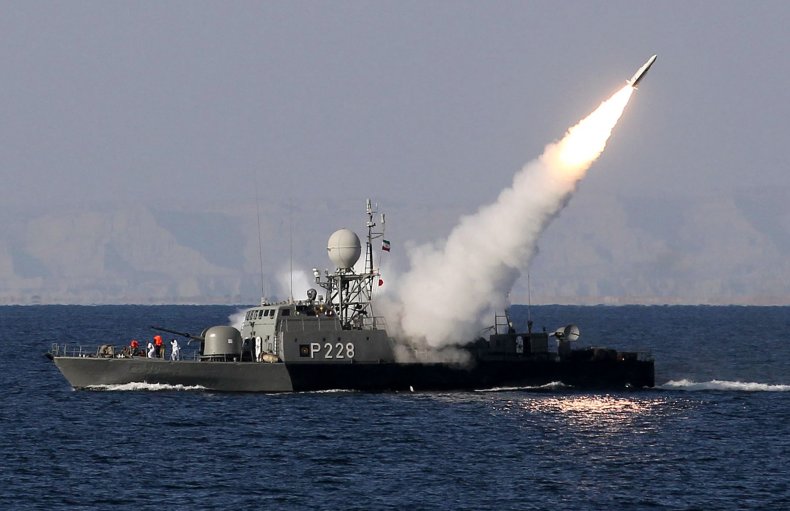 Iran's increasingly powerful missile force has caused concern among regional rivals, including Israel and Saudi Arabia, and their top foreign sponsor, the United States. After decades of diplomatic feuding stemming from the 1979 Islamic Revolution that overthrew a West-sponsored monarchy in Iran, Washington and Tehran came together to sign a nuclear accord in 2015. The deal was scrapped by President Donald Trump in May.
Trump accused Iran of using funds unfrozen by sanctions relief to invest in ballistic missile technology and Shiite Muslim movements across the Middle East, two activities not covered by the nuclear agreement. The Republican leader's pullout was denounced by fellow signatories China, France, Germany, Russia and the United Kingdom, but was backed by Saudi Arabia, its neighboring Sunni Muslim-ruled allies and Israel.
The revolutionary Shiite Muslim power has defied attempts to curb its military power or stem its growing influence across the region. Iran has powerful allies in Lebanon, Iraq and Syria and has been accused of backing insurgents in Bahrain and Yemen. In Syria, in particular, Iran-backed militias have resisted U.S. warnings and Israeli airstrikes, which may now be discouraged by Russia's delivery of S-300 surface-to-air missiles to the armed forces of Syrian President Bashar al-Assad, an ally of Moscow and Tehran.
Iranian Foreign Ministry spokesman Bahram Qasemi confirmed Monday that Iran would support the rebuilding of Syria "given the request of the Syrian government and presence of Iranian military advisors in the Arab country in order to assist Syrian forces in fighting against terrorism and considering the importance of reconstruction of Syria," according to the Iranian Student News Agency.
On Thursday, Secretary of State Mike Pompeo warned that "if Syria doesn't ensure the total withdrawal of Iranian-backed troops, it will not seek—not receive one single dollar from the United States for reconstruction."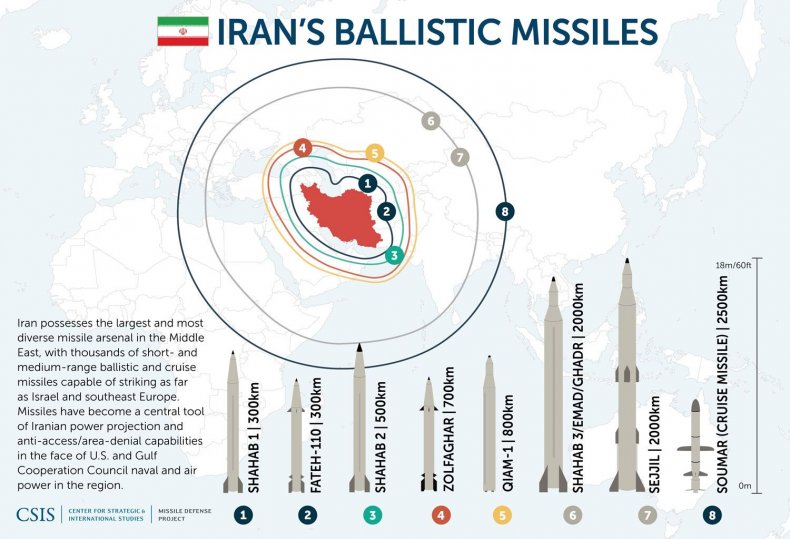 The Trump administration has made confronting Iran a top priority and a number of officials have expressed hard-line rhetoric carefully monitored by the longtime U.S. foe. Last month, White House national security adviser John Bolton warned Iran, "take me seriously when I assure them today that if you cross us, our allies or our partners, if you harm our citizens, if you continue to lie cheat and deceive, yes, there will indeed be hell to pay."
Weeks later, Hajizadeh oversaw an operation using missiles and drones to blast positions held by the Islamic State militant group (ISIS) reportedly only three miles away from U.S. troops in eastern Syria. Iran's Supreme National Security Council Secretary Ali Shamkhani said the move was in response to ISIS's claim of responsibility for a deadly attack on a military parade in southwestern Iran, but also to Bolton's threat.
"John Bolton said we should take you seriously; Hajizadeh, commander of the Aerospace Forces, took you seriously and landed a rocket within three miles of you," Shamkhani said at the time, asking: "What are your forces and ISIS militants doing within three miles of each other?"