Iran Travels West, Building Left-Wing Latin America Ties with U.S. Election in Dispute
Iran has sent its top diplomat to Latin American to empower ties with leftist nations in the Western Hemisphere as the United States continued to count votes to determine the winner of its yet undecided presidential election.
Iranian Foreign Minister Mohammad Javad Zarif first met Thursday in Caracas with senior Venezuelan officials such as Vice President Delcy Rodriguez, Foreign Minister Jorge Arreaza and President Nicolás Maduro. Both countries are subject to "maximum pressure" campaigns imposed in recent years by President Donald Trump and officials struck a defiant tone in criticizing U.S. sanctions and threats against their nations and others.
"This feeling of brotherhood and friendship between our peoples is for the struggle that both countries are offering against imperialism," Zarif said following talks with Arreaza, according to the Venezuelan Foreign Ministry.
He said the two countries were at the height of their bilateral relations and that the pair would strengthen cooperation in fields such as science, industry, technology, trade and defense in spite of Washington's restrictions.
Rather than be driven apart by such U.S. measures, Zarif said Iran and Venezuela would bolster their ties, as both Iranian and Venezuelan officials have previously told Newsweek would be the case.
"The government of the United States has a long history of intervention in countries solely for its own benefit," Zarif said. "We hope that the United States government will change its attitude."
He also joined Arreaza for an event titled "Iran and Venezuela in Defense of the World to Come," where both men reiterated their positions in support of a multipolar world more supportive of their countries' point of view than those of a unilateral U.S.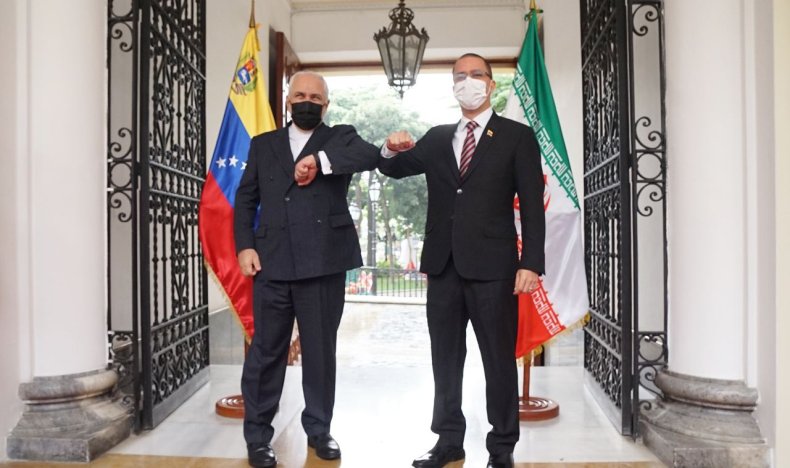 The White House cut ties with the socialist Maduro administration early last year following a disputed election in which the U.S. has since recognized Juan Guaidó, head of the opposition-controlled National Assembly, as interim head of state. Despite the backing of the U.S. and some other regional and international partners, Maduro remains in power with military backing at home and international support from powers such as Russia, China and Iran.
The Venezuelan leader was also backed by Cuba, where Zarif stopped next for his Latin American tour.
The Cuban Foreign Ministry said "the distinguished visitor will hold official conversations with Cuban authorities and carry out other activities of interest" in an official statement.
Havana has been under an intensive economic embargo by Washington for decades since the island just 90 miles off the coast of Florida came under the control of revolutionary leader Fidel Castro. Former President Barack began to thaw relations with Communist-led Cuba but Trump set out to reverse these measures and tighten the blockade, especially as punishment for empowering Maduro.
"The blockade imposed by the U.S. government against Cuba constitutes the most complex and prolonged system of unilateral coercive measures ever imposed against any country," Cuban Foreign Minister Bruno Rodríguez Parrilla said during a press conference Thursday.
Zarif and Arreaza also protested against a "blockade" against their countries on Thursday.
Washington, for its part, sees the convergence of opinions among its adversaries as proof that the Trump administration's policies were justified.
"Your friends define you," U.S. acting assistant secretary at the Bureau of Western Hemisphere Affairs Michael Kozak tweeted Thursday.
"Iran's @JZarif and the Castro regime have a lot in common: Human rights abuses, authoritarianism, stealing the wealth of Venezuela, and the spread of malign influence across the globe," he added. "Their dealings together underscore their lack of legitimacy."
After his Cuba trip, Zarif was set to visit another like-minded leader, Bolivian President-elect Luis Arce.
Arce, a member of the Movement for Socialism (MAS), won his country's national elections last month after a year-long political crisis that ensued following the reelection of MAS head Evo Morales. The country's opposition alleged fraud, as did the U.S., and Morales resigned in a move he said was forced upon him and only intended to avoid violence.
His supporters, however, decried the series of events as a coup, especially as he was replaced by the conservative Democrat Social Movement's Jeanine Áñez, cut ties with Bolivia's traditional leftist partners like Cuba and Venezuela in favor of closer relations with the U.S. The right-wing, anti-Morales bloc did poorly in the recent vote and leftist power was restored.
Despite his country's position on last year's developments, Secretary of State Mike Pompeo spoke with Arce on Wednesday and congratulated him on his election.
The pair "discussed opportunities to build on the U.S.-Bolivian bilateral relationship, including through enhanced economic cooperation, as well as U.S. support for Bolivia's efforts to address COVID-19," according to a State Department readout.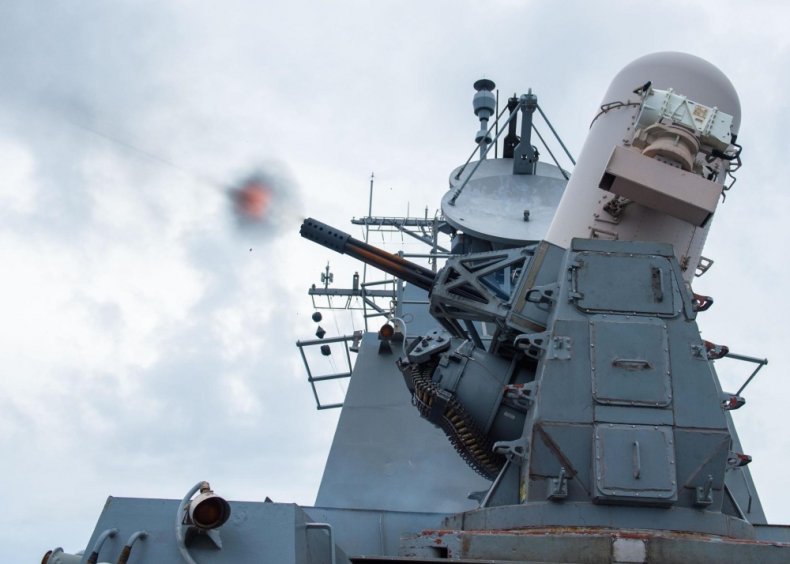 The Trump administration has made portrayed itself as strict against socialism, communism and Iran's brand of revolutionary Shiite Islam, reviving 19th century and Cold War-era concepts of the Monroe Doctrine to preserve Washington's influence across the Western Hemisphere.
As Russia vowed to continue joint defense and military-technical cooperation with Venezuela, Iran has repeatedly made plans to bring its own warships across the Atlantic as well.
His opponent, former Vice President Joe Biden, has also condemned alleged abuses committed by the likes of Cuba, Iran and Venezuela, but has demonstrated a preference for dialogue, having engaged with all three countries as he served under former President Barack Obama.
Biden has also vowed to reenter the Joint Comprehensive Plan of Action, more commonly known as the Iran nuclear deal, forged under Obama in 2015 but abandoned by Trump three years later.
Cuban, Iranian and Venezuelan officials have demonstrated no preference for the winner of the ongoing, beleaguered U.S. election but have all called for a departure from the current trajectory of relations in comments to Newsweek.
Both U.S. candidates have indicated they were likely to ultimately win the race as it's set to enter its fourth day, but Trump has repeatedly challenged the legitimacy of the contest, alleging mass voter fraud as Biden began to pull ahead in key remaining states.