Ireland Baldwin has expressed her regret at calling Amber Heard an "absolute disaster of a human being" at the start of Heard's court battle with ex-husband Johnny Depp.
Depp, 58, launched a $50 million defamation lawsuit against Heard over a 2018 op-ed in The Washington Post, in which the 36-year-old actress wrote that she was a survivor of domestic abuse.
Heard, who is countersuing for $100 million, did not name Depp in the article, but his lawyers have argued that it was obvious she was referring to him.
In the early stages of the trial, during which the two stars have denied each other's allegations of domestic abuse, Baldwin weighed in on social media, criticizing Heard and expressing her support for Depp.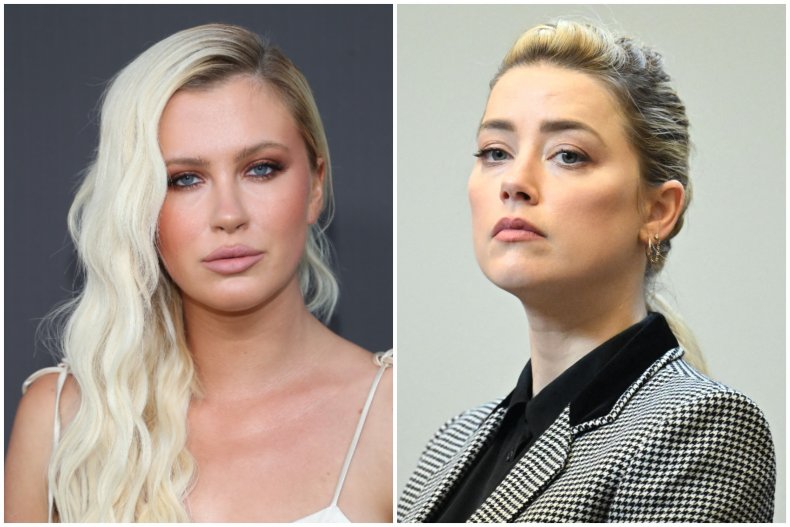 At the time, the court had just been played an audio recording in which Heard could be heard admitting that she had hit Depp and explaining that she was not certain of all the details due to being "on an Ambien."
A video clip of the Pirates of the Caribbean star looking sullen as the recording was played in court went viral on Twitter, clocking up millions of views.
Posting an Instagram story on April 21, Baldwin shared a screenshot of the viral tweet post alongside her own take on the issue.
"I know women who are exactly like this," the model wrote. "They are manipulative and cold and they use their very womanhood to play victim and turn the world against the man because we live in a society where it's cool to say men are all the worst and blah blah f***ity blah.
"Men can experience abuse too and this absolute disaster of a human being Amber Heard is a terrible person and I hope Johnny gets his reputation and his life back. And I hope he's in like 5 Pirates movies."
However, Baldwin—the daughter of actors Alec Baldwin and Kim Basinger—has now admitted that she regrets her comments.
During a Q&A session with her Instagram followers on Tuesday, one user asked why she had spoken in support of Depp.
Baldwin replied: "I think less people should have opinions about other people's business.
"I regret chiming in about the whole thing because the reality of it is that it's all very sad. And I feel bad in different ways for the both of them. I was trying to [be] clear that men can be abused as well and anyone who thinks differently is an idiot."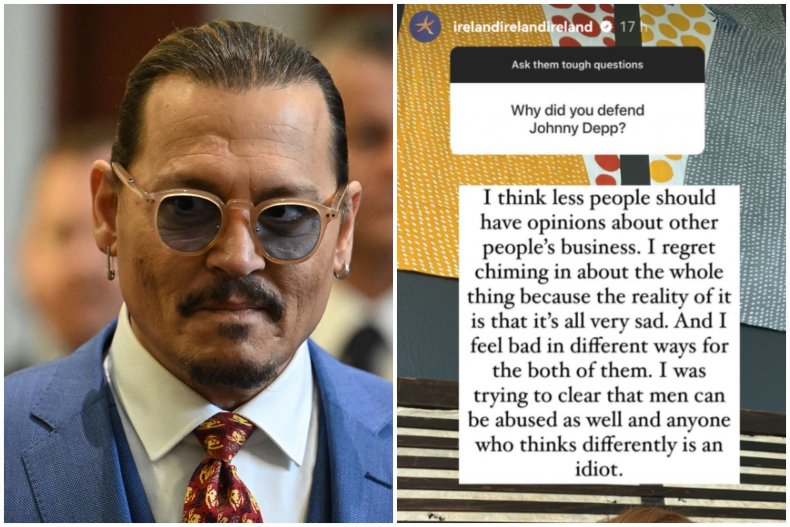 In the audio recording that had prompted Baldwin's Instagram story, Aquaman star Heard can be heard telling Depp: "You told me to do it. You told me, 'Go do that.'"
"You punched me in the f****** thing," Depp responded.
"You figured it all out," Heard said. "I didn't punch you by the way."
"I'm sorry that I didn't hit you across the face in a proper slap," she added. "I was hitting you, I was not punching you. You're not punched."
"Don't tell me what it feels like to be punched," Depp said.
Heard has also accused Depp of being violent toward her during their relationship, which ended in 2016. Their divorce was finalized in January 2017, with Heard accusing Depp of domestic abuse in the divorce proceedings.
Depp's defamation suit comes less than two years after he lost a 2020 libel case against British tabloid The Sun, which had labeled the actor a "wife-beater."
Although Depp repeatedly denied ever having been violent to Heard during the three-week trial in London, the overseeing judge found that the newspaper's claims were "substantially true."
Amid the fallout, Depp was "asked to resign" from Fantastic Beasts 3, in which he had been set to reprise his role as Gellert Grindelwald. He was replaced by Mads Mikkelsen.