Jenna Jameson Theorizes Oscars Slap Was 'Staged' to Push Alopecia Drugs
Jenna Jameson has floated a theory that actor Will Smith slapping comedian Chris Rock at the Oscars was orchestrated by Pfizer to push the pharmaceutical company's alopecia drug.
During Sunday's Academy Awards ceremony, Smith was seen striking Rock across the face onstage at Hollywood's Dolby Theatre after Rock made a joke about the close-cropped haircut of Smith's wife, Jada Pinkett Smith.
Following the incident, it was widely discussed that the "G.I. Jane" joke cracked by Rock was a sensitive subject as Pinkett Smith has publicly discussed how she suffered hair loss as a result of her alopecia.
While the ensuing debate has largely focused on what made Smith react the way he did, and the disciplinary action he could face as a result, former adult film star Jameson has theorized that pharmaceuticals are the cause.
In an Instagram Stories post captured by Newsweek earlier this week, Jameson shared a screenshot of a social media post discussing an August 2021 article from Fierce Biotech on Pfizer's positive results amid trials of its alopecia drug.
An accompanying caption from the account Jameson shared the image from read: "How can we get the world talking about Alopecia? Hey! I have an idea."
Adding what appeared to be her own words to the image, Jameson's post read: "If only it got mentioned at the Oscars and they staged a slap fest. Pfizer sponsored the oscars...."
There is no evidence to suggest that Oscars sponsor Pfizer had any link to the incident that took place on the night of the awards ceremony.
"There is absolutely no connection, and to imply it is absurd," a spokesperson for Pfizer told Newsweek. "Pfizer is proud to support the Oscars, and we are heartened to see the film industry gather in-person and alongside fans to celebrate the talent and artistry produced during the past year.
"The available data continue to show that broad utilization of COVID-19 vaccines and boosters can help prevent disease and protect lives, and our sponsorship highlights the impact they can have for individuals pursuing their livelihoods.
"The film industry has embraced vaccination, masking and other protocols designed to help prevent disease and avoid serious illness from COVID-19 and we are pleased to work with it to further promote public health."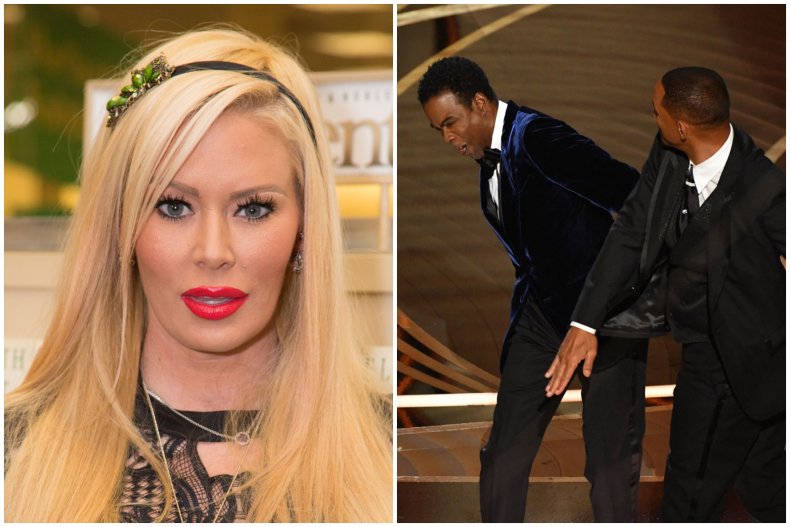 For a number of months, Jameson has been battling an as-yet-diagnosed illness that saw her hospitalized for several weeks and has left her using a wheelchair as she works to rebuild the strength lost in her legs.
When doctors initially diagnosed the model with Guillain-Barré syndrome, Jameson shot down suggestions that the rare autoimmune disorder had been brought on by "the jab." Guillain-Barré syndrome has been deemed a "very rare" possible side effect of the Johnson & Johnson COVID-19 vaccine.
As she shared a video of herself from her hospital bed back in January, Jameson spoke about her hospital experience before adding: "I did NOT get the jab or any jab. This is NOT a reaction to the jab. Thank you for your concern."
The Centers for Disease Control and Prevention (CDC) has deemed COVID-19 vaccines "safe and effective," advising on its website that those seeking vaccination "get either Pfizer-BioNTech or Moderna (mRNA COVID-19 vaccines).
"The mRNA vaccines are preferred over Johnson & Johnson's Janssen COVID-19 vaccine in most circumstances."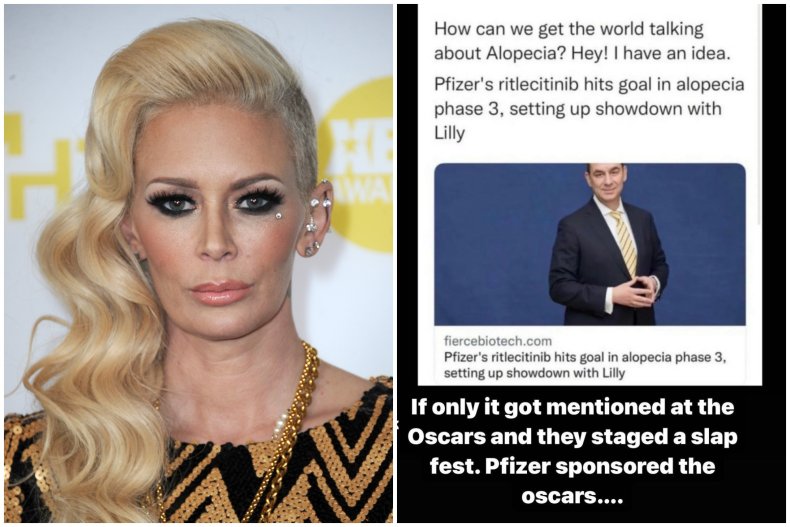 Meanwhile, the fallout from Sunday's Oscars has seen the Academy of Motion Picture Arts and Sciences launch an official review of the incident, with disciplinary action against Smith possibly including suspension, expulsion, or other sanctions.
The Academy also stated that Smith was asked to leave the star-studded awards ceremony after slapping Rock but "refused." Several minutes after the incident, Smith returned to the stage to accept the best actor Oscar for King Richard.
"The Board of Governors today initiated disciplinary proceedings against Mr. Smith for violations of the Academy's Standards of Conduct, including inappropriate physical contact, abusive or threatening behavior, and compromising the integrity of the Academy," the organization said in a statement.
"Things unfolded in a way we could not have anticipated," the Academy said. "While we would like to clarify that Mr. Smith was asked to leave the ceremony and refused, we also recognize we could have handled the situation differently."
A representative with the Academy said Smith has been given the opportunity to defend himself from repercussions in the form of a written response before the board meets again on April 18.
The Academy also apologized to Rock, saying in its statement: "Mr. Smith's actions at the 94th Oscars were a deeply shocking, traumatic event to witness in-person and on television.
"Mr. Rock, we apologize to you for what you experienced on our stage and thank you for your resilience in that moment. We also apologize to our nominees, guests and viewers for what transpired during what should have been a celebratory event."
Following the incident, the Los Angeles Police Department said in a statement that Rock had declined to press charges against Smith.
Update 3/31/22, 4:50 p.m. ET: This article was updated to include a statement from Pfizer.