J.Lo's Ex-Husband Ojani Noa Predicts Why Ben Affleck Marriage Won't Last
Jennifer Lopez's first husband has revealed why he thinks she and Ben Affleck will eventually split.
In an interview with the Daily Mail, Ojani Noa said he's "not convinced it will last" but wishes his ex "the best."
"Jen loves being in love, but she's been engaged six times. Ben is husband number four," he said. "I was husband number one and she told me I was the love of her life. When we lay in bed on our wedding night, she said we would be together forever."
Noa was a waiter working at a Miami restaurant owned by Gloria Estefan when he charmed Lopez before she skyrocketed to fame for her role in Selena. The producer, 48, and "Love Don't Cost a Thing" singer, 53, wed in 1997 but split less than a year later.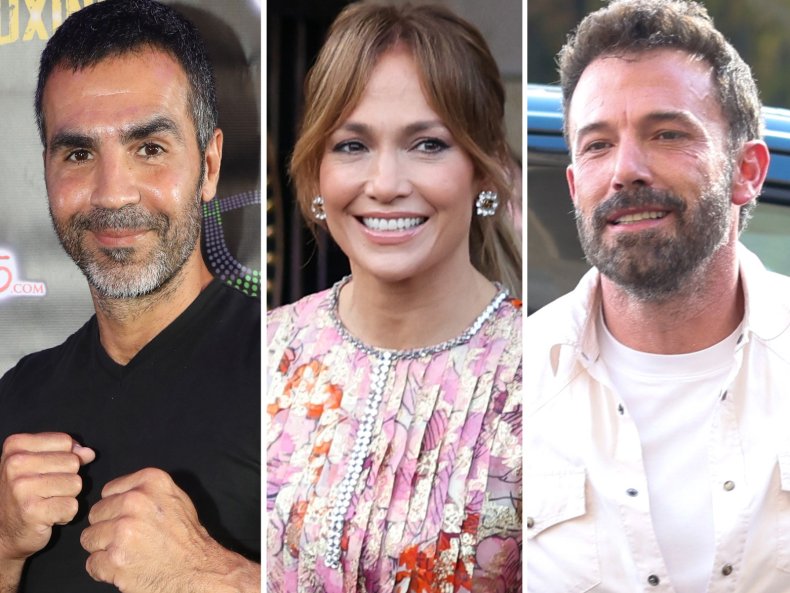 "There were many times I felt like Mr. Cinderella," Noa continued. "She was the most beautiful woman I'd ever seen. In the beginning, I had no idea who she was."
He added: "We fell in love when she was already famous. But during our marriage she became a megastar. For years it was too painful to talk about. I wanted to lie low and live my life. But when I saw she got married to Ben, who is a good guy, the feelings came flooding back."
Noa said he decided to speak out about his relationship with the star now because he wanted "people to know the real story."
Lopez confirmed she and Affleck, 49, got married on July 16 in a note published to her "On the JLo" newsletter the following day.
"We did it. Love is beautiful. Love is kind. And it turns out love is patient. Twenty years patient," the Hustlers actress wrote.
"When love is real, the only thing that matters in marriage is one another and the promise we make to love, care, understand, be patient, loving and good to one another. We had that. And so much more," she shared, noting it was the "best night of our lives."
Bennifer met on the set of their movie Gigli. They got engaged in 2002 but called it off in 2004, just days before they were set to wed.
"It's funny because Ben and I were together, and we were so in love. It was one of the happiest times of my life," Lopez told Rolling Stone in February 2022. "But also, there was this other thing happening where we were being criticized, and it really destroyed our relationship from the inside out, because we were just too young to understand at that time what were really the most important things in life."
Affleck alluded to the backlash his now-wife endured on The Hollywood Reporter's "Awards Chatter" podcast in January 2021.
"People were so f***ing mean about her—sexist, racist. Ugly, vicious s*** was written about her in ways that if you wrote it now you would literally be fired for saying those things you said," he said prior to getting back together with Lopez. "Now it's like, she's lionized and respected for the work she did, where she came from, what she accomplished—as well she f***ing should be!"
The Deep Water star was married to Jennifer Garner from 2005 to 2018. They share three kids, Violet, Seraphina and Samuel.
As for Lopez, who has changed her last name to Affleck, she was married to Noa from 1997-1998, Cris Judd from 2001-2003 and Marc Anthony from 2004-2014. She shares twins, Max and Emme, with Anthony.
In 2019, J.Lo got engaged to Major League Baseball star Alex Rodriguez. They called off their romance in April 2021 revealing in a joint-statement that they're "better as friends."