'Jeopardy!' Fans Anticipate New Host Announcement as They Unveil Clues
Jeopardy! fans have started to speculate that the show's bosses may be on the verge of finally announcing a new permanent host, after sharing what they believe are clues that the coveted post has been filled.
The November 2020 death of Alex Trebek lead to the large majority of Season 37 of the syndicated quiz show being filled with a revolving door of celebrity guest hosts, a number of whom were hoping to land the job.
In August 2021, then-executive producer Mike Richards was named as the new host of the nightly show, with Mayim Bialik being drafted in as the host of Jeopardy! specials and tournaments.
However, just nine days after the announcement, Richards stepped down from his role amid backlash over offensive comments he had made several years ago on a now-defunct podcast. By the end of August, he was also out of his producer role.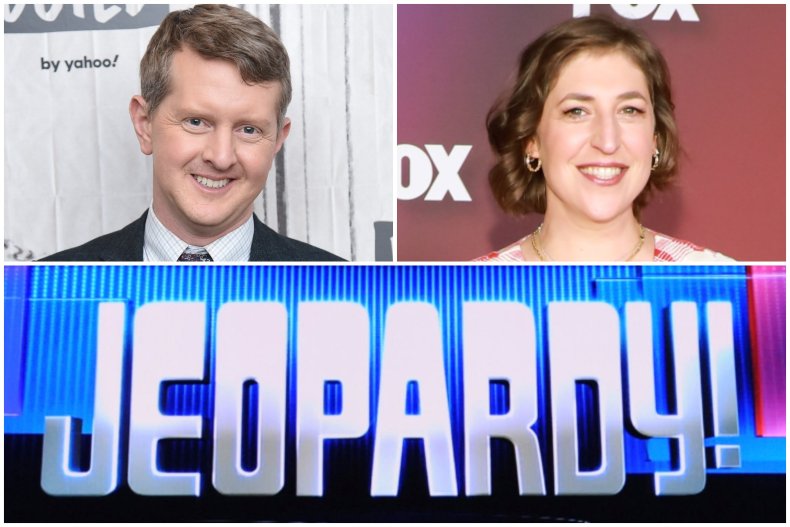 Before his departure, Richards had taped only one week's worth of episodes for Season 38. Bialik stepped in to host immediately afterward before she eventually started to split the duties with Jeopardy! all-time champ Ken Jennings.
Bialik and Jennings have continued to share hosting duties on the show for the remainder of the season, which comes to a close in the summer.
With an official announcement yet to come, Jennings shared some details on a June 2 episode of his podcast, Omnibus, that would indicate he is returning to the famous Jeopardy! lectern for Season 39.
In an unexpected moment, the revelation was made during a conversation about Jennings' appearance, when his podcast co-host, musician John Roderick, remarked: "I've never seen a picture of you where your hair went over your ears."
"It's very short right now, but this is calculated," responded Jennings, who is also a Jeopardy! consulting producer. "I need to be on TV in exactly three weeks."
"You do a thing where you putt over, counting on the ball to spin around and get in the hole?" Roderick asked Jennings about his precise timing.
"Yeah, like I'm playing 4-D chess every time I go get a haircut," said Jennings. Because I'm going to be on TV in three weeks but they're not going to cut my hair for it, which means I have to have it the exact right length. But a month thereafter, I'm going to be on... I've got to do Jeopardy! again, but they will trim it that day. So then I can get back down. There's a lot of math that goes into this."
Details of the audio clip were swiftly shared on Reddit, where Jeopardy! fans pointed out that since filming has wrapped for Season 38, it's a sure sign that Jennings will return—and a probable sign that he is the new permanent host.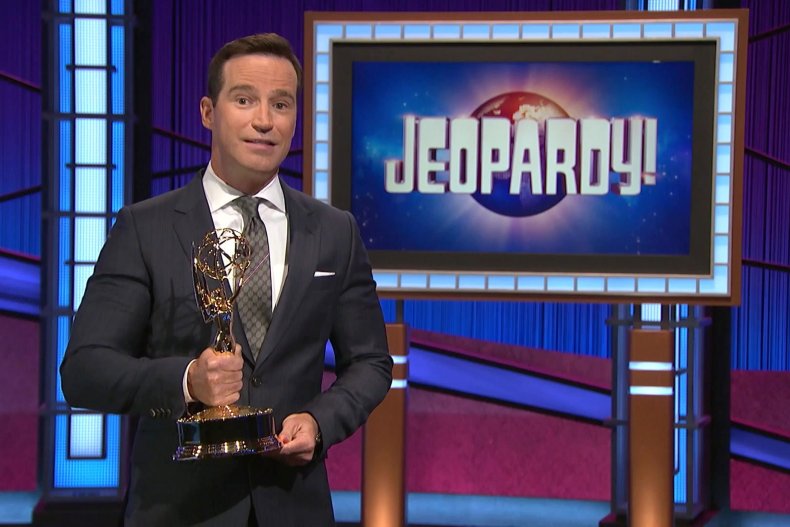 In addition, another user said that one of the show's writers, Mark Gaberman, tweeted on June 2 that he had signed a new contract to remain with the show, which could mean that the signing of host contracts is imminent.
However, others speculated that Jeopardy! producers may well just be continuing with the format of Jennings splitting hosting duties with Bialik, who also currently stars in the sitcom Call Me Kat.
Newsweek reached out to a representative of Jeopardy! for comment.
Back in March, it was revealed that Jennings is no longer part of ABC quiz show The Chase, where he had appeared with fellow Jeopardy! alumni James Holzhauer and Brad Rutter since its 2021 revival.
In a Twitter post shared on The Chase's account last month, it was announced that the show would return with Victoria Groce, Brandon Blackwell, and Buzzy Cohen joining Holzhauer and Rutter in the trivia competition.
Pointing out the glaring absence, Holzhauer responded to the post by quipping: "By popular demand, The Chase is now 100 percent @KenJennings-free."
Following the precedent set by his former castmate, Jennings opted to reply with a playful swipe of his own.
He wrote: "I'm already missing all the lovely folks at @TheChaseABC, and the great trivia minds, and James."
Former Jeopardy! champ Amy Schneider, whose record-breaking run on the show ended in January, revealed during a February appearance on CNN's Reliable Sources who she wanted to be named the new Jeopardy! host.
"I think Ken Jennings should be the host. I really, I can't say enough about him," she said. "I didn't necessarily think that before going into this, because, yes, he was a great champion, but this is a different skill set.
"But you could see the work that he put into it, and I just thought he did a really great job, so as far as I'm concerned, that's my endorsement."
Schneider, whose 40-game Jeopardy! win streak places her second only to Jennings' 73, told Newsweek in November that she had initially backed LeVar Burton for the job before his bid proved unsuccessful.