Jeopardy!: Who Is the Next Guest Host as Anderson Cooper's Run Ends?
Jeopardy!'s guest host line-up is moving on yet again. After 10 episodes, CNN anchor Anderson Cooper's final episode on the show will air on Friday, April 30.
Cooper is the sixth guest guest to fill in while the show finds its permanent replacement for Alex Trebek, following his death from pancreatic cancer last year. Before Cooper, Ken Jennings, Dr. Oz, Mike Richards, Katie Couric and Aaron Rodgers all had their turn as a guest host, and stars like LeVar Burton, Mayim Bialik and George Stephanopoulos are still to come.
Who is the next guest host of Jeopardy!?
Those guest hosts, however, are still to come. When the show returns on Monday, May 3, it will be with a news legend as the host.
Next week, CBS' long-time 60 Minutes host Bill Whitaker will become the seventh guest host of Jeopardy! Whitaker's participation in the show will be extra historic, as he becomes the first Black man to lead.
He will host 10 editions of the show from May 3 to May 14, before Buzzy Cohen takes over to present this year's tournament of champions.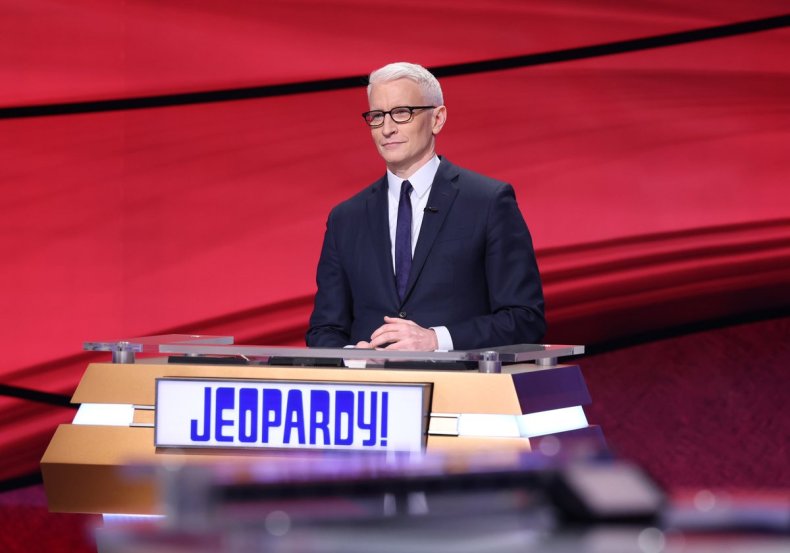 Whitaker's guest spot announcement was made in January, when his name was revealed alongside those of Couric, Rodgers, Whitaker and Bialik.
Like the previous guest hosts, a donation will be made to a charity of Whitaker's choice as part of his appearance. The journalist has chosen to give this donation to Media Fellowship House, a charity co-founded by his mother that promotes social justice, diversity and economic empowerment from its home in Media, Pennsylvania, where the journalist was born.
Whitaker's stint comes after Cooper's was a big success among fans of the show on social media. In a poll conducted by TV Line, the anchor is currently the favorite to become the permanent host of the show, beating Rodgers and the bookies' favorite, Jennings.
The most viral moment of Cooper's tenure came on the April 29 episode, when he berated none of the contestants for guessing Andrew Scott's 'Hot Priest' from Fleabag during a Pop Culture Priests round. "Wow, no one saw it? It's a great show. Andrew Scott is his name. The show is Fleabag. I recommend it."
As for who will be chosen to be the replacement for Trebek, EP (and guest host) Mike Richards said to TV Line: "Our goal has been to present a wide variety of guest hosts with different skill sets and backgrounds on our path to finding a permanent host...Our passionate fans are telling us what they like, and we are listening. All of the guest hosts have brought individualism, energy and an authentic love of our show to each of their episodes."