Jeremy Renner Doing 'Whatever It Takes' To Recover After Snowplow Accident
Jeremy Renner has shared that he's doing "whatever it takes" to recover from the injuries he sustained in a snowplow accident at his northern Nevada home.
Renner was rushed to hospital on New Year's Day after an accident while plowing snow at his Lake Tahoe home. He underwent surgery and two days later, shared an update on Instagram, informing his fans that he was on the mend.
His spokesperson revealed the extent of the injuries the two-time Oscar-nominated actor, 52, had sustained in the accident, which left him requiring surgery.
"We can confirm that Jeremy has suffered blunt chest trauma and orthopedic injuries and has undergone surgery today," the representative said at the time.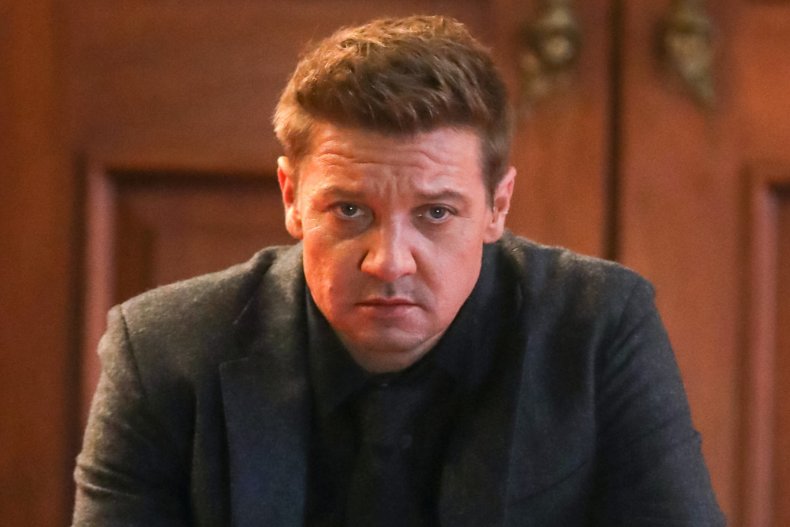 On Monday, Renner—who was released from hospital several days after his accident—shared an update on his recovery, posting a brief video on his Instagram Story that showed him peddling with one leg on a stationary bike.
"Whatever it Takes," he wrote in a caption that was placed over the clip.
Another post showed him holding Mark Nepo's New York Times bestseller The Book of Awakening as he relaxed before a fireplace.
"Mental Recovery Too," the screen star wrote alongside the photo.
In a January 21 Instagram post, Renner wrote about the sudden change of pace forced by the accident he had endured weeks earlier.
"Morning workouts, resolutions all changed this particular new years," he wrote. "Spawned from tragedy for my entire family, and quickly focused into uniting actionable love. I want to thank EVERYONE for their messages and thoughtfulness for my family and I .... Much love and appreciation to you all.
"These 30 plus broken bones will mend, grow stronger, just like the love and bond with family and friends deepens. Love and blessings to you all."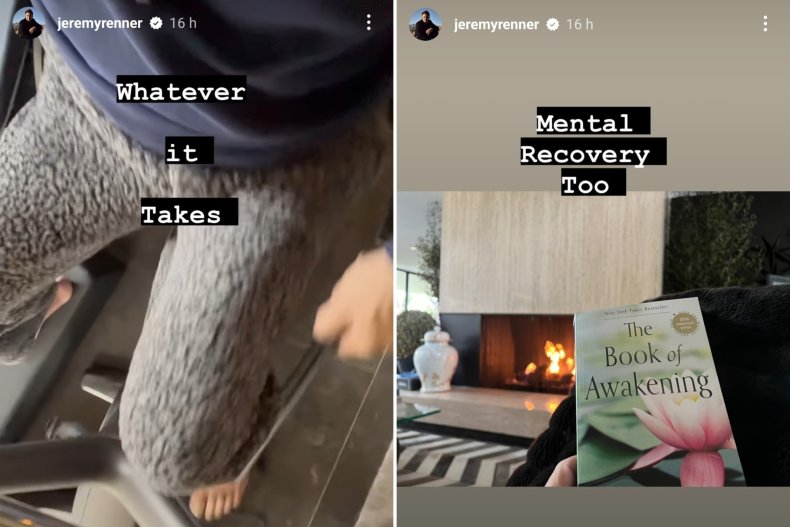 In early February, Renner's The Hurt Locker co-star Evangeline Lilly spoke about visiting him following his accident.
"He has recovered like a mo-fo," she told Access Hollywood. "I walked in his house and got chicken skin, because I was like, 'Why are you mobile? Why are you mobile? What's happening?' I expected to sit at his bedside and hold his hand while he moaned and groaned in pain and wasn't able to move. He was wheeling himself around, laughing with his friends. It's a miracle, a straight-up miracle."
"He had a near-death experience that was highly traumatic," she continued. "And he was awake for the whole thing. It really has stuck with me. It's been days and I'm still having moments where some of the stuff he told me that he experienced and retelling me the story of what went on and things he could hear and things he could see..."
"He's got a journey to go through now," she said. "That's what nightmares are made out of, and he lived through it and he's on the other side now."
Renner bought his northern Nevada ranch near the Mount Rose ski resort about eight years ago. Sitting on six acres, it's a sprawling property where he lives in a stone and timber cabin.
Leading up to the incident, Renner had posted photos of snowfall outside his property, describing it as "no joke." One showed a sedan car completely covered in snow.
He has described his Lake Tahoe home as a "horsepower ranch" because it houses his 200-strong vehicle collection, including many different fire trucks. The actor, who volunteers as a firefighter, collected them during COVID quarantine to have on standby for local firefighters to use.
"I'm using fire trucks for defensible space and for protecting my neighborhood, all the people up there," Renner told Men's Health in 2021.
"I had 30 fire trucks a hundred feet from a hydrant. Not because they're there to firefight, but they all potentially could."
Renner is an active member of the Mount Rose community where he has volunteered at the local "Shop with the Sheriff day," where locals shop with less fortunate families to buy them gifts for Christmas. He has also handed out food and clothes to homeless people on Thanksgiving with his daughter Ava, 9.
"I love it, man. This community reminds me of where I grew up... It reminds me of family, of home," he told the Reno Gazette Journal in 2019.
"There's no traffic, clean air, clean water, friendly, smiling faces here. I think it's a majestic place."