Jimmy Kimmel Teases 'Snowflake' Marjorie Taylor Greene for Calling Police
TV host Jimmy Kimmel has fired the latest salvo in his spat with Marjorie Taylor Greene by calling the Georgia representative a "snowflake" for filing a police complaint about a joke he told about her.
Kimmel started his show on Thursday describing the development of his dispute with Greene, who took exception to his quip referencing Will Smith's attack on Chris Rock at the Academy Awards.
Greene had accused GOP senators Mitt Romney, Lisa Murkowski and Susan Collins of being "pro-pedophile" for their backing of Judge Ketanji Brown Jackson to the Supreme Court. This is based on disputed claims that Jackson gives lenient sentences to child sex offenders.
"Wow, where is Will Smith when you really need him?" Kimmel said on Tuesday, prompting Greene to tweet that "this threat of violence against me by Jimmy Kimmel has been filed with the Capitol Police."
But Kimmel hit back in a monologue in which he started by saying "once again I find myself in the middle of a brouhaha as I appear to have run afoul of probably the worst woman in American politics."
He accused her on Thursday's show of trying to get "political mileage" out of the issue and mocked how she had called "the same police she voted against a Congressional Gold Medal for defending our Capitol against the insurrection she helped incite on January 6."
"That's who she called, the people she wanted to defund," he said, adding that after "processing" how somebody had called the police on him, he tweeted back "officer I would like to report a joke."
He then read out Greene's reply which accused him of using a "dog whistle to the violent left" and said that his comments would mean she would get "new death threats."
Kimmel said he did not condone death threats, which he receives "dozens" of every week, and accused her of hypocrisy for railing against violence as an image of her holding up a gun appeared on screen.
"She is the one who endorsed fringe conspiracy theories and repeatedly indicated support for executing prominent Democratic politicians now she's dialing 9-1-1 because she got made fun of.
"She's a snowflake and a sociopath at the same time. A 'snow-ciopath,'" he said as the audience laughed at the newly coined word.
He joked that if Greene was reporting him to the police, he was going to report her to the Justice League, referring to the action movie featuring Batman.
He then segued into a skit in which he wrote an imaginary letter to the superhero about the Republican lawmaker whom her described as a "super villain."
In her latest tweet about the spat, Greene said that Kimmel's employer, ABC, and "their parent company @WaltDisneyCo should not allow your misogyny & threats of violence."
Greene's spokesman Nick Dyer referred Newsweek to this tweet when contacted for comment. He added that threats against the congresswoman "invoking Jimmy Kimmel have been coming into our office."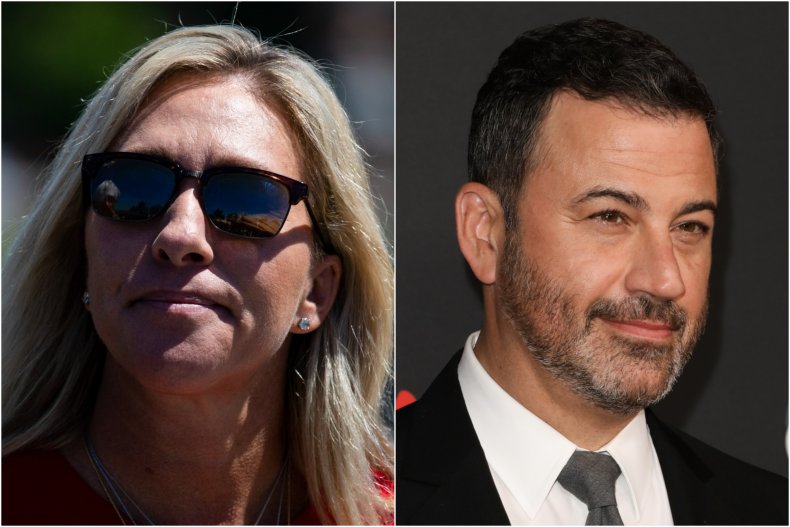 Update 04/08/22, 11:45 a.m. ET: This article has been updated a response to Newsweek from Rep. Greene's office.