Joe Biden Breaks Silence on Chinese Spy Balloon
President Joe Biden broke his silence on Saturday about the suspected Chinese spy balloon that flew into American airspace earlier this week.
The mysterious balloon first spotted flying over Billings, Montana, on Wednesday has been identified by the United States government as a spy balloon belonging to China, though the Chinese government insists that it is a weather balloon that flew off course. Officials say the balloon violates U.S. airspace, but have declined to shoot it down due to the risk of safety of people on the ground.
On Saturday, the president offered his first public remarks about the balloon.
"We're gonna take care of it," Biden, speaking at an air field base in Syracuse, New York, told CNN.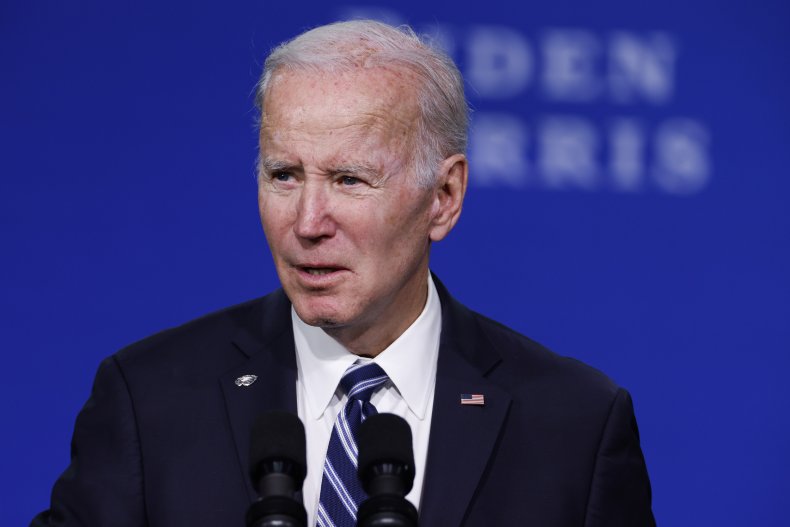 However, after the balloon was shot down Saturday afternoon over the Atlantic Ocean, Biden spoke to reporters to explain why he did not make the order sooner.
"I ordered the Pentagon to shoot it down on Wednesday as soon as possible. They decided—without doing damage to anyone on the ground—they decided that the best time to do that was when it got over water," he said. "Within the 12 mile limit, they successfully took it down, and I want to compliment our aviators who did it."
The president said more information about the balloon would be available at a later point.
Throughout the week, Biden faced scrutiny from Republicans over his handling of the situation. Critics questioned why he did not provide remarks sooner about the balloon, while some Republicans accused his administration of weakness over its reluctance to shoot it down. In a Truth Social post, former President Donald Trump urged Biden to "shoot down the balloon."
Since first being spotted over Montana, the balloon continued drifting across the central U.S. It was spotted in Missouri Friday afternoon and North Carolina on Saturday morning.
The suspected spy balloon's presence has increased tensions between the U.S. and China, which have already been high due to the Russia-Ukraine war and concerns over Taiwan's sovereignty. Secretary of State Antony Blinken was set to visit Beijing next week in an effort to reduce tensions between the two countries, but postponed his trip after the balloon was spotted.
A senior Biden administration official told Newsweek on Thursday that similar activities have been observed over the past several years and that Biden "acted immediately to protect against the collection of sensitive information," despite reluctance to shoot the balloon down.
The official also said the balloon offers China "limited value from an intelligence collection perspective."
U.S. officials on Friday confirmed that a second balloon was spotted over Latin America and were working to confirm that it was a Chinese surveillance balloon.
Update 2/4/2023, 2:19 p.m. ET: Additional background information and further details were added.
Update 2/4/2023, 3:52 p.m. ET: This article has been updated with comments from President Joe Biden.