Joe Biden Made a Big Mistake Not Visiting East Palestine
Most Americans think President Joe Biden should visit East Palestine, the Ohio town where a train of nearly 150 cars derailed on February 3, releasing toxic chemicals. This is according to a new survey conducted exclusively for Newsweek.
Rescue workers blew holes in five cars to carry out a controlled burning of vinyl chloride, a potentially explosive gas, releasing toxic gases hydrogen chloride and phosgene.
Biden has come under fire for not personally visiting East Palestine since the disaster, though Transportation Secretary Pete Buttigieg did make the trip on February 23.
The day before, Donald Trump, who is seeking a 2024 return to the White House, visited the site, during which he handed out crates of Trump Water to local residents.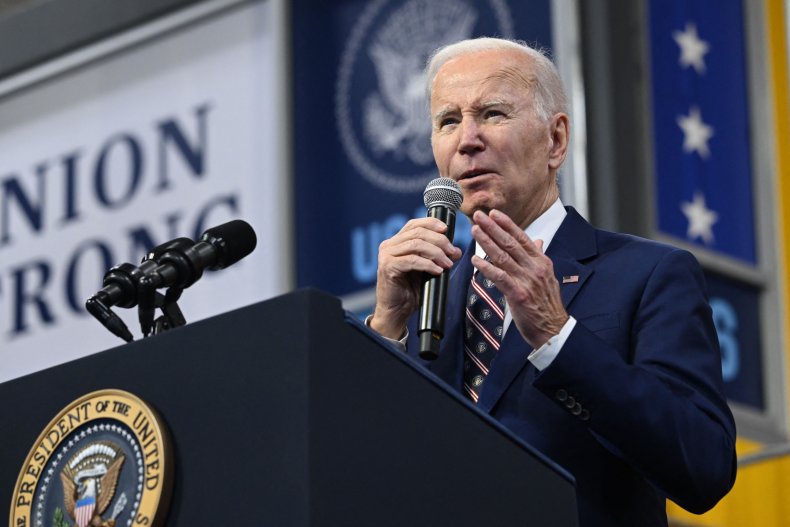 On March 7 and 8, 1,500 eligible U.S. voters were surveyed by Redfield & Wilton Strategies, on behalf of Newsweek.
The survey found 66 percent of Americans think Biden should "visit the site of the train derailment in East Palestine," with just 16 percent disagreeing, and 18 percent saying they didn't know.
Newsweek has emailed the White House to ask if Biden plans to visit East Palestine, and why he hasn't done so yet.
On February 20, Biden made a surprise trip to Kyiv, the capital of Ukraine, where he met with President Volodymyr Zelensky, just before the first anniversary of the Russian invasion.
This move infuriated East Palestine mayor Trent Conaway. He described it as "the biggest slap in the face" during an appearance on Fox News.
The Newsweek survey found 48 percent of Americans think East Palestine was "the most important place for Joe Biden to visit at the end of February," versus 34 percent who said it was Kyiv, with the remaining 18 percent unsure.
Biden's failure to visit East Palestine has also come under fire from figures within his own party. Former Ohio Democratic Representative Tim Ryan said he was "shocked" by the decision.
Speaking to NBC News about the lack of a presidential visit, Ryan said: "I'm shocked that it hasn't happened. I just don't understand. This is not a hard one. It's imperative that he shows up there and not just shed light on it today but make sure the effort is sustained."
In response, a senior White House official was quoted as saying: "When or if the president should go is, of course, a question we would talk about, but I don't think this is something we've been agonizing over in real time."
Trump's visit to East Palestine was viewed favorably, with 37 percent of respondents saying they "strongly approve," with another 22 percent for "approve." By contrast, only 16 percent either "disapprove" or "strongly disapprove" of the former president's trip.
On March 2, Biden told reporters he plans to visit East Palestine "at some point," though he did not provide details. Defending his response to the accident, the president said: "I've spoken with every official in Ohio, Democrat and Republican, on a continuing basis."