Joe Biden Risking World War III Over Taiwan, Democrat Warns
President Joe Biden has been criticized by a former Democrat Ohio congressman over his comments about the U.S. defending Taiwan in the event of a Chinese invasion.
Dennis Kucinich, who was also Cleveland Mayor and ran for president in 2004 and 2008, accused Biden of playing "dangerous games" and risking the outbreak of World War III with remarks he gave during an interview on CBS' 60 Minutes broadcast on Sunday.
When asked if the U.S forces would defend the self-ruled island which China claims as part of its territory, Biden replied: "Yes, if in fact there was an unprecedented attack."
Asked whether this meant that, unlike in Ukraine, American men and women from the U.S. forces would be sent to defend Taiwan from a Chinese invasion, Biden replied: "Yes."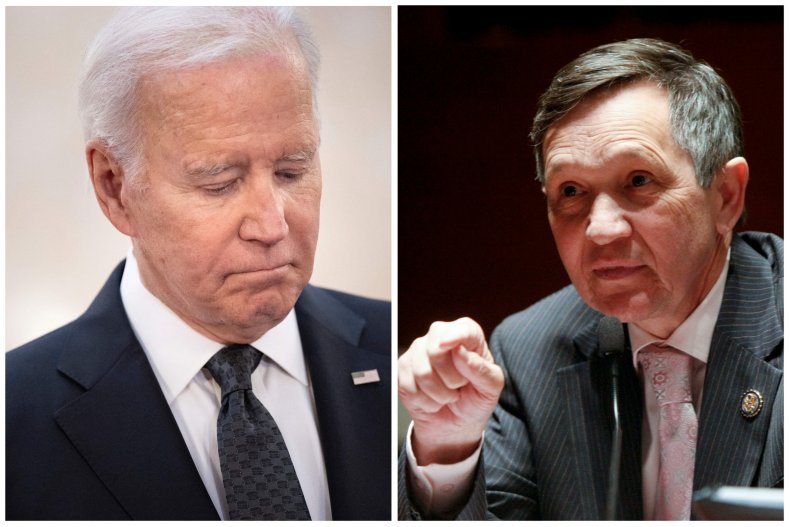 In a tweet, Kucinich noted how Biden once again went beyond the official U.S policy of "strategic ambiguity" with regards to not commenting on potential military action regarding Taiwan and risking a potentially devastating response from China.
"Is U.S. prepared for War [with] China over Taiwan? NO," Kucinich tweeted.
"China has world's largest navy, coast guard, military of two million, number 1 in ship building and steel production. Yet U.S. troops to defend Taiwan [says] Prez on 60 Min. Then WH says 'No.' Dangerous game [with] our troops as pawns."
Kucinich ended the tweet with a hashtag reading "WWIII."
The remarks from Biden prompted the White House to issue a statement to CBS and other news outlets stating their policy regarding Taiwan is still the same.
"The President has said this before, including in Tokyo earlier this year. He also made clear then that our Taiwan policy hasn't changed. That remains true," a White House spokesperson said.
In May, Biden said during a visit to Tokyo that the U.S. had made a "commitment" to protecting Taiwan amid concerns over Chinese military activity in the region.
Elsewhere in the 60 Minutes interview, Biden said the U.S. does not want to encourage Taiwan to try gain independence from China.
"There's one China policy, and Taiwan makes their own judgments about their independence," Biden said. "We're not encouraging their being independent. That's their decision."
The Chinese foreign ministry also criticized Biden's remarks, saying they "severely violate the important commitment" the U.S. made not to encourage Taiwan independence and "sends a seriously erroneous signal to Taiwanese separatist independence forces."
"There is only one China in the world, Taiwan is part of China, and the government of the People's Republic of China is the only legitimate government of China," Mao Ning, spokesperson at the foreign ministry said during a press briefing, via the Agence France-Presse news agency.
In a statement, Taiwan's Foreign Ministry thanked Biden for reaffirming the U.S. government's "rock-solid security commitment to Taiwan."
The White House has been contacted for further comment.