Joe Manchin and Kyrsten Sinema Open to $11 Minimum Wage, But Other Dems Less Willing to Compromise
Democratic Senators Joe Manchin and Kyrsten Sinema advocated for a more modest increase of the federal minimum wage to $11 per hour, compared with the $15 pushed by President Joe Biden and progressives, in a meeting with fellow Democratic senators on Tuesday. But other Democrats are sticking firm to their campaign promise of $15.
Biden and most Democratic lawmakers have backed more than doubling the federal minimum wage from $7.25 per hour to $15, as the amount has not been increased since 2009. Meanwhile, a group of moderate Democrats and Republicans have opposed such a drastic increase, advocating for a smaller hike.
On Tuesday, Senate Majority Leader Chuck Schumer convened a meeting with other Democratic senators to discuss the path forward, after the effort to raise the minimum wage to $15 in the American Rescue Plan failed earlier this month.
"Wonderful conversation, and I don't think anyone will talk to you, it was so good," Manchin, who represents West Virginia, told Politico following the meeting. But reporting by Politico and Punchbowl News suggested that lawmakers remained far apart following the meeting.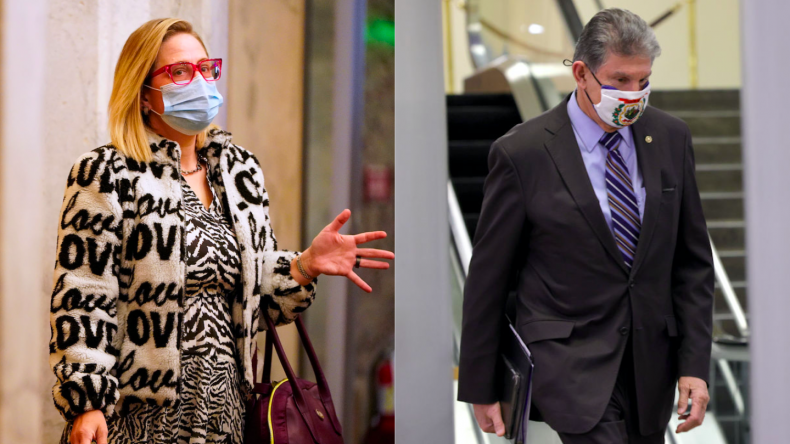 Senator Bernie Sanders, an independent who caucuses with the Democrats, remains fervently opposed to watering down the demand for an increase to $15. Manchin, Sinema and several other moderates appear firm in their opposition to such a dramatic increase right now. Meanwhile, with a 50-50 split between the Democratic and Republican caucuses in the Senate, even a united Democratic push for $15 would be an uphill battle. Because of the legislative filibuster rule, the minimum wage hike would require at least 10 Republican senators to sign on to the increase.
When Sanders attempted to force the $15 wage into the American Rescue Plan, eight Democratic senators voted against the proposal. Some moderate Republicans have put forward a proposal that would raise the wage to $10 per hour, which has led moderate Democrats to urge finding a way to compromise in a bid to get a bipartisan wage hike.
Senator Angus King, a Maine independent who caucuses with the Democrats, told Politico that compromising would be "better than nothing." He pointed out that Democrats got "nothing" eight years ago when they tried to raise the wage. "It's going to take 60 votes. So it's going to require compromise," he said.
While polls have consistently shown that a majority of voters support a $15 minimum wage, which has already been implemented in multiple states, a recent survey actually showed that an increase to $11 per hour is even more popular.
The polling, which was conducted by Morning Consult and Politico, showed that 71 percent of voters expressed support for raising the wage to $11, while 60 percent backed raising it to $15. In a partisan breakdown, 34 percent of Republicans, 56 percent of independents and 82 percent of Democrats approve of $15. But majorities of all three support $11, with 56 percent of Republicans, 69 percent of independents and 86 percent of Democrats.
Progressives argue, however, that Biden and Democrats campaigned on $15 per hour. They say compromising would be failing to fulfill a straightforward promise to voters. At the same time, given the current makeup of the Senate and the internal tensions within the Democratic Caucus, it's unclear how such a substantial increase could move forward.
Newsweek reached out to Manchin's and Sinema's press representatives for comment but did not immediately receive responses.