John Fetterman's Chances of Beating Dr. Oz in Pennsylvania: Polls
As Democratic candidate John Fetterman faces off against GOP nominee Dr. Mehmet Oz in Pennsylvania's Senate race, the liberal hopeful appears to be in the lead against his Republican rival.
Fetterman has served as Pennsylvania's lieutenant governor since 2019. Before that, he was the mayor of Braddock. Oz is a physician and popular TV personality who was endorsed by former President Donald Trump. The two candidates are seeking to fill the seat held by Republican Senator Pat Toomey, who voted to impeach Trump and is retiring after his current term.
Notably, Oz's support from Trump drew substantial backlash from many Pennsylvania Republicans as well as prominent allies of the former president. Nonetheless, Oz very narrowly won his GOP primary by a margin of fewer than 1,000 votes against his closest competitor, David McCormick. Fetterman handily won in the Democratic primary, with nearly 59 percent of the vote.
While minimal polling has been released for the race between the Democratic and Republican nominees, Fetterman appears to have a substantial lead in the most recent survey.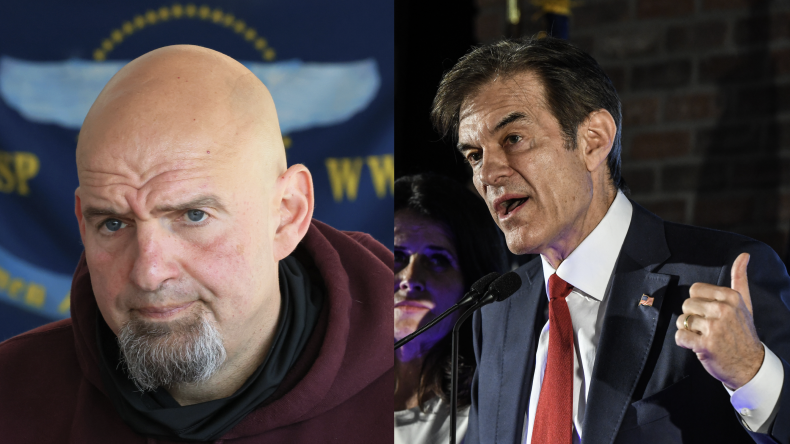 Polling data released by USA Today and Suffolk University on Wednesday showed the Democrat in the lead by 9 points against his Trump-backed opponent. The survey, which was conducted from June 10 to 13, had Fetterman at 46 percent, while Oz was at just 37 percent.
The poll also showed that about 13 percent of likely voters were undecided, while the remainder planned to back third-party candidates. However, Fetterman's favorability was substantially higher than Oz's as well. Forty-five percent of respondents viewed the Democrat favorably, compared with only 28 percent who had a positive view of the Republican.
The survey included 500 likely Pennsylvania voters and had a margin of error of plus or minus 4.4 percentage points.
A previous poll, carried out last December, showed Fetterman in a much closer contest with Oz. That survey by Data for Progress had the Democrat backed by 44 percent of likely voters, while the Republican was supported by 42 percent. That put Fetterman's lead well within the poll's margin of error, which was plus or minus 4 points among 581 likely Pennsylvania voters.
Although Toomey is a Republican, Pennsylvania's other senator is a Democrat, Bob Casey. The state went for President Joe Biden in the 2020 election by a slim margin of 1.2 percent. Trump won the state in 2016 by 0.7 percent, but Pennsylvania previously went for Democrat presidential candidates in every election going back to 1992.
Democrats view the race as a key opportunity to flip a Republican-held seat blue to shore up or maintain their control of the evenly split Senate. With 50 Republicans and 50 members of the Senate's Democratic caucus in the chamber, Democrats cannot lose even one seat without forfeiting control. Conversely, picking up a seat would give them a somewhat more comfortable margin.