Republican Ripped for Saying South Dakotans Kill 'Varmints' With AR-15s
Republican Senator John Thune from South Dakota was criticized Tuesday for saying that people in his state use assault rifles to shoot prairie dogs and other "varmints," citing those as "legitimate reasons" behind why people want the weapons.
Democratic Representative Don Beyer decried the South Dakota lawmaker's defense of the firearms on Twitter, saying that they're also used across the U.S. to shoot humans "in schools, grocery stores, hospitals, churches, synagogues, malls, bars, and workplaces."
"If you think shooting 'varmints' is more important than preventing mass shootings of children at elementary schools, you're wrong," Beyer wrote.
A recent wave of mass shootings in the U.S., including an attack on a Texas elementary school that left 19 children and two teachers dead, has placed new urgency on a contentious gun control debate that remains sharply divided between party lines. While Democrats are pushing for tighter gun restrictions, including increased age requirements and even total bans on assault rifles like AR-15s, most Republicans are putting up a strong front of opposition. Thune is now one of several GOP members of Congress who have pointed to the use of those firearms for pest control.
During a House Judiciary Committee hearing on gun violence last week, Republican Representative Ken Buck said that in rural Colorado, the AR-15 is the "gun of choice for killing raccoons before they get to our chickens." Buck said that type of firearm was also used to kill foxes.
"It is a gun that you control predators on your ranch, on your farm, on your property," Buck said.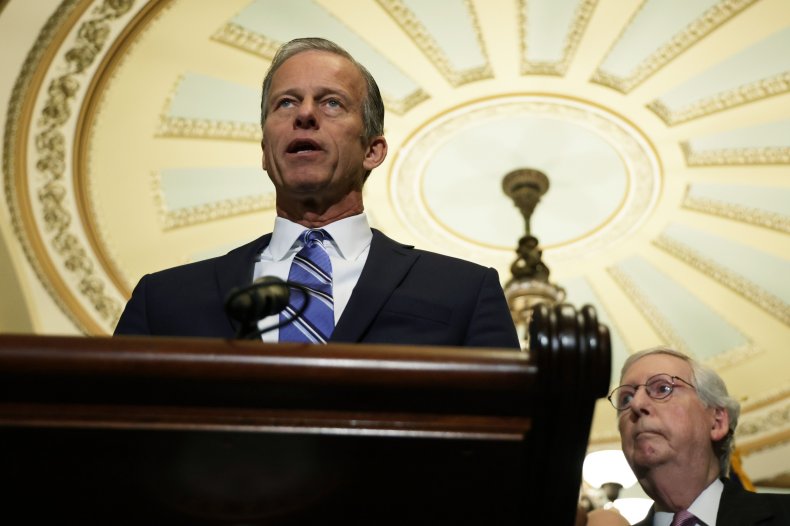 His comments also drew criticism from across the aisle. In a sarcastic message, Democratic Representative Eric Swallwell said: "Oh—Why didn't y'all just say so? We have to protect the chickens from the raccoons."
"Cool cool. So that's why our kids have to die in their classrooms," he added. "So we can protect the chickens. Makes total sense now."
Republican Senator Bill Cassidy of Louisiana also stressed the utility of AR-15s in pest control in late May, but this time for a different type of animal, Insider reported.
"If you talk to the people that own it, killing feral pigs in the, whatever, the middle of Louisiana, they'll wonder: 'Why would you take it away from me?'" he said.
Beyer, the Democratic representative who criticized Thune's comments on assault rifles and pest control, has announced plans to introduce a 1,000 percent tax on assault weapons in an effort to discourage Americans from purchasing them.
Beyer's team declined to offer additional comments to Newsweek.
Newsweek reached out to Thune for comment.
Updated 06/07/22, 3:30 p.m. ET: This story was updated to reflect that Beyer's team declined to comment.