Johnny Depp Implies Amber Heard Got 'Aquaman' Role After He Called Studio
Johnny Depp disputed Amber Heard's claims that he didn't help her land a role in the 2018 movie Aquaman during his return to the stand on Wednesday.
Depp, 58, is in the final week of his high profile defamation trial with ex-wife Heard, 36, who he sued for $50 million over a 2018 op-ed for The Washington Post, in which she said that she was a domestic abuse survivor.
Heard, who is countersuing for $100 million, did not name Depp in the article, but his lawyers have argued it was obvious she was referring to the actor. Both stars have denied one another's allegations of domestic abuse.
During the proceedings at Virginia's Fairfax County Circuit Court last week, Depp's attorney, Camille Vasquez, questioned Heard about how she came to land her role in the movie, suggesting that her ex-husband got her the part.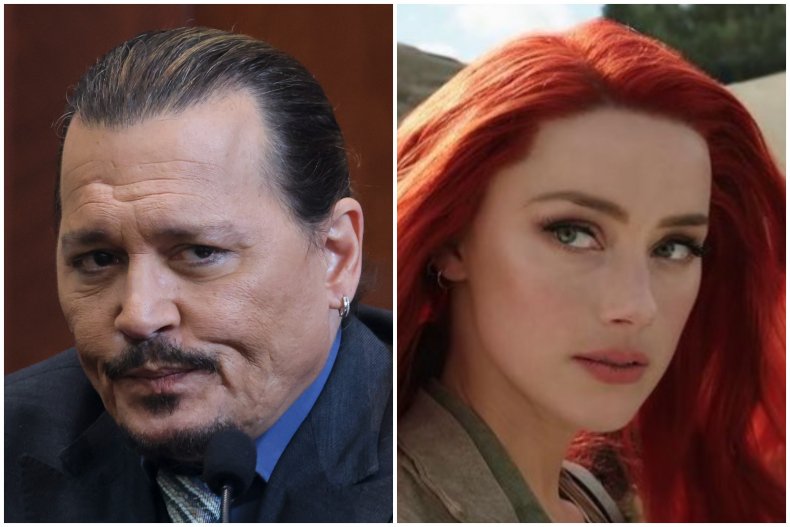 After audio was played to the court of Heard hurling insults at Depp, the actress admitted to calling her ex-husband "horrible, ugly things," before Vasquez asked of the recording: "Mr. Depp mentions Aquaman, doesn't he?"
Following Heard's confirmation, Vasquez enquired: "Mr. Depp got you that role in Aquaman, didn't he?"
"Excuse me?" Heard responded, prompting Vasquez to repeat her question.
"No, Ms. Vasquez. I got myself that role by auditioning. That's how that works," Heard said from the stand.
However, when Depp returned to the stand on Wednesday, he disputed Heard's claim as he testified that he had intervened amid "concerns" from Warner Bros. executives about Heard shooting the movie on location in Australia.
When asked in court whether he recalls Heard testifying that he "did not assist her in getting her role in Aquaman," Depp responded: "It's not exactly true."
He then said that he could recall the date Heard auditioned for the DC movie because his band, the Hollywood Vampires, had been scheduled to perform at the Rock in Rio festival on September 24, 2015.
"Ms. Heard had wanted to come with me and Whitney [Henriquez], her sister, had come as well," said Depp, who added that while they were in Portugal for the festival, Heard told him that she would be returning to Los Angeles for an audition.
"And that audition was at Warner Bros. Whatever film it was," the actor said.
"I was informed by Ms. Heard that the film was going to be shooting in Australia, and that was of concern to her, because it was of concern to Warner Bros," Depp told the court.
He went on: "For a few years I had had a multi-film deal with Warner Bros., so we'd been in business together. So I knew these people. I'd been on films with them.
"So [Heard] asked me if I would speak to them. I made a phone call and I spoke to the three upper echelon Warner executives—Kevin Tsujihara, Sue Kroll and Greg Silverstein."
When asked what outcome Depp's alleged calls to the executives had achieved, he responded: "I can only say that ultimately she did get the job in the film. So hopefully, I suppose I had curbed their worries to some degree."
Newsweek has contacted representatives of Warner Bros. for comment.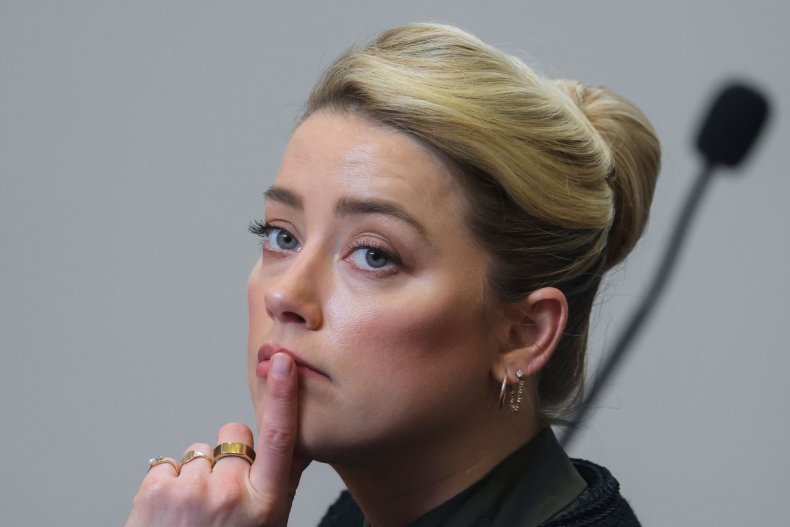 The concerns about the film shooting in Australia appear to stem from Heard's court battle with local authorities for taking the couple's pet dogs into the country in May 2015 without declaring them. The trial concluded with Heard avoiding conviction.
In a taped apology, Heard said she was "truly sorry" for not declaring terriers, Pistol and Boo, when she entered Australia—which is known for its strict quarantine laws. Foreign pets must be quarantined for 10 days when first brought into the country.
A spokesperson for Australia's Department of Agriculture, Water and the Environment (DAWE) told Newsweek earlier this month that investigations are ongoing over allegations that Heard lied under oath.
While Heard did go on to land her role as Mera in the box office hit Aquaman, she has claimed that reprising her character for the upcoming sequel was a struggle.
While testifying in court on May 16, Heard was asked if she had been replaced in Aquaman 2.
Heard responded: "They released me from my contract. And I fought to stay in it, and they kept me in it. I just don't know how much I'm in, actually, of the final cut."
She later went on to state in the courtroom: "I don't know if I will even be in the final cut or how much I will be. It was difficult to stay in the movie."
The screen star said that while she ultimately filmed scenes for the movie, it was a "very pared-down version of that role."
"I was given a script and then given new versions of the script that had taken away scenes that had action in it," she said. "That depicted my character and another character—without giving any spoilers away, two characters fighting with one another. They basically took a bunch out of my role. They just removed a bunch."
She added: "I fought really hard to stay in the movie. They didn't want to include me in the film."
Last week, Heard's agent, Jessica Kovacevic, testified that Warner Bros. was considering recasting Heard in her role due to a lack of chemistry with Momoa, and not because of the bad press she received over her legal battles with Depp.
The Depp v. Heard trial continues Wednesday, and Newsweek will be covering all the breaking stories from the Fairfax County courtroom on our live blog.