Johnny Depp Has Drawing Break to Look up During iO Tillett Wright Testimony
Johnny Depp appeared to take a break from looking down after ex-wife Amber Heard finished testifying on the witness stand on Tuesday and another witness, iO Tillett Wright, began his deposition.
Many watching the high-profile trial noticed a few weeks ago that Depp refused to look up at Heard while she took the witness stand in her defense. Instead, Depp appeared to be drawing and avoiding looking at Heard.
On Tuesday, however, Depp appeared to look up again when a new witness began to testify. Tillett Wright was presented in a video deposition to the court, being questioned by Depp's and Heard's legal teams.
Tillett Wright, an author, photographer, podcast host and activist, has reportedly been friends with Heard for several years and has been pictured with the Aquaman actress at various times over the last decade.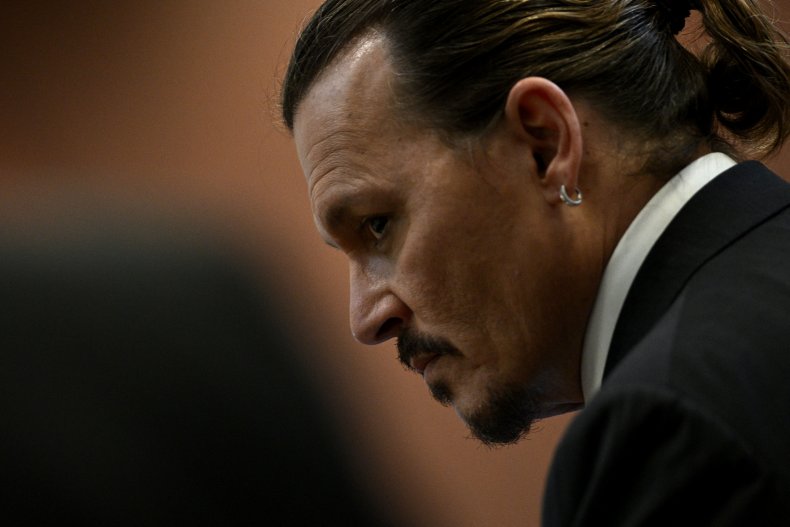 Tillett Wright testified that he and Depp developed a quick and close connection, stating that they had a "kindred connection" when Depp was sober.
Tillett Wright also testified on Depp's alleged drug and alcohol abuse, which has been widely covered throughout the trial. He stated that Depp would become "very mean, very surly, very paranoid, extremely paranoid," and would "weave" together elaborate situations, including Heard's involvement in imagined affairs.
He also stated that Depp appeared to have a cigarette or joint in his mouth "at all times... to the point where I was confused about how he could function."
While Tillett Wright stated that he never personally witnessed Depp's alleged physical abuse of Heard, he recalled an incident in which he called the police after hearing an argument between the couple over the phone.
He stated that Heard called him while he was in New York and he was put on speakerphone to discuss an incident in which Depp believed Heard and Tillett Wright defecated on his bed as a "prank." Heard stated on Monday that the feces belonged to Depp's dog, not a human.
Tillett Wright stated on Tuesday that he and Heard began laughing when Depp spoke to them about it, but that Depp became "more agitated" and walked away. Tillett Wright then testified that he heard a loud banging noise before hearing Depp say, "Oh you think I hit you, what if I peel your f**king hair back."
Tillett Wright then stated he heard what sounded like Heard screaming, at which point he decided to call the police as well as Raquel Pennington, Heard's best friend who lived in the penthouse apartment next door.
Tillett Wright stood up for Heard in 2016 as well regarding the abuse allegations, calling out a TMZ article that reported Heard leaving her and Depp's apartment "with no evidence of any facial bruising."
"I've had enough. I saw the bruises. Many times. And the fat lip. And the cut head," Tillett Wright wrote on Twitter at the time. "How much evidence does a woman need to present?!" he added.
Newsweek reached out to a representative of Johnny Depp for comment.
Update 05/17/22, 6:00 p.m. ET: This article was updated with additional information and background.