Depp Lawyer Camille Vasquez Compared to Meghan Markle's 'Suits' Character
Johnny Depp's lawyer Camille Vasquez has gone viral on social media for her legal work for the Pirates of the Caribbean star during his defamation lawsuit against ex-wife Amber Heard.
In a wave of TikTok videos posted since the trial began, Vasquez has been compared to Meghan Markle's high-powered lawyer character played by the royal on her hit TV show Suits.
Meghan played the role of attorney Rachel Zane in the legal drama for seven seasons from 2011 to 2017 when she became engaged to Prince Harry.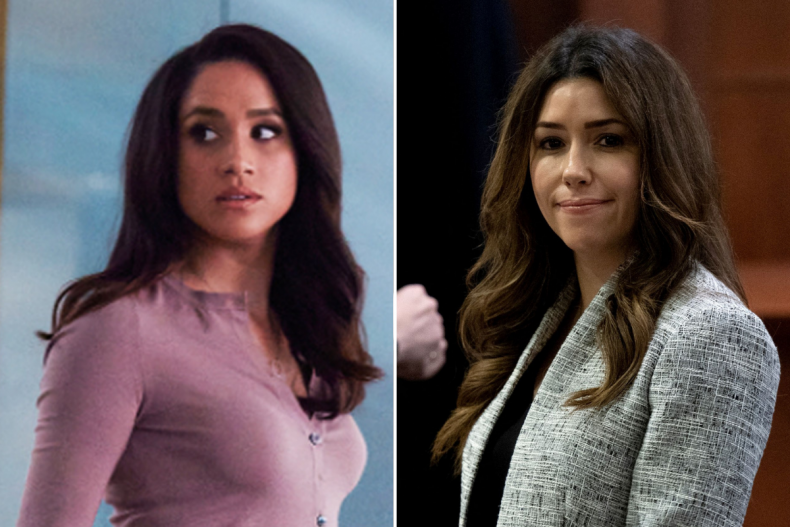 Vasquez has gained a strong fan base on social media following her intense cross examination of Heard over the actress' claim to have pledged all of her $7 million divorce settlement to charity.
Vasquez's intense grilling of Heard drew comparisons with Meghan's character Rachel Zane who in the show was noted for her determination as well as her 'no prisoners' approach to legal practice.
In a TikTok video posted by the account optimalfeels, a clip of Vasquez forcefully keeping Heard on topic saying "Ms Heard, respectfully—that is not my question," has been cut together with a scene from Suits in which Markle, as Zane, says "the perk of being a lawyer—it never stops does it?"
In a second video from the same account Depp's entire legal team are compared to characters from Suits with comparison once again being drawn between Vasquez and Zane.
A video posted by the account mrs_jones_ which shows Vasquez touching Depp's jacket as well as holding his hand in court draws attention to speculation online that Vasquez and Depp may have developed a personal relationship.
In the TikTok post these clips are spliced together with shots of Meghan as Zane in scenes from Suits. A shot of Vasquez with Depp features the caption: "did anyone else see it?" which is followed by a scene of Zane speaking with another Suits character with the caption, "this."
The comparison is based on the character of Zane's turbulent love life depicted on the show which continued throughout Markle's seven-season run.
In a video obtained by TMZ, Vasquez was asked by a reporter waiting outside the Fairfax County Circuit Court where the Depp v. Heard case is taking place whether the lawyer was dating her client. No response was given though Vasquez can be seen laughing off the question.
Depp is suing his former wife, Heard, for $50 million in a defamation suit brought in relation to an op-ed piece written by the actress and published by the Washington Post which Depp claims caused him to lose out on movie roles.
Heard did not mention Depp by name in the article but the star's legal team claim that it was unquestionably about the star and that readers would have been aware of this.
Heard is countersuing for $100 million and has, since the start of the trial been the target of online criticism. A change.org petition to have Heard's scenes cut from the upcoming Aquaman and the Lost Kingdom movie has gained over 4 million signatures.
The trial was extended earlier this month owing to the substantial amount of evidence involved and is now forecast to conclude on May 27 after which the jury will adjourn to consider its verdict.