Aileen Cannon Decision to Give Trump Special Master 'Utterly Lawless'—Tribe
A federal judge's decision to appoint a special master to examine thousands of documents seized by the FBI from Donald Trump's Mar-a-Lago home has been criticized by legal experts.
Judge Aileen Cannon granted the former president's request on Monday for a special master to be brought in to determine if any of the materials are protected by attorney-client privilege or executive privilege.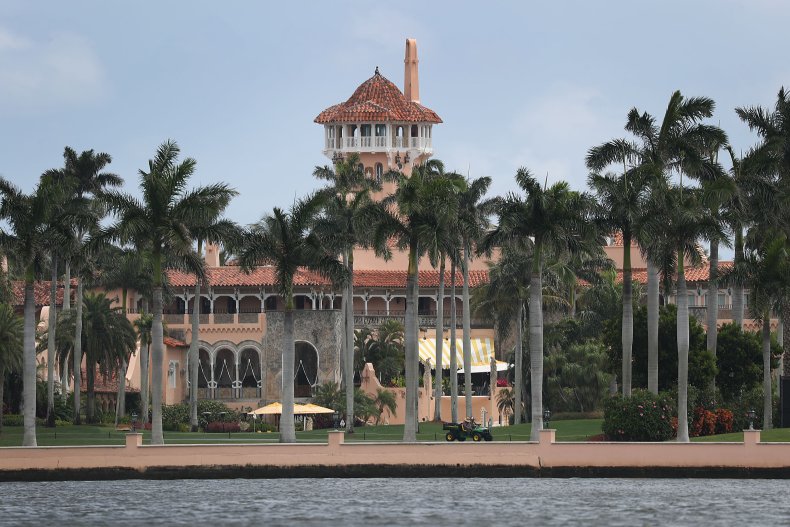 Cannon, who was appointed to the bench by Trump, also temporarily halted the Department of Justice (DOJ) from using any of the materials seized from Trump's Florida home as part of the criminal investigation into allegations the former president mishandled classified and top-secret documents, until the special-master review is complete.
Cannon ruled that the Office of the Director of National Intelligence may continue its probe into the possible risk to national security posed by the removal of potentially highly sensitive government and intelligence secrets.
Laurence Tribe, professor emeritus of constitutional law at Harvard University, tweeted that Cannon's decision was "utterly lawless" and that she has "disgraced her position as an Article III judge."
Tribe's post was in response to a tweet from Andrew Weissmann, a former DOJ prosecutor. It read that Cannon's decision now puts the DOJ in an "untenable position" of appealing a "plainly wrong decision and enduring the unknown delay that entails OR just trying to speed though the Spec Master process."
A number of other legal experts have condemned Cannon for intervening in the criminal investigation while citing disputed reasoning of executive privilege.
Executive privilege, which shields records involving presidents from being made public, can be invoked by a former president only if the incumbent allows it, a move that has not been granted in this case by Joe Biden.
In a letter to Trump's legal team on May 10, the National Archives and Records Administration (NARA) noted that there is "no precedent" for an assertion of executive privilege by a former president against an incumbent to prevent the latter from obtaining presidential records belonging to the federal government, which in itself is part of the executive branch.
Peter M. Shane, a legal scholar and specialist in separation of powers, told The New York Times: "Even if there is some hypothetical situation in which a former president could shield his or her communications from the current executive branch, they would not be able to do so in the context of a criminal investigation—and certainly not after the material has been seized pursuant to a lawful search warrant."
Cannon's reasoning that Trump should be treated like an ordinary citizen as part of the investigation now he is no longer president was also disputed. In her 24-page ruling, Cannon explained that she came to her decision to appoint a special master "to ensure at least the appearance of fairness and integrity under the extraordinary circumstances."
Samuel W. Buell, a Duke University law professor, said that Cannon's decision to allow special considerations to the former president was "laughably bad" and the written justification "even flimsier."
"Donald Trump is getting something no one else ever gets in federal court, he's getting it for no good reason, and it will not in the slightest reduce the ongoing howls that he is being persecuted, when he is being privileged," Buell told The New York Times.
In a series of tweets, former acting Solicitor General Neal Katyal also hit out at Cannon's decision to bring in a special master to prevent "reputational" harm to the former president.
"That's insane-every crim[inal] def[endan]t has reputational harm. Are we now going to have special masters in every crim investigation?" Katyal wrote.
Who Is Aileen Cannon?
Cannon is a federal judge on the United States District Court for the Southern District of Florida. She was nominated by Trump in May 2020, with the Senate confirming her in a 56-21 vote on November 12 of that year, nine days after Trump lost the presidential election.
Prior to her appointment, Cannon worked as an assistant United States attorney, serving in the appellate section's criminal division in Florida from 2013 to 2020, as well as as an associate at Gibson, Dunn & Crutcher from 2009 to 2012.
Cannon has been a member of the Federalist Society, a hugely influential nationwide organization of conservative lawyers, since 2005.
The Federalist Society is credited with helping Trump with his picks for Supreme Court nominees as president, with 43 out of 51 of Trump's federal court appointments either members or having ties to the organization.
Currently, five of the nine Supreme Court judges, Brett Kavanaugh, Neil Gorsuch, Clarence Thomas, Samuel Alito, and Amy Coney Barrett, are former members of The Federalist Society, with John Roberts' official membership disputed.
In 2018, Politico also credited the Federalist Society with "changing American society itself by deliberately, diligently shifting the country's judiciary to the right."
Newsweek has contacted Cannon for comment.