Judge Newman Praised for 'Personal' Approach With Alex Murdaugh
The judge presiding over the Alex Murdaugh murder case has received praise online for his "personal" and "compassionate" handling of the trial.
Murdaugh, a former South Carolina lawyer, was convicted of murdering his wife and son by a jury after six weeks of intense trial.
He was found guilty of two counts of first-degree murder in the deaths of Margaret "Maggie" Murdaugh, 52, and Paul Murdaugh, 22, who were found shot dead on June 7, 2021, at the family's hunting estate in Colleton County, South Carolina. He was also found guilty of two counts of possession of a weapon during the commission of a violent crime.
On Friday, Judge Clifton Newman sentenced the former lawyer to two consecutive life sentences for the murders.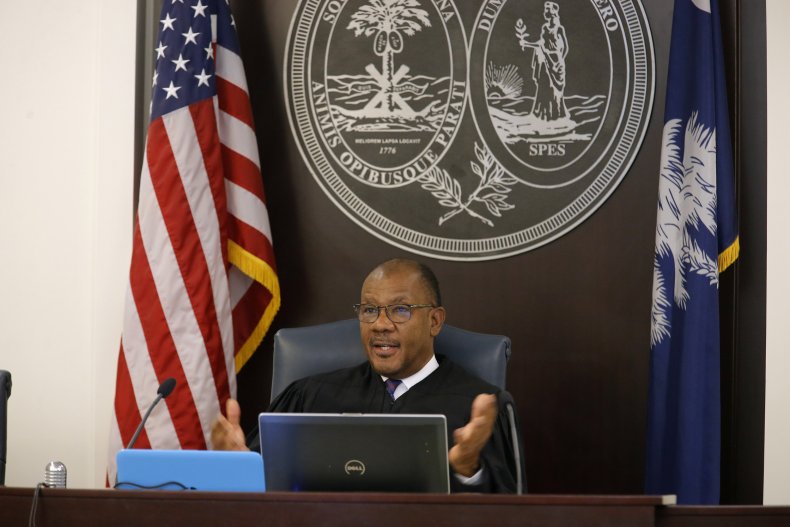 Newman said this case might have been worthy of the death penalty, but said he didn't question the prosecution's choice to seek life sentences, according to WSAV-TV reporter Andrew Davis on Twitter.
The judge noted that defendants Murdaugh, and his family, prosecuted when he was a lawyer received the death penalty "probably for lesser conduct."
Meanwhile, Murdaugh's attorneys said they plan to appeal the double-murder conviction after the judge allowed prosecutors to present evidence of Murdaugh's alleged financial crimes.
Throughout the trail, and especially during the sentencing hearing, Newman was praised for his kindness and humility by many.
Chris Trainor, a reporter with South Carolina's The State, said the judge's sentencing was "especially piercing."
"It's not hellfire and brimstone, and that makes it *more* effective," he said in a tweet. "He's making it personal and intimate."
WBZ reporter Mike Uva said Newman has always done "an incredible job" presiding over the trials for "some really heinous crimes" over the years and is glad he is finally getting national attention.
Before delivering his sentence, Newman also praised Murdaugh's "lovely" family, calling them, and Murdaugh, "friendly people."
In a statement to the judge, Murdaugh maintained his innocence, saying he would never hurt his wife and son.
"I'm innocent, I would never, under any circumstances, hurt my wife Maggie and I would never, under any circumstances, hurt my son Paul Paul," he said in court.
Newman responded that it might have been the "monster" Murdaugh became who killed his family.
"It might not have been you, it might have been the monster you've become," he said to Murdaugh, noting that after taking opioid pills, "maybe you become another person."
"I've seen that before," he added. "The person standing before me is not the same person who committed the crimes, though it's the same individual."
During the trial, prosecutors shared that Murdaugh had a decades-long opioid addiction. Murduagh admitted during his testimony that he lied to investigators about where he was before the killings due to paranoia from his addiction.
Newman also noted that Murdaugh lied several times to the jury during his testimony and said he's sure Maggie and Paul visit him at night when he tries to go to sleep, as his crimes weigh on his soul.
Healy Baumgardner, a former adviser for Donald Trump's presidential campaign, also praised Newman for this moment, saying she "felt Lady Justice in every fiber" of her being.
South Carolina state Representative Roger Kirby said Newman has a "steady judicial hand, exceeding wisdom and unfailing integrity."
"Judge Newman, in his long and stellar career, is a testament to the highest aspirations for the judiciary in South Carolina," he wrote in a tweet.
State Senator Thomas McElveen said his first appearance in circuit court was before Newman.
"He's a tough, compassionate, and brilliant jurist, and such a wonderful person," he tweeted about the judge.
This conduct was exemplified on Thursday when Newman had to dismiss a juror after he received a complaint that she discussed the case outside of the courtroom.
"You have been by all accounts a great juror and smiled consistently and similarly been attentive to the case, and I am sure with all the time you have invested, you probably hate not to continue," the judge said before thanking the juror for her service.
Throughout the intense murder trial, Newman was also battling his own personal grief. The State reporter Maayan Schechter said the judge lost his son right before the trial began.
This comes as the lead prosecutor in the trail, Creighton Waters, faced criticism for his "weird" strategy during his cross-examination of the suspect's testimony.
When Murdaugh took the stand, Waters was criticized for focusing more on his alleged previous financial crimes rather than the details of the murder in a seeming attempt to discredit the suspect.
Newsweek reach out to the South Carolina Attorney General's Office and the Colleton County Courthouse for comment.