Julia Fox 'Had Not Seen' Kanye's Racial Slur Post When She Defended Him
Julia Fox has stated that she wasn't aware of Kanye West's racial slur post aimed Trevor Noah at the time she defended the rapper in an interview.
Fox, 32, who dated West, 44, for several weeks at the start of the year, said in an interview last week that she didn't believe her ex "would hurt a fly" when asked about his stream of controversial Instagram posts.
Specifically, Fox was addressing West's recently-unveiled "Eazy" music video, which showed a claymation depiction of his Pete Davidson, who is dating his ex-wife Kim Kardashian, getting kidnapped and buried alive.
Last Thursday, when she was asked by TMZ if Kardashian, 41, and Davidson, 28, should be concerned about their safety, Fox responded: "No, Kanye's harmless.
"I just think that's his artistic creative expression. I know it's aggressive, but... I think that if it really came down to it, I don't think Kanye would hurt a fly."
However, over the weekend, Fox clarified that her statement was given before she had seen West's post in which he aimed a racial slur at TV personality Noah, 38.
"I would like to point out that I had not seen the latest Instagram posts at the time of this video," Fox wrote in a since-deleted Instagram post, per NME. "Believe it or not I have a life and a son, and I don't have Google alerts for this man!"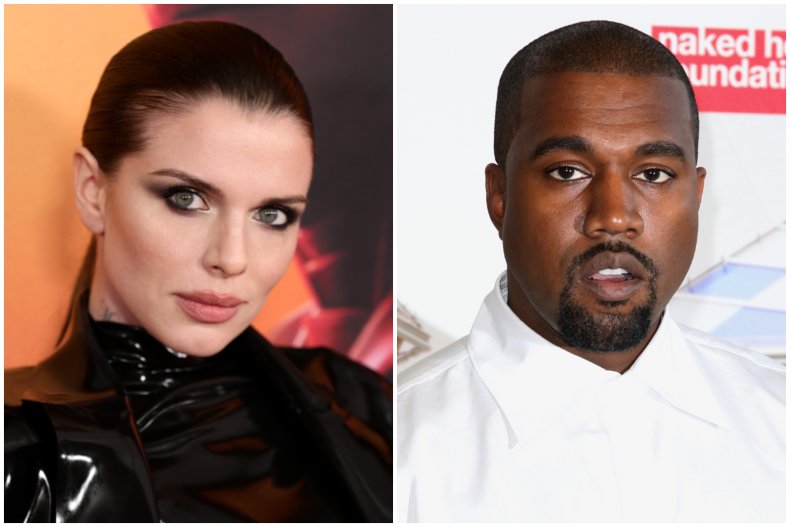 The Italian-born screen star added: "I thought this question was in reference to the music video. Yeah I could just not answer questions but then it would be 'Julia is mad she salty' etc and I'm not!
"It's a real catch-22 so please stop F'n asking me! I wish I had the answers, but I do not. I would like to remain an Indie Queen. The mainstream life isn't for me."
Elsewhere in her brief interview with TMZ, Fox was asked if she believed that West was a potential risk to himself, responding: "At this point, I'm not really sure, but I'll give him a call and I'll find out."
"Flashing Lights" hitmaker West was hit with a 24-hour ban from Instagram last Wednesday for violating the social media platform's policy on hate speech, bullying and harassment after sharing a post with a racial slur aimed at Noah, 38.
West shared the post shortly after Noah accused the musician of "harassing" Kardashian amid her relationship with Saturday Night Live star Davidson.
"There's an element of a woman saying to her ex, 'Hey, please leave me alone,'" Noah said during an episode of The Daily Show.
He went on: "It touches on something that is more sensitive and more serious than people would like to admit. I see a woman who wants to live her life without being harassed by an ex-boyfriend or an ex-husband or an ex-anything.
"You may not feel sorry for Kim because she's rich and famous. But what she's going through is terrifying to watch. And it shines a spotlight on what so many women go through when they choose to leave.
"What we're seeing here is one of the most powerful, one of the richest women in the world unable to get her ex to stop texting her, to stop chasing after her, to stop harassing her."
West responded by sharing a post in which he rewrote the lyrics of African American spiritual "Kumbaya" to include a racial slur used against Black people.
Commenting on the post, Noah wrote to West that "it breaks my heart to see you like this. I don't care if you support Trump and I don't care if you roast Pete. I do however care when I see you on a path that's dangerously close to peril and pain."
He added of West's slur: "Clearly some people graduate but we still stupid. Don't ever forget, the biggest trick racists ever played on black people was teaching us to strip each other of our blackness whenever we disagree. Tricking us into dividing ourselves up into splinters so that we would never unite into a powerful rod."
Amid the fallout from West's post, it has been reported that the rapper has been banned from performing at this year's Grammy Awards due to "concerning online behavior," according to his representatives.
Noah, who is presenting the awards ceremony next month, spoke out on the matter on Sunday, tweeting: "I said counsel Kanye not cancel Kanye."
There have also been calls for West to be dropped from the star-studded array of performers at next month's Coachella music festival.