How Korean Webtoons Are Taking Over the K-Drama and Streaming Worlds
Korean drama series have catapulted to international fame in the past year. The K-drama world has had a record-breaking start to 2022, with historic Screen Actors Guild (SAG) nominations and a first-ever Golden Globe win (in addition to nominations) for Squid Game—the runaway hit Netflix show.
K-dramas have been at the forefront of South Korea's recent global success. Many of the most popular shows on Netflix and other streamers originated in the form of webtoons, a type of digital comic that emerged in South Korea back in the early 2000s.
Korean webtoons were initially created in a bid to attract users to portal sites and to digitize paper comics—known as "manhwa" in Korean. The Korean portal sites Daum and Naver—which each launched their own webtoon platforms in 2003 and 2004, respectively—have been leading the webtoon market since, The Korea Herald reported in May 2020.
Explosion of Webtoon-Inspired Netflix K-Dramas
Back in August 2020, an article on a website of the country's Ministry of Culture, Sports and Tourism said Korean webtoons were showing potential to become "the next big genre" boosting hallyu (or the "Korean wave"), which refers to the phenomenon of South Korean culture taking the world by storm.
Today, many of the recent hit K-dramas on Netflix have been adaptations of Korean webtoons, including Sweet Home, a fantasy horror drama that saw success before Squid Game came on the scene.
The show debuted at no. 1 on Netflix in 2020 and dominated the streamer's top drama series spot in several countries, becoming the first Korean series to enter Netflix's top 10 ranking in the U.S.
The series was reportedly slated for a second season but in October 2021, Netflix Korea told South Korea's Top Star News that "nothing has been decided yet."
Sweet Home is based on a webtoon of the same name that originated on WEBTOON, the world's largest digital comics platform, with more than 72 million monthly active users globally, WEBTOON told Newsweek.
WEBTOON launched in South Korea back in 2004 and transformed the webcomic industry, pioneering the "vertical scroll format" for mobile comics and has been a global leader in the format since.
In 2014, the platform launched in the U.S. and there are currently more than 60 countries with WEBTOON users, the platform said.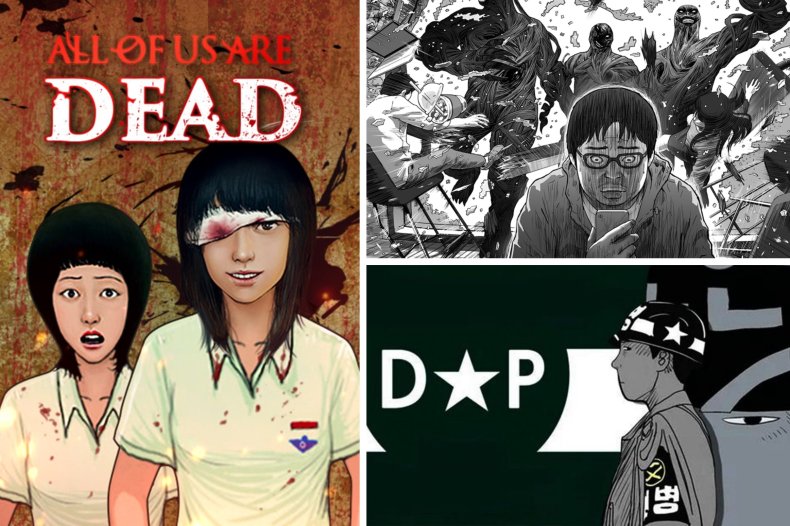 The phenomenal success of Squid Game paved the way for Hellbound, which debuted at no. 1 in around 84 countries in November 2021, about a month after Squid Game.
The engrossing thriller was based on the Korean webtoon of the same name by Hellbound director/writer Yeon Sang-ho, the acclaimed Korean filmmaker of Train to Busan fame.
Hellbound was the most-streamed non-English series the first weekend it launched, clocking in more than 43 million viewing hours.
Among Netflix's other webtoon-based K-drama's is D.P., the compelling series exploring the dark side of the Korean military, which is based on the Korean webtoon D.P. Dog's Day by Kim Bo-tong.
Released in late August 2021, D.P. may have gone under the radar of some viewers yet quietly got picked up for a second season in mid-December last year, the same month that it was selected among The New York Times Best International Shows of 2021.
D.P. was among the first K-dramas last year to be officially greenlit for a subsequent season, while a second series—and potentially a third—is reportedly in the cards for Squid Game, according to its director Hwang Dong-hyuk.
Later this month, a new Korean series on Netflix gets underway with All of Us Are Dead, another WEBTOON adaptation. The K-drama about a zombie apocalypse unfolding at a high school is based on a popular Korean webtoon by Joo Dong-geun.
Other webtoon-based Netflix K-drama hits to explore include Itaewon Class, The Uncanny Counter and Nevertheless.
The explosion of Netflix K-dramas spread to other streaming services, Disney+, which launched its first Korean series last month with Snowdrop, starring Blackpink's Jisoo.
Rise of Korean Webtoons On Other Streamers
It's not just Netflix that's been riding a wave of Korean webtoon-based dramas.
AppleTV+ released its first-ever K-drama series in December 2021 with the webtoon-based Dr. Brain, starring Parasite actor Lee Sun-kyun.
Five of the top 10 recent series on Rakuten Viki, which has the largest collection of webtoon-inspired television series in the U.S., were all webtoon-inspired K-dramas, according to the streamer.
Housing more than 40 webtoon-inspired K-dramas and movies on their service, Rakuten Viki is the largest streaming service for Asian content in the U.S. and has been a major player in the webtoon-to-streaming trend.
Among the K-dramas in its recent top 10 ranking is True Beauty, which debuted on the service back in December 2020. The show racked up 4.3 billion TikTok impressions within a month, but it also catapulted the series to the most-watched show on the service in only a month, a spokesperson for Rakuten Viki told Newsweek.
The four other K-dramas ranking among the service's top 10 recently included My Roommate is a Gumiho and So I Married The Anti-Fan (both from 2021), What's Wrong with Secretary Kim (2018, starring Park Seo-jun, known from Parasite and several other Korean films and K-drama series, who will appear in the Captain Marvel sequel The Marvels) and Cheese in the Trap (2016).
Why Are Korean Webtoons so Popular?
Among the major reasons why webtoons took off in South Korea is down to its accessibility. With the platform aimed to be used from a mobile device, anyone with a smartphone and an internet connection can scroll through a series while on-the-go and get easily addicted.
Webtoons are made even easier to access with South Korea having the fastest internet connection in the world, offering the fastest 5G networks, South Korea's Pulse reported in October 2020.
South Korea, reporting an average internet connection speed of 121 megabits per second (Mbps), was ranked no. 1 on the Speedtest Global Index report published by global internet analyst Ookla, which looked at mobile internet download speeds in 140 countries.
The country's mobile internet speed is 3.4 times faster than the world average of 35.96 Mbps, Pulse reported.
Speaking to Newsweek, Ken Kim, the CEO of WEBTOON U.S., said: "WEBTOON and digital comics have exploded in popularity around the world because our global creator community has embraced innovative storytelling technologies to tell incredible stories in a new way" and the recent webtoon-based K-drama hits have shown that "audiences want to see new types of stories on screens."
This has resulted in "a new generation of superstar comics creators building fandoms online, and a new generation of digital comics fans who have embraced a diverse range of comics narratives," he added.
There has been a long history of television shows in South Korea being adapted from webtoons. These hit digital comics come built-in with a wide fan base of millions of dedicated readers.
So platforms like WEBTOON have become a natural destination for television studios and streamers like Netflix when looking for "their next breakout hit," with the stories themselves being "inventive, engaging and emotionally compelling in every medium," Kim said.
The plotlines seen in webtoons are "really unique and imaginative," Sarah Kim, Senior Vice President of Content and Partnerships at Rakuten Viki, told Newsweek. "When these stories are brought to screen, they are unlike anything else viewers have seen before; the series feel fresh and original."
Webtoon storylines also explore themes that are "extremely relevant to young audiences," such as the impact that social media has on their lives. "One of our biggest hits on Viki, True Beauty, is a webtoon-based series that brings this particular theme to focus as part of the story. Not a lot of other series are doing that," she explained.
"On a technical level, webtoons are incredibly amenable to bring stories from page to screen. The writing and images, which are created in a frame-by-frame style, make it perfect for adapting to a TV series or movie," Kim from Rakuten Viki added.
Seeing the impact and reach of these "comic series blockbusters," especially with Gen Z, has made studios in Korea and beyond keen to adapt them into global television hits, a spokesperson for Rakuten Viki told Newsweek.
Webtoons Expanding Globally
The webtoon industry has seen steady growth in the global market. Korean webtoons are advancing their market dominance globally and are expected to continue expanding over the next few years, according to Rakuten Viki's Kim.
She explained: "For example, big webtoon platforms are seeking to broaden global audiences by launching paid services for European languages and by acquiring global fiction and novel platforms."
This growing trend "seems to generate a synergistic effect in bringing fans of the original webtoons to watch related dramas," she added.
According to Kim, True Beauty was the most watched series on Rakuten Viki for several months after it debuted in December 2020. During its debut month, "Rakuten Viki ranked as the #12 entertainment app overall in the iOS store, and subscribership between December 2020 and February 2021 increased by 30 percent. We think this is only the beginning for webtoon-inspired series—we're going to see this trend proliferate even further," she said.
Among the most exciting upcoming series on Rakuten Viki is Cherry Blossom After Winter, a drama based on the popular webtoon of the same name, which will be exclusively released on the streamer in February 2022.
Kim added: "Webtoon inspired K-dramas have been such a popular category for us, and we'll continue to invest in co-pros and originals and bring excellent webtoon-inspired content to the service."
Update 01/26/22, 9:57 a.m. ET: This article was updated to add additional comment from Rakuten Viki's Sarah Kim.
Correction 01/10/22, 10:14 a.m. ET: This article was updated to remove a typo in paragraph 32.