Kamala Harris, Potential Biden VP, Pushes for $2k Stimulus Payments
Sen. Kamala Harris (D-CA) has reiterated her calls for $2,000 monthly payments to most Americans throughout the coronavirus pandemic, as she remains one of the favorites for Democratic presidential candidate Joe Biden to pick as his running mate.
Harris teamed up with Vermont senator Bernie Sanders, a fellow former candidacy rival to Biden, and Ed Markey (D-MA) in May to put forward a plan for a widespread monthly cash boost throughout the COVID-19 crisis.
At the time she said that "bills will continue to come in every single month during the pandemic and so should help from our government," with the suggestion that all those earning below $120,000 would receive the funds.
"The coronavirus pandemic has caused millions to struggle to pay the bills or feed their families," she said. "The CARES Act gave Americans an important one-time payment, but it's clear that wasn't nearly enough to meet the needs of this historic crisis."
On Sunday, she called for congress to "immediately pass" the bill put forward by her Sanders and Markey.
"We need direct monthly cash payments and we need them now."
Harris, previously focusing on this issue, commented on the financial woes of people across the United States in the face of this delay and highlighted her previous call for monthly monetary support.
"Mitch McConnell and the GOP let the additional $600 in unemployment benefits expire. They let the federal evictions moratorium expire. With rent due today, millions aren't sure how they'll pay," she tweeted yesterday.
"This is why I called for monthly payments back in March."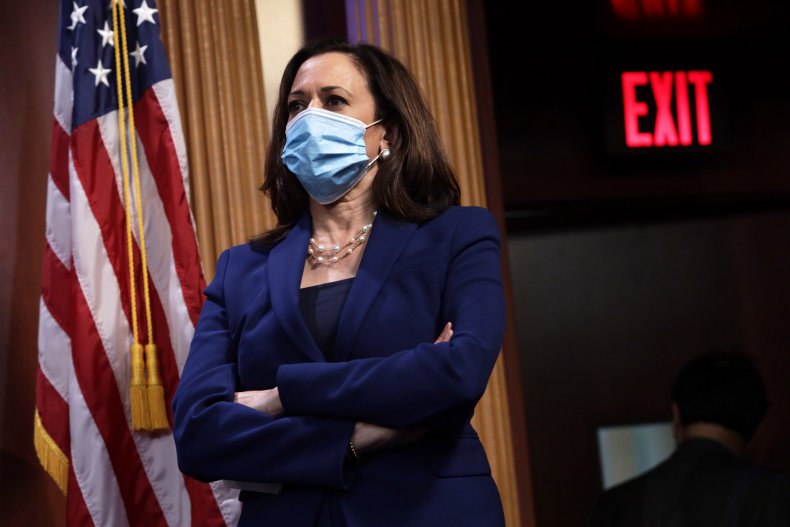 Newsweek has contacted Harris and Senate Majority Leader Mitch McConnell (R-KY) for further comment.
Senate GOP proposals have suggested another $1,200 direct payment for eligible individuals, though points of contention with Democrats over their wider proposals and reservations from some Republican lawmakers have stalled prospects of a further stimulus package.
A major sticking point has been a move to reduce the unemployment enhancement, which had been at $600 per week in the CARES Act, which Democratic lawmakers, including figureheads negotiating the plan, have taken issue with.
Harris previously said now was "not the time to slash additional unemployment benefits by $400 a week," with Republican proposals seeing the boost cut to $200 weekly with plans to then switch to payments accounting for up to 70 per cent of a recipient's former wage.
"I won't stop fighting for $2,000 monthly payments and extending unemployment benefits," she said, after the GOP outlined these suggestions.
The call, under the Monthly Economic Crisis Support Act introduced in May, goes a step further than the HEROES Act, put together by Harris's own party and passed in the House of Representatives.
This called for payments roughly similar to the $1,200 payments in the CARES Act, but with a tweak in payments for dependents.
However, its overall $3 trillion cost has seen it stall in the Senate with Republicans pushing back against the spending, pitching their own plans with a $1 trillion budget.
Harris's calls come as Biden looks to select his running mate, with him expected to announce his choice in coming days.
He has committed to selecting a woman, with many urging him to choose a woman of color.
Harris has long been one of the favorites to be his choice, with a picture of notes held by Biden recently revealing several talking points about her.
The photos, taken by the Associated Press, showed notes which said "Do not hold grudges," "Campaigned with me & Jill," "Talented," "Great help to campaign" and "Great respect for her."
The pair clashed on the debate stage last year, though Harris has since endorsed Biden.