Stimulus Package Not 'Imminent,' As Bipartisan Talks Roll Into Next Week
With millions of Americans hoping for further stimulus checks and enhanced unemployment benefits, talks to secure a bipartisan agreement on further relief have been branded productive but are not near an agreement.
Senate Minority Leader Chuck Schumer (D-NY) and House Speaker Nancy Pelosi (D-CA) met with Treasury Secretary Steve Mnuchin and White House Chief of Staff Mark Meadows again Saturday, with Schumer describing the talks as "more productive than the other meetings."
The group are set to meet again on Monday, while their staffs will discuss points on Sunday, in order to facilitate a further stimulus package amid the COVID-19 crisis.
"We're not close yet, but it was productive discussion," Schumer said after the discussions. "Now each side knows where we're at and we are going to work very hard to reach an agreement that meets the needs of the moment."
He added that he would "call it progress," but there was "a ways to go."
Pelosi said the meeting "was productive in terms of moving us forward."
Mnuchin similarly said the meeting was one of the most constructive so far, but added: "I would categorize this as there's still a lot of work to do."
Meadows indicated the talks were positive, but reiterated that there was still work to be done to secure an agreement.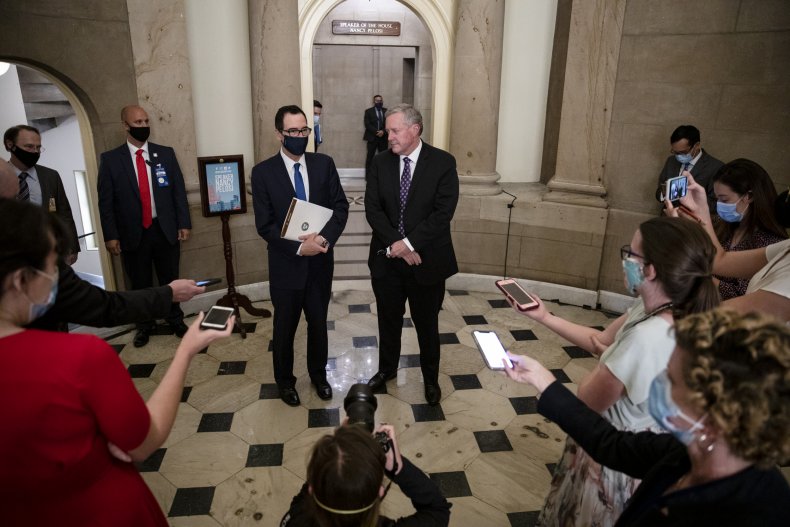 He said: "We're still a long ways apart and I don't want to suggest a deal is imminent because it is not.
"But like with any deal as you make progress I think it is important to recognize it is important to recognize that you're making progress and not set an unrealistic expectation that we're just a few items away.
"There's still substantial differences but we did make good progress."
Meadows said he hoped a deal could be made "in the next couple of days," while insisting intensive work needed to be carried out to expedite securing an agreement.
Newsweek has contacted the White House, Schumer and Pelosi for further comment.
Enhanced unemployment measures have proved a major point of contention, with further focus on this after measures facilitating this boost under the CARES Act expired.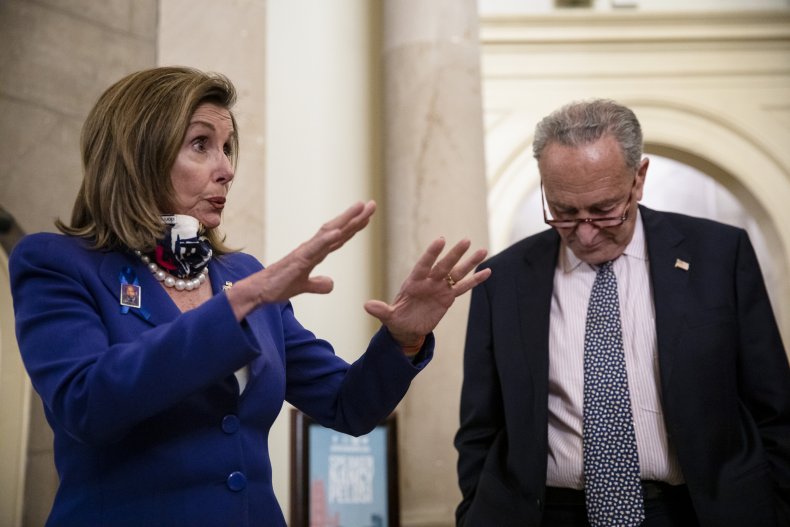 The GOP proposals suggested cutting down the enhancement, which had been $600 per week, to $200 weekly before later switching to a provision for covering 70 per cent of a recipient's former wage.
Democrats have opposed this cut, having previously pushed for the flat $600 rate to continue.
On the cut to benefits, Pelosi said: "Here we have this challenge. And what they were saying before is, 'We're going to cut your benefits.'
"That's one of the, shall we say, discussions we're having."
With the measure to supplement unemployment benefits having run out, which around 25 million people received and had been described as a lifeline, each side has blamed the other for the delay.
Another sticking point has been liability protection, which the Senate GOP leadership has indicated is a red line in talks, with Schumer and Pelosi pushing back against this negotiating stance.
President Donald Trump accused the Democrats of being "more interested in playing politics than in helping our deserving people," in a tweet criticizing their push back on GOP proposals.
Pelosi had pinned the delay on Republicans, pointing to division among the party's own lawmakers over what to do next.
While Democrats have criticized the cuts to certain measures, some fiscally conservative GOP lawmakers have spoken against the cost of Republican plans.
The debates come as COVID-19 cases continue to rise across the U.S., with more than 4.6 million confirmed across the nation, according to Johns Hopkins University figures.
There have been more than 150,000 COVID-19 deaths, with the graph from Statista showing the daily death tolls across the United States throughout the pandemic.