McConnell's Stimulus Plan Faces a Tall Hurdle—Senate Republicans
With Republican leaders from the Senate due to unveil plans for a further relief package amid the coronavirus pandemic, they will be hoping for a united effort from GOP lawmakers to push the legislation forward.
Senate Majority Leader Mitch McConnell (R-KY) has held talks with the White House to reach some consensus, though a stumbling block may now come in the form of his own GOP colleagues in Congress.
Republican lawmakers have spoken of hesitancy over further spending in the past, with McConnell himself having previously called for a pause before deciding upon backing further stimulus.
"Half the Republicans are gonna vote no to any phase 4 package, that's just a fact," Sen. Lindsey Graham (R-SC) said, in an interview with Fox News.
"And a lot of Democrats are gonna insist on $3 trillion, which would be way too much it would be wasted money."
Despite these issues, Graham said he was confident some sort of package would be forthcoming, adding: "I'm confident President Trump will lead us to a solution where we have money for kids, jobs and health care.
"We need to stimulate the economy, we need a phase 4, and I think we'll come together before August 5 to get this done."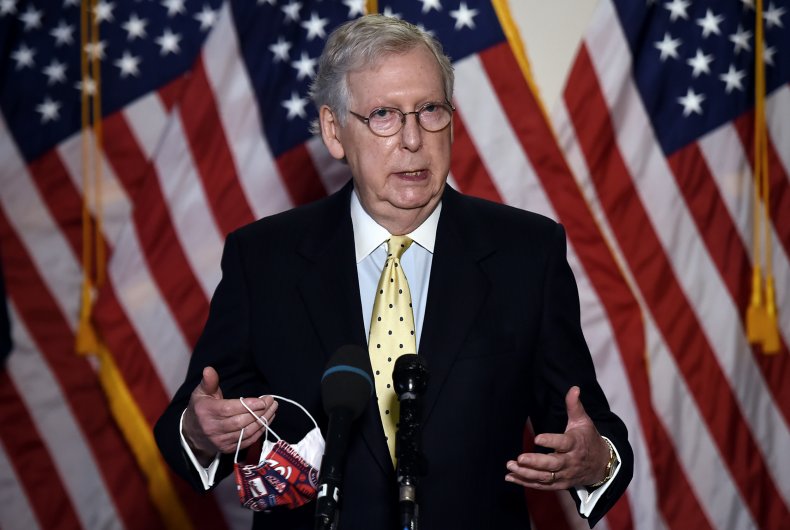 Asked for further comment, a spokesperson for Graham told Newsweek his comments on Republicans not backing the plans was "just his view."
Sen. Ted Cruz (R-TX) last week said he was a "hell no" to the proposals as they were.
"We'll see where this ends up, we still don't know the details of this initial proposal, but, as it's written right now, I'm not only a no, I'm a hell no," he told CNN last week.
He also said he thinks "this is envisioned as an opening gambit," expecting Democrats to come back pushing for further spending.
"Sen. Cruz has said that when it comes to CARES II, as the package currently stands, he's a 'hell no.' As he explained earlier this week, the answer to solving our economic crisis shouldn't be spending trillions and trillions of more money we keep borrowing from China," a spokesperson for Cruz previously told Newsweek in an email.
Republican leadership and the White House had previously spoken of a $1 trillion cap on spending in the next package. The Democrats' HEROES Act, which passed in the House, was worth $3 trillion.
Sen. Rand Paul (R-KY) similarly hit out at spending proposals last week, suggesting the Republican pitches were akin to those from the Democrats.
"I find it extraordinary that I came from a GOP caucus meeting that could be the Bernie Bros, or progressive caucus," he said Tuesday, after a Capitol Hill GOP lunch.
Paul said there needed to be "a voice left for fiscal conservatives," stating there is "no difference now between the two parties in spending," Fox News reported.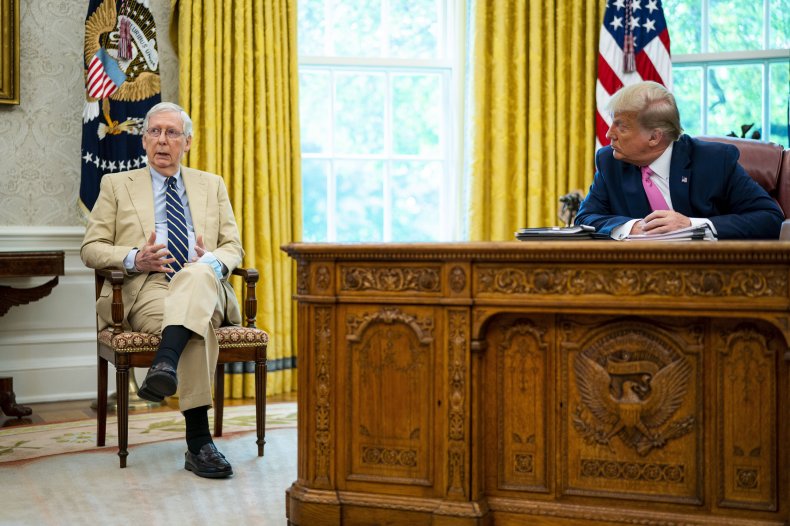 He also tweeted: "The majority of Republicans are now no different than socialist Democrats when it comes to debt. They simply don't care about debt and are preparing to add at least another trillion dollars in debt this month, combined with the trillions from earlier this summer."
Newsweek has contacted Cruz, Paul and McConnell for comment.
McConnell previously suggested that nothing will be passed this week, indicating he knows the difficulty of getting something through Congress with the range of competing desires and issues.
Major points of contention come in regards to measures which will prove among the most costly, including boosting unemployment benefits and stimulus checks.
Stimulus checks similar to those in the CARES Act, which paid out up to $1,200 each for eligible individuals, are expected to be included in the proposals. Should this be approved, these could be distributed next month.
There have been suggestions of fewer people receiving these than last time, with McConnell previously suggesting a $40,000 cap for payments, whereas the last set saw anyone earning $75,000 or under eligible to receive the full amount.
Alternately, some have called for an expansion, with calls to include certain people not eligible last time out, such as U.S. citizens married to foreign nationals without social security numbers who had missed out if they filed joint tax returns.
Sen. Mitt Romney (R-UT) previously said he does not think that most Republican lawmakers want further checks to be approved.
"I think most of the Republicans in the Senate and in the House are not enthusiastic about another check of that nature," he said previously, in an interview with KSL NewsRadio.
Unemployment benefits had been boosted by $600 per week through the CARES Act and, though this is not expected to return, a boost for unemployment is set to continue.
It is anticipated these would cover 70 percent of what workers' wages were before losing their positions, after some skeptical lawmakers suggested people could be getting more in unemployment than they had been earning.
Treasury Secretary Steve Mnuchin said last Thursday the enhanced unemployment benefits would be based on "approximately 70 percent wage replacement."
"We're not going to continue in its current form, because we're not going to pay people more money to stay at home than work. But we want to make sure that the people that are out there that can't find jobs do get a reasonable wage replacement," he told CNBC.
With McConnell having said the package will focus on "kids, jobs and health care," $105 billion is expected to be set aside for schools in order to help them in returning after nationwide closures in a bid to stem the spread of coronavirus.
However, teachers unions have indicated they feel the cost of doing this safely could far surpass this, leading this to perhaps be one of the points up for negotiation.
There have also been calls for a payroll tax cut, though this is not set to feature due to its unpopularity with lawmakers on both sides of the aisle.
Plans for further relief spending come as COVID-19 cases continue to rise in number across the United States, with more than 4.2 million confirmed, according to Johns Hopkins University figures.
The graphic below, from Statista, shows the states with the highest numbers of cases.