Kamila Valieva Drugs Case Leaves Olympics Credibility 'Teetering on the Edge'—USOPC Chair
A suspected doping case said to involve Russia's star athlete at Beijing 2022 could threaten the integrity of the Olympic Games, the head of the U.S. Olympic and Paralympic Committee (USOPC) has said.
The International Olympic Committee on Thursday refused to add to what it called "complete speculation" surrounding ROC figure skater Kamila Valieva, 15, who reports said had tested positive for a banned substance before the games. At a daily press briefing in Beijing, IOC spokesperson Mark Adams would only confirm an "active legal case" was responsible for the cancelation of a February 8 medal ceremony for the figure skating team event, which Valieva and her teammates had won convincingly the day before.
USOPC chair Susanne Lyons told Olympic news site Around the Rings that the values of the games needed to be upheld, "and one of the most important values is integrity of sport." Russian Olympians are already competing under the neutral ROC banner as part of their country's two-year ban from major sporting events—punishment for state-sponsored doping that lasted for a decade.
"And it's just terribly upsetting to the athletes today to have that wound potentially reopened again," said Lyons, who called for adherence to the World Anti-Doping Agency. If WADA rules are broken, sanctions should be "even-handed across the world," she said, "that they are all treated fairly. It doesn't matter whose athlete it is or how good they are; if someone does something wrong, it needs to be addressed evenly across all countries."
Lyons said: "I don't have information on today's specific situation, but I think that it's a conversation we need to reopen again. That really the whole credibility of the Olympic Movement and the Paralympic Movement stands teetering on the edge of us saying that we really believe and live the values that we say we stand for. And I just hope that's what we'll see in this specific situation that's happening today."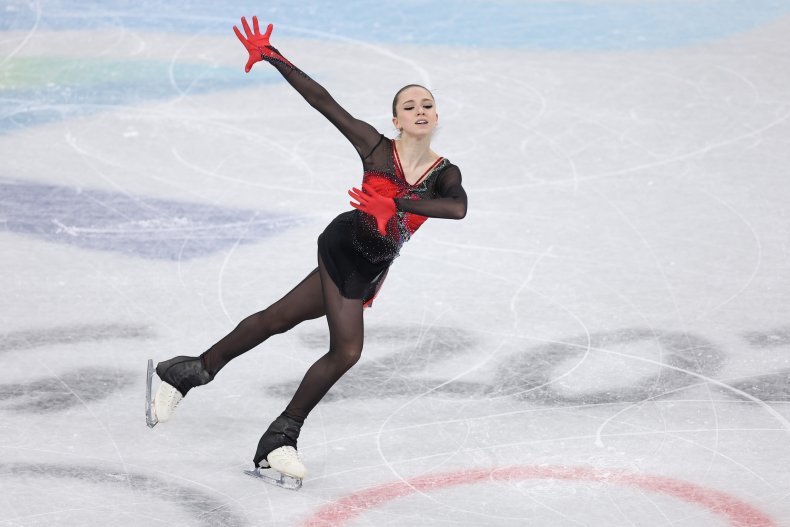 Valieva, the teenage sensation from Moscow, tested positive for the heart medication trimetazidine, prescribed for angina, said The Associated Press, which cited a report by Russian newspaper RBC. The substance is banned by WADA for its potential to boost endurance in athletes. The paper said the sample was collected before she won the European championships in Estonia in mid-January, a competition in which she bested her own world record in the figure skating short program.
According to Inside the Games, another Olympic news service, the Russian athlete's case is complicated by her age. Under WADA rules, Valieva is below the age of 16 and therefore classified as a "protected person," meaning she cannot be officially identified if she is found guilty of an anti-doping violation, the website said.
Athletes from the United States and Japan, who finished Monday's event second and third, respectively, have yet to receive their medals because of the evolving situation, with commentators fearing they could fly out of Beijing without their awards. The IOC asked for their patience and understanding.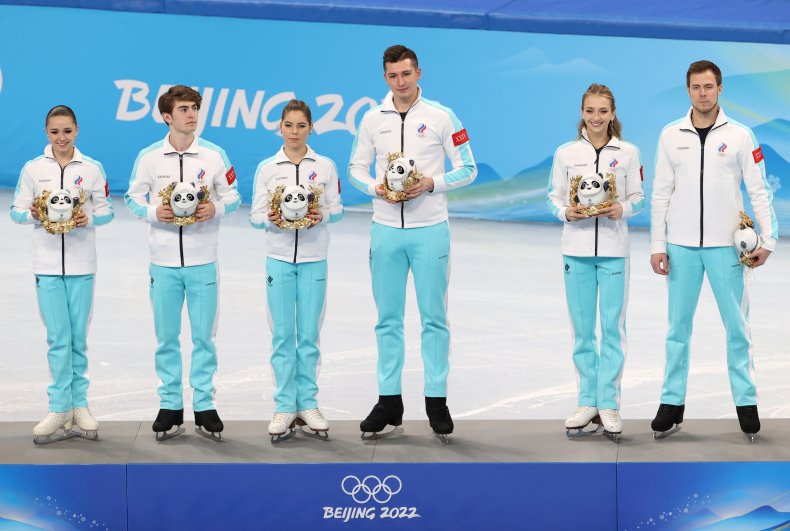 Valieva, meanwhile, was seen training with other Russian skaters for next Tuesday's women's singles competition, an event she is expected to win—if she is allowed to compete. Her ROC teammates gave no comment as they passed through the mixed zone, according to press inside the Beijing COVID bubble. Olga Ermolina, a spokesperson for Russia's national figure skating body, reportedly told RBC that Valieva had not been suspended.
Fielding some half a dozen questions about potential doping on Thursday, the IOC's Adams said it wouldn't be appropriate to comment on a situation with "legal implications." He also refused to comment on the body handling the matter, explaining that it would reveal the nature of the case. "We have to wait with patience for this case to find its way to some kind of conclusion," he said.
Adams felt the majority of fans appeared to be focused on the competition itself. "We don't wanna hear about the other stuff, but it arises; it's life, and so has to be dealt with," he said. "But I think it shouldn't and it doesn't take away from the magic of the games."
Correction 02/11/22, 10:20 a.m. ET: This article was updated to reflect that Russia's doping ban was reduced from four years to two years in 2020 by the Court of Arbitration for Sport.