Kari Lake's Election Defiance Set to Descend Into Legal Bloodbath
Kari Lake could "find herself as a defendant in criminal court," if she continues pursuing her "frivolous election fraud case," according to a former federal prosecutor.
The Republican is continuing to claim she was the legitimate winner of Arizona's gubernatorial election in November, despite her claims of vote-rigging being dismissed by a Maricopa County judge.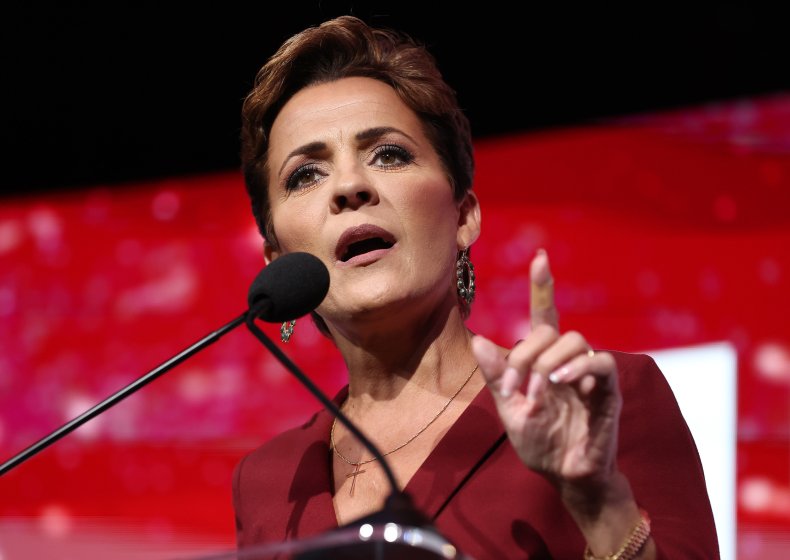 Her Democratic opponent Katie Hobbs, who beat Lake by 17,000 votes, was sworn in as governor of Arizona on January 2.
On Monday, Arizona Secretary of State Adrian Fontes asked the state Attorney General Kris Mayes to investigate Lake over the alleged unauthorized disclosure of voter signatures.
On January 23, Lake tweeted a graphic showing 16 Arizona voter signatures. She said they backed her claim that "nearly 40,000 ballots" were "illegally counted" for the contest.
In Fontes' letter to Mayes, his fellow Democrat, the secretary of state wrote that Lake's tweet was illegal. The law states that voter signatures "shall not be accessible or reproduced by any person other than the voter."
Neama Rahmani, a former federal prosecutor and president of West Coast Trial Lawyers, told Newsweek that Lake could be in serious legal trouble over both the signatures, and her electoral fraud claims.
Rahmani said: "Lake apparently committed a felony under Arizona law. Only the voter or an authorized person can publish voter signatures, and Lake is neither. The tweet to all of Lake's followers is all the evidence the Arizona attorney general needs if her office accepts the referral for prosecution.
"Lake needs to stop pursuing this frivolous election-fraud case and stay off social media. Otherwise, she may find herself as a defendant in criminal court."
Rachel Fiset, a criminal-defense attorney who founded Los Angeles-based Zweiback, Fiset & Zalduendo LLP, told Newsweek: "The investigation into Lake would be focused on any potential violations of state law that would have occurred as a result of her publishing voter signatures in a tweet attempting to demonstrate "election fraud" leading to her loss in her gubernatorial bid. Ironically, the tables would be turned on her as it relates to allegations of campaign fraud.
"The Court has already ruled she has no credible evidence of fraud, and now her continued claims could lead to sanctions for campaign violations," Fiset said.
"Should she continue with these claims of uncredible fraud during an investigation into her own campaign violations, investigators may scrutinize her remarks and, depending on the circumstances, use them against her in their findings as to whether she violated the law."
In December, Lake's electoral fraud claims were rejected by Maricopa County Superior Court Judge Peter Thompson. He said: "The Court cannot accept speculation or conjecture in place of clear and convincing evidence."
Lake immediately announced her intention to appeal, which she has vowed to take "all the way" to the Arizona Supreme Court. On Wednesday, February 1, the Arizona Court of Appeals will decide if Lake has a case.
On Sunday, Lake held a "Save Arizona" rally at the Orange Tree Resort in Scottsdale, in support of her unproven electoral fraud claims. Former President Donald Trump, who is still refusing to accept he lost the 2020 presidential election, phoned in to say Lake would be "victorious."

Newsweek has contacted Kari Lake for comment.