Kate Middleton's Polarizing BAFTA Glove Trend Was Loved by Princess Diana 
Kate Middleton's appearance at the 76th British Academy Film Awards (BAFTAs) on Sunday night provided royal watchers with an opportunity to see one of the new Princess of Wales' celebrated red-carpet fashion moments.
Dressed in an altered version of an Alexander McQueen evening gown worn to the same event in 2019, Kate updated the look with an edgy, if polarizing twist: a pair of statement black opera gloves.
Though the inclusion of the accessory has provoked much discussion, the style is not unique in royal fashion history. Opera gloves have been worn by generations of royal women since the 17th century, though they earned their name in the 1800s.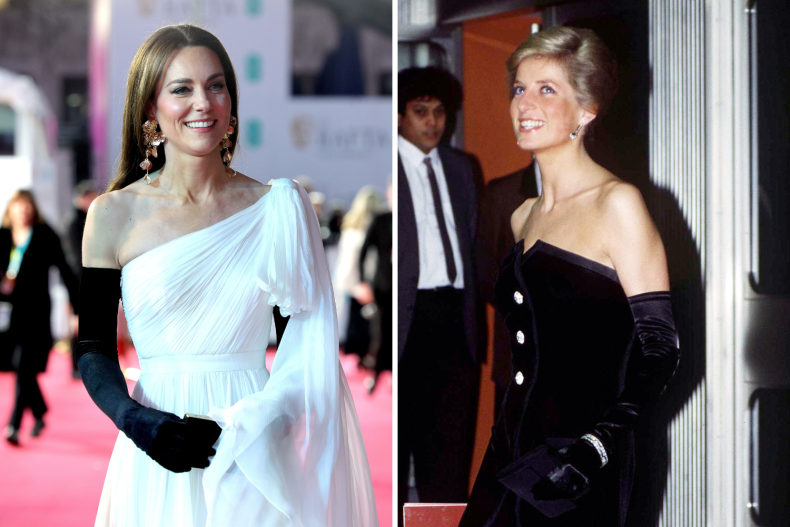 One member of the royal family in recent decades who notably accessorized her outfits with boldly contrasting opera gloves was Princess Diana, Kate's late mother-in-law.
Diana is credited with phasing out the style convention of royal women wearing gloves to royal engagements. She wanted to have direct contact with people, holding hands with hospital patients, the elderly and children. However, the princess did appear to enjoy experimenting with gloves for a number of her evening looks.
Like Kate, Diana was seen pairing black opera gloves with white dresses. There were shocking-pink satin variations with sapphire-blue gowns and mismatching pairs to create an asymmetric effect.
Another royal who began wearing evening gloves and kept the trend throughout her lifetime was Queen Elizabeth II. The late monarch paired them with her famous ball gowns and event dresses until the end of her 70-year reign in September 2022.
Here, Newsweek looks at a number of the royal family members' best opera-glove fashion moments:
Kate Middleton, BAFTA Awards, London 2023
Kate Middleton paired her white silk chiffon Alexander McQueen evening gown with a pair of black silk opera gloves and gold accessories for the 76th British Academy Film Awards at the Royal Festival Hall on February 19.
This was the first time that the royal has worn the style of glove at such a high-profile fashion occasion.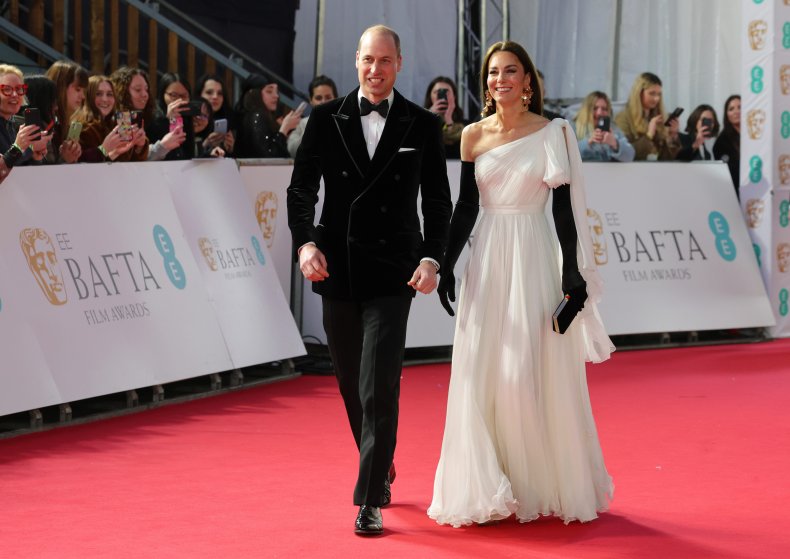 Princess Diana, America's Cup Ball, 1986
Princess Diana wore a pair of mismatched black and red opera gloves to accompany a dual-toned flamenco-inspired evening gown designed by London-based couturier Murray Arbeid.
The princess wore the ensemble a number of times, but most famously to a ball held Grosvenor House in London with Prince Charles in September 1986.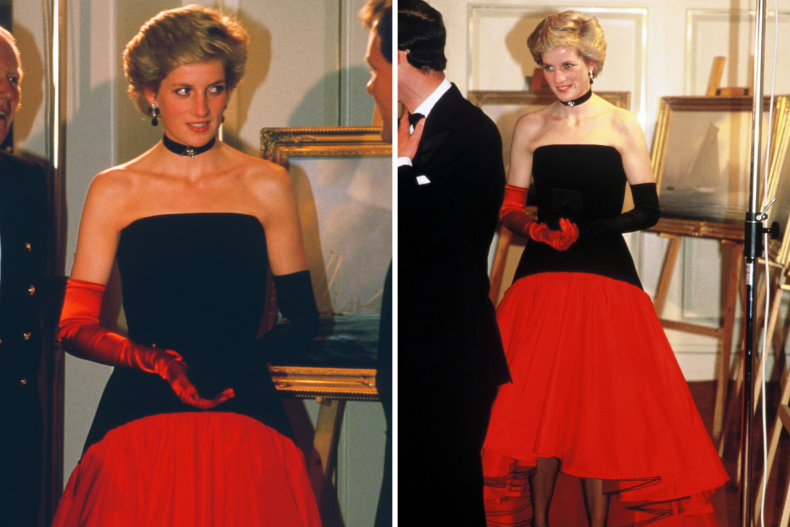 Princess Diana, 'The Phantom of the Opera,' 1986
Another Arbeid dress beloved by Diana was an evening gown constructed of layered blue tulle with small crystal-embellished stars across the bodice. The princess wore the dress on a number of occasions and included in the 1997 auction of her most-famous pieces.
In 1986, the royal paired the dress with shocking-pink opera gloves to attend the opening of the Andrew Lloyd Webber musical The Phantom of the Opera.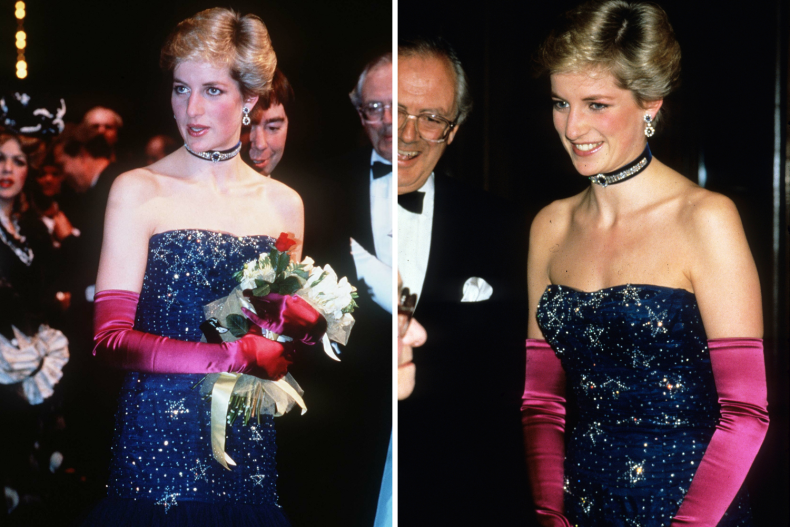 Princess Diana, Munich Opera, 1987
On an official visit to Germany in 1987 with Prince Charles, the royal couple attended an evening at the Munich Opera House where they watched a performance of Mozart's The Marriage of Figaro.
For the occasion, the princess wore another flamenco-inspired evening gown, this time designed by her friend and long-term collaborator Catherine Walker. This she accessorized with a statement pair of shot-silk blue taffeta opera gloves.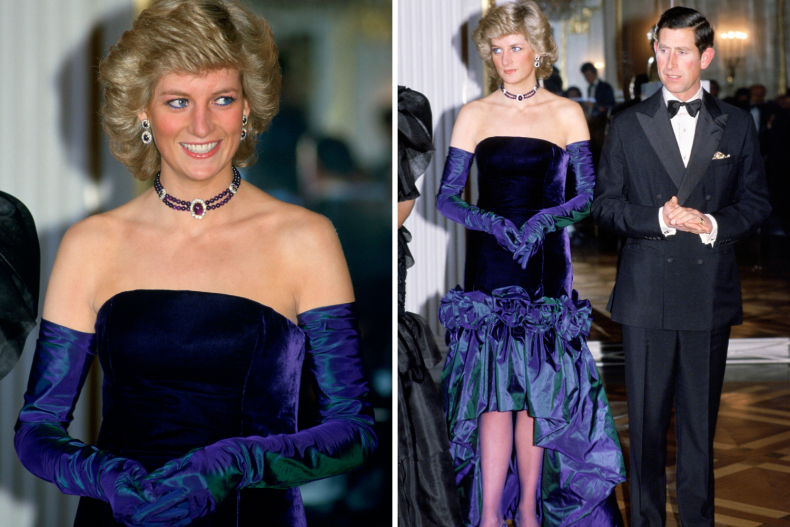 Princess Diana, 'Dangerous Liaisons' Premiere, 1989
Princess Diana debuted another opera-glove evening look for the royal premiere of the hit movie Dangerous Liaisons in London, March 1989.
The princess wore a black strapless tuxedo-inspired evening dress by the fashion designer Victor Edelstein and paired this with black opera-length satin gloves.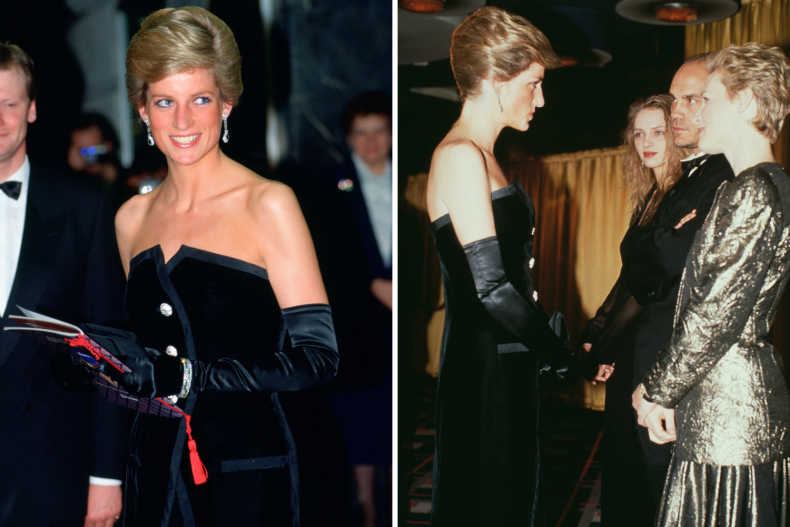 Sarah 'Fergie' Ferguson, Duchess of York, 1989
Another royal who wore a number of fashion looks accessorized with evening gloves during her time in the royal spotlight was Sarah "Fergie" Ferguson, Prince Andrew's wife from 1986 to 1996.
The duchess wore a contrasting pair of black satin opera gloves with a layered gold chiffon evening dress to a private event in 1989.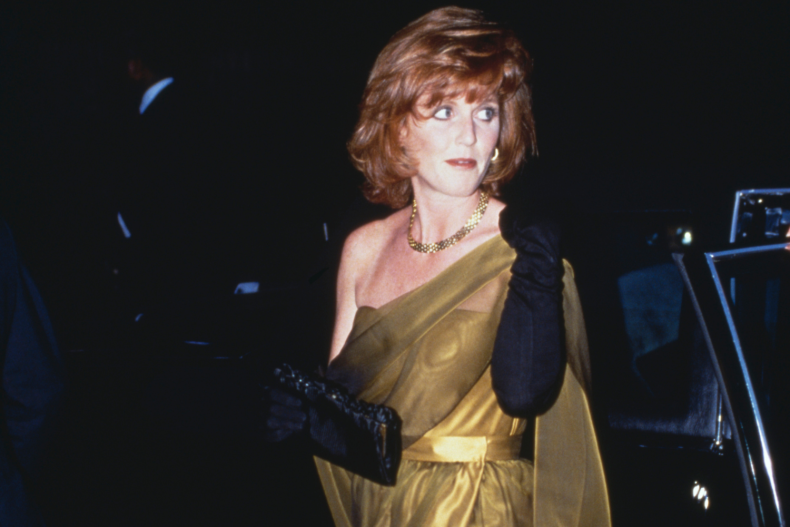 Queen Elizabeth II, RADA, London 1964
Perhaps the most-prolific royal glove-wearer of the last century was Queen Elizabeth II. She maintained the practice of wearing them both for day and evening events, even keeping a spare pair in her famous handbag, should anything soil the pair she was wearing.
The queen wore opera gloves with evening looks from her accession in the 1950s to the 1970s where she began wearing sleeves with her evening wear. The monarch still kept her gloves with these, though they are believed to have been a shorter style that would not wrinkle beneath her sleeves.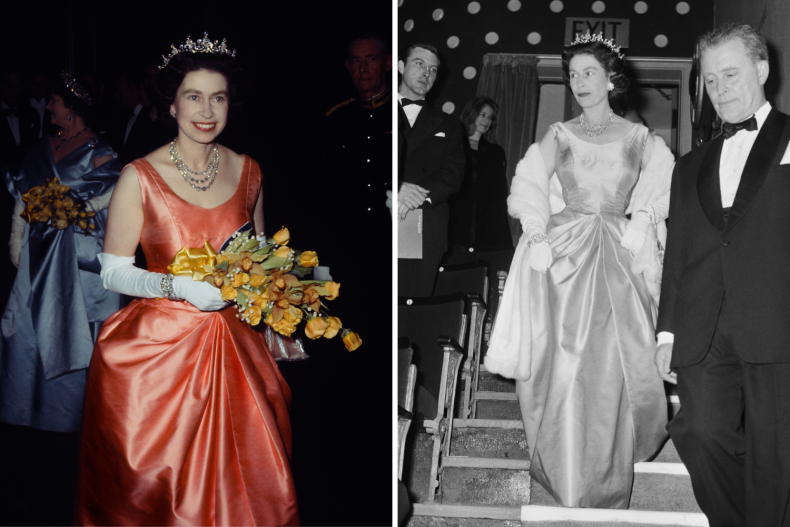 James Crawford-Smith is Newsweek's royal reporter based in London. You can find him on Twitter at @jrcrawfordsmith and read his stories on Newsweek's The Royals Facebook page.
Do you have a question about King Charles III, William and Kate, Meghan and Harry or their family that you would like our experienced royal correspondents to answer? Email royals@newsweek.com. We'd love to hear from you.