Kate Middleton's Royal 'Habit' at Public Engagements Identified by Fans
Kate Middleton's "cute" habit adopted on royal engagements has been identified by fans with a video compilation of the princess' go-to hand gesture earning over 900,000 views on social media platform, TikTok.
The video is the latest to go viral centered around Kate, who became the new Princess of Wales in September, as she is currently riding a wave of positive poll results seeing her considered the most popular living royal among Americans, and the third most popular (behind Princess Anne and Prince William) among Brits.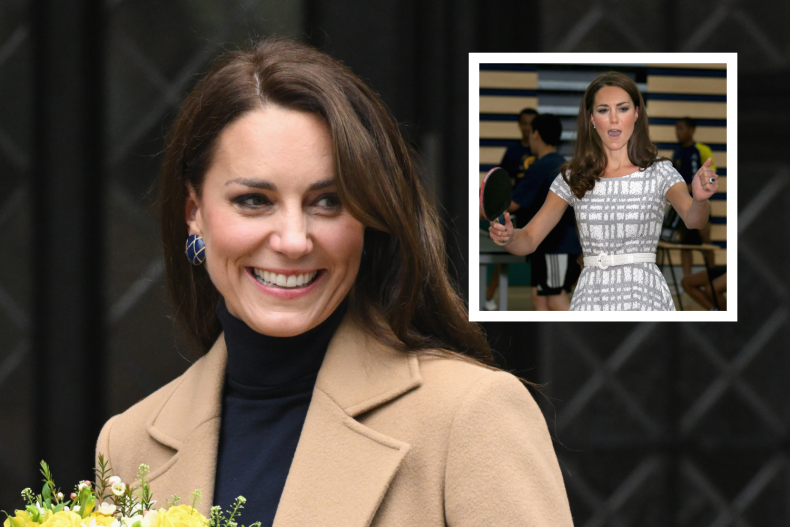 The viral video, uploaded to TikTok by user l0velycatherine, shows the princess repeatedly striking a pose when celebrating winning an activity during royal engagements, as an onscreen caption reads: "Catherine's cute lil habit."
The royal is known to be highly competitive in sports, particularly with her husband, and has often faced him head-to-head in endurance or team sport activities such as sailing, sprinting or biking.
One clip from the video, showing the royal raising both arms with a laugh in celebration, was taken in February during Kate and William's first visit to Wales to mark St David's Day as Prince and Princess of Wales.
During a visit to the area of Port Talbot, the couple went head-to-head in a cycle spin battle at a local fitness center. After an intense 45-second sprint, Kate was victorious and presented with a special trophy to mark her triumph.
Another clip was taken in 2012 during a visit by the couple to meet with members of the program Coach Core. During the event, the princess played a warm up round of ping pong with a volunteer who put the royal through her paces.
The video has been viewed over 900,000 times and received in excess of 51,000 likes and 300 comments, many of which have praised Kate for her easy-going nature in public.
"Kate is a 'woo girl,'" wrote one poster referring to the double arms-up gesture often repeated by the royal.
"Not afraid to have fun in the moment," posted another, with a further user adding: "Love these photos of fun, winning moments."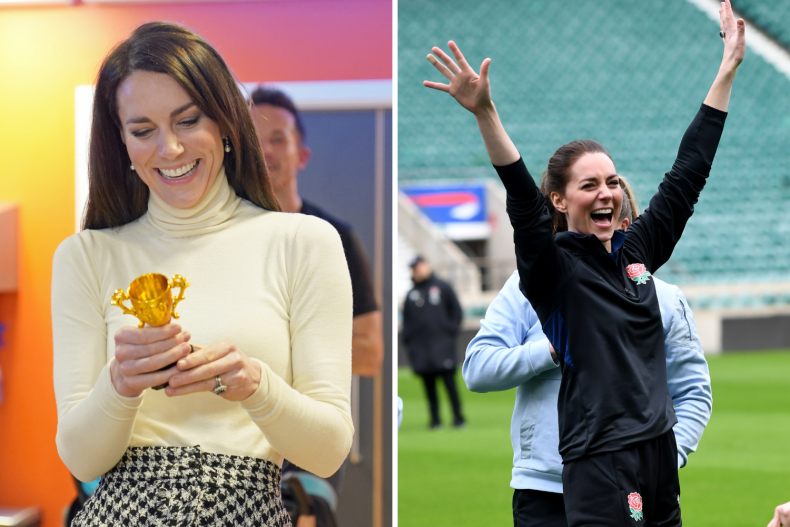 William and Kate's competitive streak extends beyond sports they are actively participating in, to encompass spectator sports too.
In February, both royals attended an England vs. Wales Six Nations rugby match where, owing to their each being patron of one side, they supported opposite teams.
Kate is patron of England rugby and William, Welsh rugby. In a meeting with members of a charitable trust before the game, William spoke about his and Kate's competitive nature.
"It's going to be a tense car journey home for whoever wins," he said, per The Daily Telegraph. "If we win today my wife won't speak to me. It will be a tense evening."
In the end, England won, with Kate again leaving victorious.
James Crawford-Smith is Newsweek's royal reporter based in London. You can find him on Twitter at @jrcrawfordsmith and read his stories on Newsweek's The Royals Facebook page.
Do you have a question about King Charles III, William and Kate, Meghan and Harry or their family that you would like our experienced royal correspondents to answer? Email royals@newsweek.com. We'd love to hear from you.