Kellyanne Conway Meeting With N.Y. DA Is Bad Sign for Trump: Legal Experts
The investigation into former President Donald Trump's alleged hush money payments to adult film star Stormy Daniels is heating up, according to legal experts.
Daniels, whose real name is Stephanie Clifford, was allegedly paid $130,000 by former Trump attorney and confidant Michael Cohen in 2016 to stay quiet while the campaign was ongoing. Cohen has said under oath and in print that he was reimbursed by Trump.
In 2018, Daniels' defamation lawsuit against Trump was dismissed and led to her paying him $300,000.
The New York Times reported that former Trump 2016 campaign manager Kellyanne Conway met with the Manhattan district attorney's office on Wednesday.
At least five witnesses have testified as part of the grand jury impaneled by District Attorney Alvin Bragg in January: Jeffrey McConney and Deborah Tarasoff, Trump company employees; David Pecker and Dylan Howard, two former leaders of the National Enquirer who helped arrange the deal; and Keith Davidson, a former lawyer for Daniels.
"Make no mistake: Charges against Trump are coming from the Manhattan DA for 2016 election wrongdoing to complement those from the Atlanta DA for 2020 election wrongdoing," attorney Norm Eisen tweeted on Wednesday. "And soon!"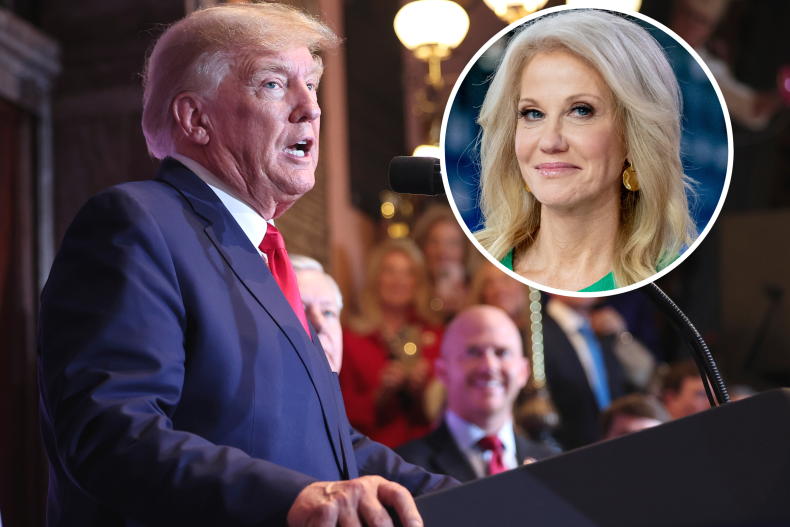 Jill Wine-Banks, a lawyer and former prosecutor during the Watergate scandal in the early 1970s, has said that Trump should have been indicted immediately after he left office.
Political commentator Geraldo Rivera said that the Daniels-related investigation is purely political.
"New York's so far failed DA is still obsessing over Donald Trump, in this case over the hush money paid 7 years ago to porn star Stormy Daniels," Rivera tweeted. "With the city awash in violence, the only people who care about Stormy and her payday are fans and a scattering of militant Democrats."
New York City-based attorney Andrew Lieb told Newsweek that the district attorney's office interviewing Conway "surely demonstrates that the investigation is heating up into Trump and Stormy Daniels.
"Those hush money payments just won't go away because Michael Cohen seems to be making it his life's mission to get Trump on his improprieties in this situation," Lieb said.
Cohen flipped on Trump in 2018, going from longtime ally to adversary. He is expected to be a key witness in the Daniels case.
Cohen has ramped up personal attacks against Trump, making fun of the spelling of his social media posts and calling him "Dopey Donald."
"I called Trump to confirm that the transaction was completed, and the documentation all in place, but he didn't take my call—obviously a very bad sign, in hindsight," Cohen wrote in his 2020 memoir.
He said he spoke to Conway, who said she would "pass along the good news."
Along with Bragg potentially moving closer toward an indictment, Trump also faces a potential indictment by a Georgia grand jury in regard to allegedly trying to overturn the results of the 2020 election.
Emily Kohrs, the forewoman of that jury in Fulton County, has recently gone on a media blitz and confirmed that the jury would make recommendations for several individuals tied to the case. More than 75 witnesses, including Trump's former personal attorney, Rudy Giuliani, and Trump's former chief of staff, Mark Meadows, were interviewed.
"The purpose of the special grand jury [in Georgia] was for investigatory purposes only and it very well may motivate the DA to empanel a regular grand jury that will result in charges," Lieb said.
"That all said, it appears that all these investigations won't derail Trump from pursuing the GOP presidential nomination. Instead, they will do just the opposite because Trump's base truly believes that it's all a deep state conspiracy to stop Trump and he is the only thing in between the deep state and them."
Newsweek reached out to Trump's team for comment.