Kendall Jenner, Bad Bunny Dating Rumor Sparks Wave of Memes, Jokes
Speculation that Bad Bunny and Kendall Jenner have embarked on a romantic relationship has sparked a wave of memes and jokes on social media.
Over the weekend, TMZ published photos that showed Jenner and Bad Bunny, whose real name is Benito Antonio Martínez Ocasio, arriving at and leaving the popular eatery Wally's, along with Justin Bieber and his wife, Hailey Bieber.
According to the outlet, Jenner, 27, arrived at the venue first at around 8:30 p.m., followed by Puerto Rican musician Bad Bunny, 28, at 8:42 p.m. The Biebers also arrived at the restaurant separately.
TMZ reported that Jenner was seen leaving Wally's through the front door at 11:06 p.m., while Bad Bunny left minutes earlier but via the back of the restaurant. The Biebers are reported to have also gone through the rear, almost an hour before Jenner's departure.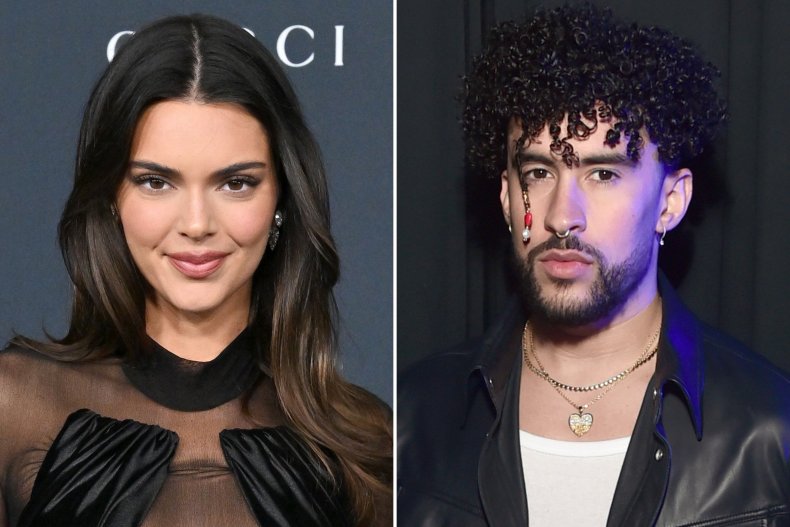 Photos and video footage of Jenner and Bad Bunny at the same restaurant were published after Instagram gossip account DeuxMoi posted a blind item on Friday about a new couple in the making.
"This single, famous model sister was seen playing tonsil hockey with Bad Bunny at a private L.A. club last night," read the Instagram Story post, per Cosmopolitan.
While many women could have been the anonymous kisser, a follow-up DeuxMoi post read: "So I'm revealing it was Kendall Jenner and Bad Bunny, I have witnesses on the scene who saw her in the club."
Though neither of the stars has publicly commented on speculation they're dating, the rumors have sparked a wave of reactions on Twitter.
"Kendall Jenner on the next episode of The Kardashians," wrote one Twitter user, who shared a widely circulated meme of Jennifer Lopez saying, "Mi gente Latino (my Latin people) while accepting an award.
The post appeared to be a nod to the Kardashian-Jenner family being accused of cultural appropriation in the past. Additionally, Lopez, who is of Puerto Rican descent, was criticized for not using the correct feminine "mi gente Latina."
Staying with the theme, another Twitter user shared a clip of Kristen Wiig clumsily speaking Spanish in a scene from the 2011 comedy Bridesmaids, imagining that it would be how Jenner would talk to Bad Bunny.
"What do you mean Kendall Jenner & Bad Bunny are allegedly dating," another tweeted in full caps. "I'm going to end it all Benito this isn't you!!!!!"
The post was accompanied with a clip of Jennifer Coolidge's character Tanya McQuoid shooting her way out of a yacht in the Season 2 finale of The White Lotus.
Also reacting to the news, another shared a clip of Jenner's controversial 2017 Pepsi commercial, adding in an accompanying caption that "this is how Kendall is gonna stop the privatization of the public beaches in Puerto Rico."
In 2017, Jenner and Pepsi were accused of undermining protests against police brutality in the commercial, which featured the model abruptly ending a photoshoot after noticing a protest nearby. Jenner then joined the protesters and handed a police officer a can of Pepsi as a peace offering. The ad was subsequently pulled.
Another noted the huge social media reaction to the dating rumors by posting a clip of Rachel McAdams' character Regina George standing amid a whirl of chaos in a scene from the 2004 hit movie Mean Girls.
"This is literally how it feels being on TikTok and Twitter after everything with Kendall and Benito," read the accompanying caption.
Alongside a GIF of Jenner's mom, Kris Jenner, aboard a helicopter, one Twitter user theorized that the matriarch is the one behind the purported relationship.
They wrote: "Here's what happened: Kendall wasn't relevant anymore, so Kris Jenner stepped in... 'Benito, hi! It's Kris. I need a teeny tiny favor.'"
Newsweek has reached out to representatives of Jenner and Bad Bunny for comment.
Model Jenner was most recently romantically linked to NBA All-Star and Phoenix Suns guard Devin Booker from early 2020. People reported in November 2022 that the pair had called it quits a month beforehand due to demanding work schedules.
Cosmopolitan reported that, from 2018 to 2019, Jenner was an item with NBA star Ben Simmons. She also dated Boston Celtics star Blake Griffin in 2017, as well as basketball players Kyle Kuzma in 2019 and Jordan Clarkson in 2016.
In a 2019 interview with Vogue Australia, Jenner told the magazine about her reluctance to speak publicly on her relationships after seeing the issues her older sisters—including Kim Kardashian and Khloé Kardashian—have faced.
"A relationship is only meant to be between two people, and the second you make it the world's business is when it starts messing with the two people mentally," Jenner said. "Like once everyone is let in, you're letting all these opinions into your relationships, and I don't think that's fair."