How Kylie Jenner's Absence in Family Hulu Pics Sparked Wild Fan Theories
The premiere of the Kardashians' new Hulu show was like any other red carpet event. Impeccably styled stars posed in front of a branded backdrop. Photographers clicked away. And the resultant images made their way to photo licensing services to be published online and in print.
But when the event photos hit Getty Images, the youngest of the Kardashian-Jenner brood, Kylie Jenner, wasn't in them. Fans initially assumed she was absent due to maternity leave. She had just given birth to a baby boy on February 2 and had also missed an appearance with her mom and the rest of her sisters on Jimmy Kimmel's show a few days prior.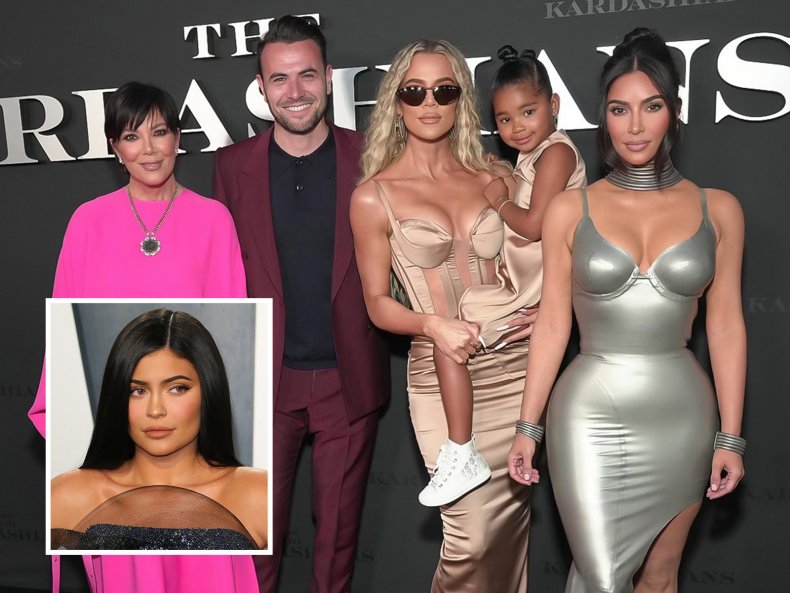 Later, pictures of Jenner at the event started to surface. Clad in a skintight white latex dress with matching boots, Jenner stood alone in the photos—unlike the rest of her family members-cum-castmates, who'd assembled in various group poses.
Even more unusual, no pictures of Kylie from the event showed up on the usual licensing platforms. Instead, the photos went live on the Instagram account of a photographer known as SPW and some media outlets published them. (Neither Jenner's publicist nor SPW responded to Newsweek's requests for comment.)
Buoyed by two other recent incidents of alleged Kardashian-Jenner Photoshop fails, fans instantly began theorizing about why Jenner's photo roll-out seemed so hush-hush.
Had she paid her own photographer so she had final Photoshop control? Did she even attend the event, or was she just edited in?
Pre-internet age, observers of pop culture might not have noticed these photos' quirks. But Jenner is at the center of an increasing online movement wherein sleuths try to determine what stars really look like, without photo editing.
Instagram has given celebrities even more control over their image. It's also given fans a place to virtually congregate and decode the images they're seeing. Plus, civilians now have access to the very tools stars use to alter their looks. In a world where the average mommy blogger knows basic Photoshop and Facetune, peeling away layers of celebrity artifice is an online cottage industry of its own.
This is why it's not good enough for celebrities to post edited images on their social media platforms alone. They also feel a need to stage paparazzi and–perhaps now, if fan theories are correct–red carpet photos. If Jenner did issue exclusive red carpet photos to one photographer and if this sparks a trend, then event photos could become as borderline fictitious as a celebrity's filtered selfie.
"The truth shall set you free," longtime paparazzo Rick Mendoza told Newsweek. "Unless you're in entertainment."
Online Sleuths Try to Find the Truth
The anonymous person behind the Instagram account @problematicfame posts photos of celebrities taken years apart. Their 218,000 followers then debate which cosmetic surgeries a star might have had, or how the star might have Photoshopped a pic. When @problematicfame got their hands on the photos of Jenner at the Hulu premiere, they floated their own theory, which quickly made its way to Reddit and amassed more than 275 comments and 1,700 upvotes.
"*i* believe kylie hired her own personal photographer to take pictures (and more importantly, photoshop them) of her at the kardashian's hulu premiere last night [sic]," @problematicfame wrote in an Instagram story showing Jenner's SPW-lensed photos. "why do i believe this? well, from the 137 images uploaded to getty images, kylie is in none of them absolutely none. not even in the background or in videos taken from the event."
"paying paparazzi isn't new for kylie," @problematicfame added, although Jenner paying paparazzi has never been confirmed, "however last night was the first time she's walked a carpet to only be photographed by her paid paparazzi."
On Reddit, fans engaged in a spirited debate about the photos and how they came to be.
"Her left arm is so obviously photoshopped," one speculated, "along with the rest of her body."
"This is so frustrating," another opined. "I just want her to STOP. Kylie baby, embrace the RELATABLE era."
"I wish Kylie didn't feel the need to do this, but more power to her if it makes her happy and less anxious and self-conscious," said one more.
These fans never got the answers they craved. But a few weeks after this brouhaha, Kim Kardashian confirmed that she Photoshopped Jenner's toddler daughter out of a family photo in the wake of the Astroworld tragedy—an admission that will only add fuel to the fire.
Paparazzo Mendoza: 'It's All About Access'
Are celebrities really paying photographers to fake the red carpet experience in order to more tightly control their image? Mendoza, who has shot the Kardashians and their associates dating back to the 2000s, says no.
"There's no money being exchanged," Mendoza told Newsweek.
But that doesn't mean these photos are pure photojournalistic realism. Instead, a photographer might give up creative control for a shoot once in a while as a way of currying favor with the star down the line.
Maybe a paparazzo will hand over their photos to the celebrity's team who are free to edit and distribute them as they please, but the only payment comes in the form of opportunities to shoot the star and sell the photos down the line.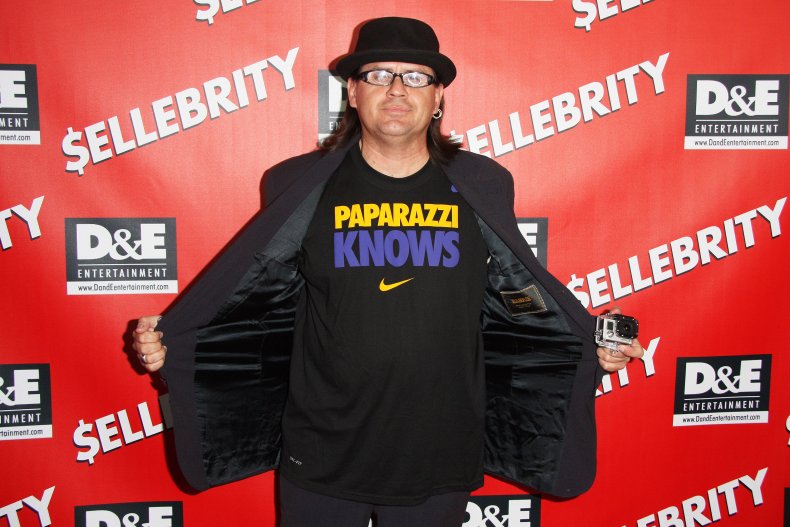 Although it doesn't usually happen with red carpet events, it's long been an open secret that famous people's publicists will tip off a favored paparazzo to ensure flattering photos of their client.
Alternatively, a paparazzo will get into an unspoken rhythm with a celebrity who's happy to pose for them in the street—which is what Mendoza says happened between him and Jenner's older sister, Kim Kardashian, for three years at the beginning of her stint in the limelight.
Before Kim Kardashian was a household name, Mendoza–who lived near her–says they'd meet in the same area each day, and he'd shoot photos of her. He'd upload his work to various photo agencies' websites, he said. Eventually, when it became clear that Kardashian wasn't going away, media outlets started to bite. The photos became more and more valuable. Kardashian became more and more famous.
It was a mutually agreeable situation with no cash exchanging hands between photographer and subject, and Mendoza says it's known in the business as a "hidden setup."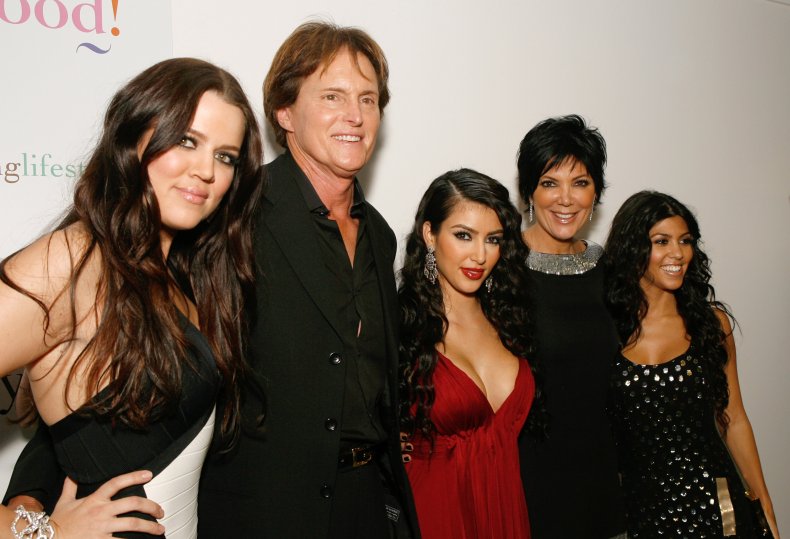 Mendoza is adamant that paparazzi photographers' pictures of celebrities are so valuable on their own that there's no need for the celebrities to pay the lensmen. Plus, a paper trail of such payments could ruin a photographer's credibility. Ditto excessive Photoshop.
So instead of being paid to shoot and edit a big star's photos, he says, sometimes photographers will shoot a star in a manufactured scenario for free, then hand over the photos to that star to post on their own platforms.
In that instance, yes, the star is free to Photoshop them as much or as little as they like–and crucially, in this age of internet sleuths, without any pesky Getty Images versions floating around to destroy the illusion. The photographer does this in exchange for continued exclusive access to the star and the promise of big money for the photos they can sell to media outlets and photo agencies later on–not immediate, cold hard cash from the celeb.
This is an important part of a modern celebrity's image because those internet sleuths are becoming more and more savvy about which photos are unvarnished and journalistic in nature and which are edited, filtered, and airbrushed.
For example, when engaging in celebrity Photoshop detective work, sleuths' first stop is to check the backdrop of a photo for telltale distortion. A curved door frame or wiggly step-and-repeat logo are considered dead giveaways that a subject's body shape has been, shall we say, cleaned up in post.
With that in mind, fans couldn't help but notice the all-black background at the Hulu event. Instead of a white tarp with logos blaring out and a customary red carpet, Hulu event attendees stood in front of a nearly Vanta-black scrim.
Was this a stylistic choice meant to evoke the Kardashians' recent fondness for monotone minimalism? Or a preventative measure to keep guests' Photoshop efforts from being discovered? The world may never know.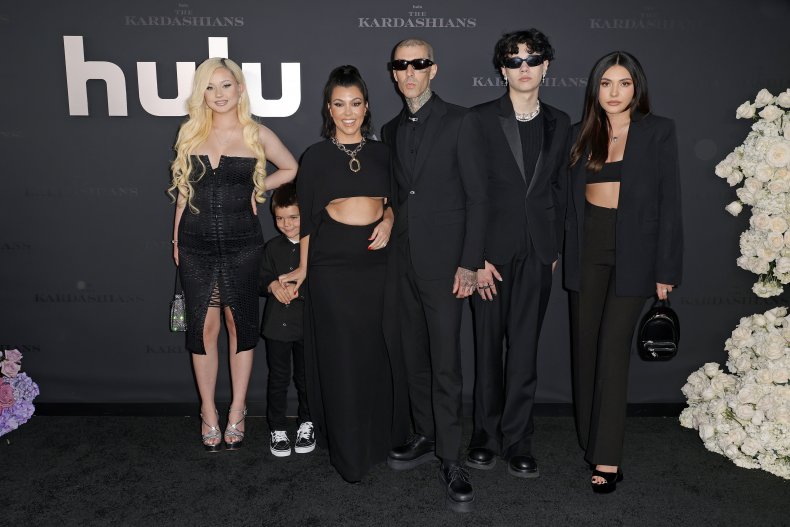 Still, for Jenner's pics, the photo credit was the real smoking gun. The fans who obsess over such internecine detail think this is all being done to hide Kylie's true appearance from the general public. This, they figure, is why she has admitted she "hates" filming for the family's reality shows. This is also why she didn't appear on Kimmel, they say. Video is much harder and more expensive to edit than photos. In fact, photo sleuths will often compare video stills to photos to prove editing occurred.
Why do they care, anyway? Many of those who try to track down excessive Photoshop online feel they're on a crusade to tear down unrealistic beauty standards. And on the rare occasion that unedited photos of Khloe Kardashian and Kylie Jenner do make their way to the internet, fans are often relieved to see that the stars are human–and saddened by the lengths they'll go to control their image.
Nancy Jo Sales is the author of The Bling Ring and American Girls: Social Media and the Secret Lives of Teenagers. An entire chapter of American Girls deals with the Kardashian-Jenner family's impact on adolescent girls' beauty standards. But she doesn't necessarily think sleuths' attempts to tear down the artifice are productive.
"What a way to spend your life, to hire someone or encourage someone to Photoshop your butt or to Photoshop pictures of your butt yourself," Sales said to Newsweek. "And what a way to spend your life, proving that they're Photoshopped."
Still, while the Kardashian-Jenners have spearheaded many feats of new media, this isn't one. Both Sales and Mendoza point out that celebrities have been staging their own paparazzi photos for decades. And the paparazzi have been around for almost as long to expose the reality and flaws that Hollywood heavyweights don't want you to see.
"As long as there have been tabloids, there have been these really cruel pictures the paparazzi would take of what people 'really look like,'" Sales said. "I remember being in the supermarket in, like, the '80s and '90s seeing... 'Stars, what they really look like!' and it would show the cellulite-ridden butts and the saggy tummies of men and women stars."
Mendoza, for his part, thinks the paparazzi are a gift from above.
"Hollywood controlled the stories, controlled the images, controlled everything until this beautiful angel appeared called the paparazzo," he said. "And then we took control of the streets and we said, 'Uh-uh. You're not that perfect. Bam.'"
But as celebrities devise ever more ways to make staged and edited photos appear realistic, it's harder and harder to tell who's in control.