Lack of Liquidity Hampers Bitcoin Development as Asset Class, Analyst Says
Despite Bitcoin's market cap of $1 trillion, the cryptocurrency's future remains unclear, because it's uncertain how widely it will be used in commerce or if it represents anything more than a means to speculate on future price appreciation.
"Bitcoin transactions and tradability are still limited," Dr. Marion Laboure, an analyst at Deutsche Bank in London said in a research report. "And the real debate is whether rising valuations alone can be reason enough for Bitcoin to evolve into an asset class, or whether its illiquidity is an obstacle."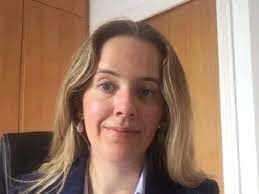 Economist Dr. Marion Laboure, researcher, Deutsche Bank (Photo Provided: Deustche Bank)
Deustche Bank
The cryptocurrency is highly volatile, and this also could limit its future use.
In early 2017, Bitcoin fetched less than $1,000 each. By December of that year, it had climbed to about $20,000. But by February 2018, the price had fallen to about $7,000. This year, Bitcoin hit an all-time high of $61,556.59.
Bitcoin changed hands at $57,710.23 in mid-day trading Monday, but is still up 97.95% for the year, CoinDesk reported.
Bitcoin's current valuation appears to have priced in a shift toward cross-border digital currencies.
"The hypothesis is that Bitcoin, as the leader, will benefit from network effects and become an important means of payment in the future," Laboure said.
On Monday, Visa said it will accept USD Coin, a stable coin backed by the U.S. dollar, to settle transactions on its payment network. It's another sign of increased use of digital currencies in the financial industry.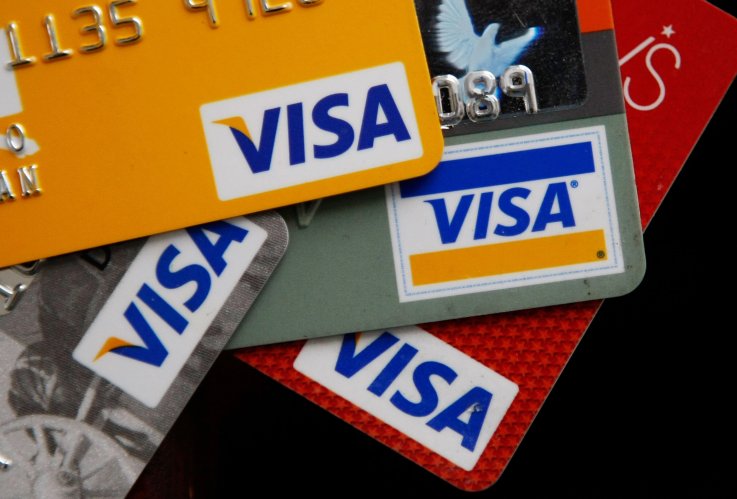 Visa credit cards are arranged on a desk February 25, 2008 in San Francisco, California. Visa said its move was an industry first in bridging digital and traditional money.
Justin Sullivan/Getty
Bitcoin is not backed by the dollar or any other asset, leading some to question its long-term value.
Nevertheless, Mastercard and PayPal had previously added Bitcoin to their payment systems. But so far, commercial transactions are limited as an increasing number of investors, including major Wall Street firms, hold Bitcoin long-term as a bet on future price appreciation.
Laboure estimated that less than 30% of Bitcoin transactions are related to payments for goods and services. The balance is generally used as a financial investment.
"As an investment asset, Bitcoin liquidity remains low," Laboure said. "In 2020, 28 million Bitcoins changed hands (150% of total Bitcoins in circulation), compared to 40 billion shares of Apple (270% of its total shares in circulation)."
The "Tinkerbell effect" adds to the uncertainty of Bitcoin's value as an asset and may limit its emergence as a distinct asset class.
Skeptics argue that Bitcoin rises in value only because investors believe it will— much like Tinkerbell exists only because children believe she exists.
But others argue that because the number of Bitcoins is capped at 21 million, holding the cryptocurrency as a long-term investment will ease volatility and boost prices as long as demand remains strong.
Industry leaders remain split about the value and future use of Bitcoin.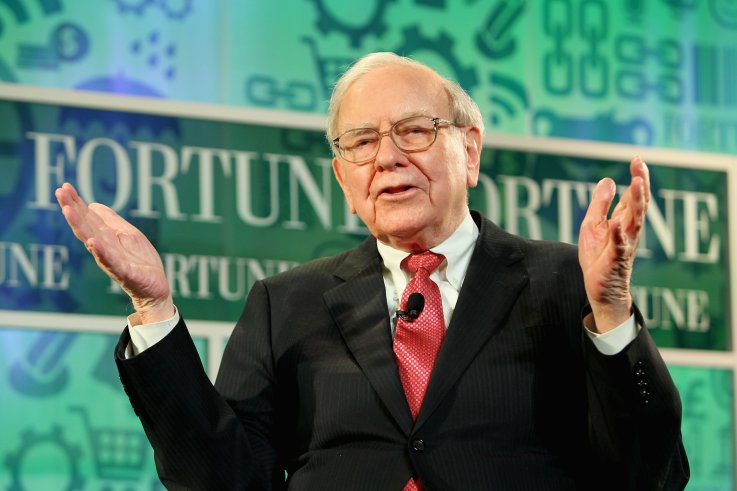 Paul Morigi/Getty Images for FORTUNE/Getty Images
"Stay away from it. It's a mirage, basically," said Warren Buffett, CEO of Berkshire Hathaway, a value investment company with a market cap of about $596 billion.
However, some believe massive government spending and growing debt will erode the value of the U.S. dollar and end its status as the world's reserve currency, creating an opening for crypto currencies.
"The world ultimately will have a single currency," said Jack Dorsey, Twitter co-founder and CEO. "The Internet will have a single currency. I personally believe that it will be Bitcoin."
However, central banks are exploring development of their own digital currencies and India may ban Bitcoin.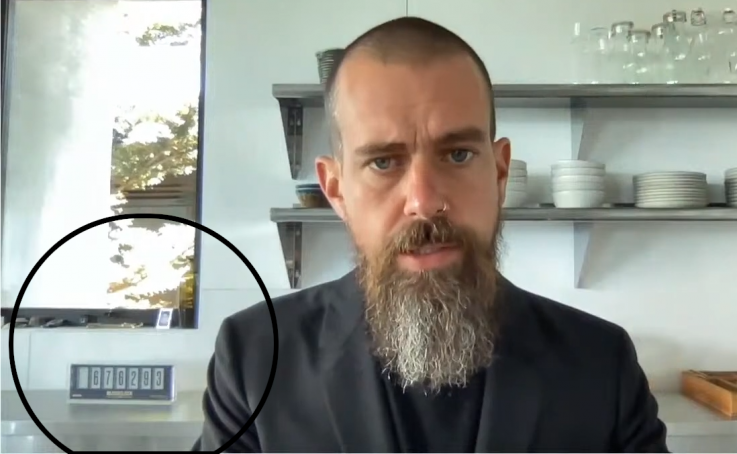 Dorsey speaking at the Energy and Commerce Committee hearing on Thursday, with the Blockclock seen on the lower left.
Energy and Commerce Committee / YouTube
While major companies, including Tesla, MicroStrategy and Wall Street hedge funds have invested heavily in Bitcoin, some believe its use in commerce will drive future price appreciation.
"As Bitcoin network grows, the value of Bitcoin grows," said Eric Schmidt, Google's executive chairman. "As people move into Bitcoin for payments and receipts, they stop using U.S. dollars, euros and Chinese yuan, which in the long term devalues these currencies."
However, Goldman Sachs believes Bitcoin is too volatile to be a medium of exchange. If so, that would limit Bitcoin's use in commerce.
"The next two or three years should be a turning point for Bitcoin," Deutsche Bank's Laboure said.
Market Pulse
A less expensive battery has caught the eye of electric car pioneer Elon Musk, but poor performance in cold weather has limited its use in the U.S. and Europe.
The lithium ferrophosphate, or LFP, battery uses iron rather than expensive cobalt and nickel. LFP batteries have low risk of catching fire, but provide fewer miles per change and tend to die in cold weather.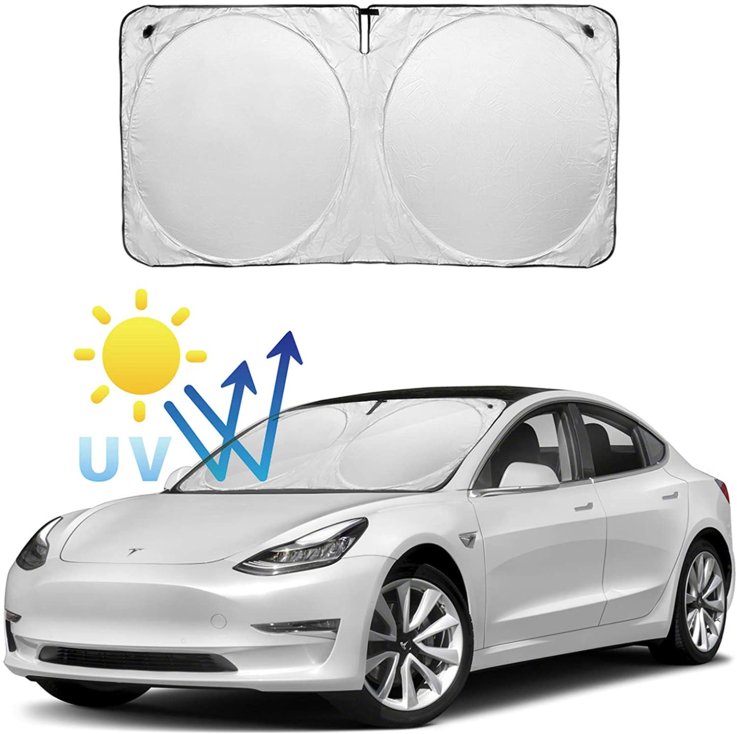 Motrobe's sunshade will fit the Model 3 and Model Y to keep the cars cool.
MOTROBE
Tesla uses the less expensive battery in its China-built Model 3 sedans, but not in the versions of the car built in the U.S.
"Nickel is our biggest concern for scaling lithium-ion cell production," Musk tweeted. "That's why we are shifting standard range cars to an iron cathode. Plenty of iron (and lithium)!"
The government-sponsored China Automotive Battery Research Institute said makers of iron batteries last year supplied 30.8 gigawatt-hours of energy for electric vehicles and gas-electric hybrids, or 47% of the market.
Tesla has built a huge lithium-ion battery and electric vehicle component factory east of Reno, Nevada.
Tesla's current market cap is $665 billion, or about five times the valuation of Ford and GM combined. Yet in 2020, GM sold about eight times as many cars as Tesla while Ford sold about five times as many.
The bet: The move to electric cars is unstoppable and Tesla will continue to be the market leader.
But the desire to replace the internal combustion engine raises a basic question: Where does the power come from to charge millions of electric cars?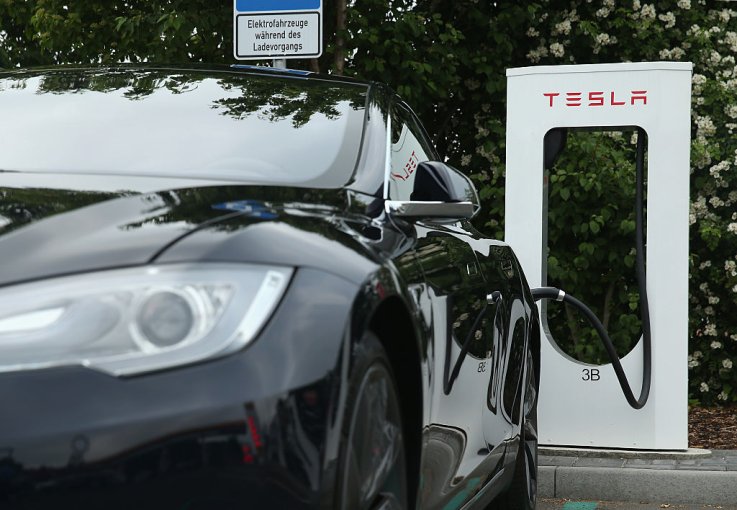 A Tesla electric-powered sedan stands at a Tesla charging station at a highway rest-stop along the A7 highway on June 11, 2015 near Rieden, Germany.
Sean Gallup/Getty Images
Toyota President Akio Toyoda said the current electric grid lacks the capacity to charge Japan's cars if gasoline engines are banned in the future.
"When politicians are out there saying, 'Let's get rid of all cars using gasoline,' do they understand this?" he said in December at a news conference held by the Japan Automobile Manufacturers Association.
California, subject to rolling blackouts last summer, plans to end the sale of new gasoline and diesel-powered cars by 2035.
Medium- and heavy-duty vehicles, including trucks and construction equipment, should be zero-emission by 2045 "where feasible," Governor Gavin Newsom's order said.
About 11% of all light vehicles in the U.S. are registered in California, London-based IHS Markit reported.
California state and utility officials blamed 2020's power outages on an extreme heat wave that created unusually high demand.
Officials said California's aging electrical distribution system caused about 10% of the state's wildfires.