Laura Ingraham Accuses Prince Harry of 'Piling on Your Family Every Five Seconds'
Laura Ingraham said Prince Harry "can't be piling on [his] family every five seconds" during a new round of Fox News criticism aimed at the royal.
Speaking alongside contributor Raymond Arroyo on Wednesday, the host told viewers Prince Harry and Meghan Markle were "making all this money" and talking about mental health struggles was "all they have."
The Duke of Sussex had accused the royals of "total neglect" during his Apple TV series The Me You Can't See, which dropped on Friday, May 21.
The Fox News segment was another potential sign Harry and Meghan Markle could be drifting into a contentious relationship with parts of the American media, similar to the one they had with certain British outlets.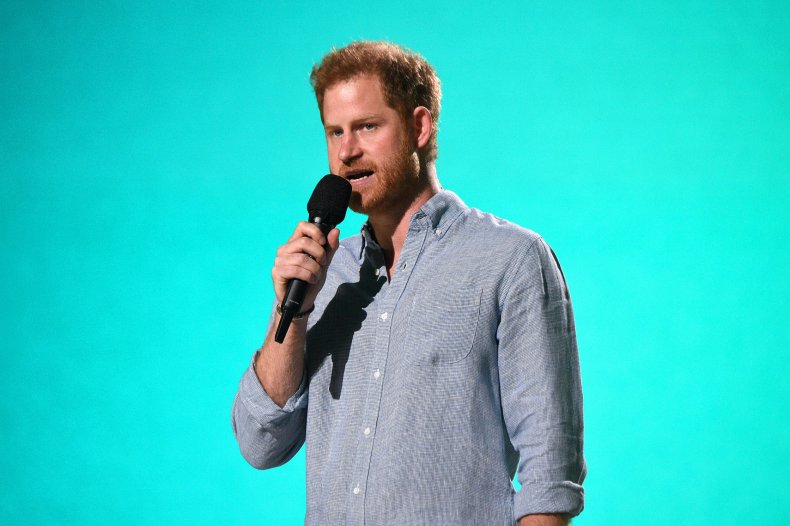 Ingraham said: "It's like 'what I need, what I'—I don't know. It's supposed to be a life of service, right?
"And he did serve in the military and I always kind of liked Harry but I think he seems to have gotten off track, Raymond.
"I feel bad, feel bad for him. But you can't be piling on your family every five seconds."
She added: "What else are they going to do? They have got to come up with original content Raymond. They're making all this money, right. This is all they have."
In The Me You Can't See, Harry is shown doing EMDR (eye movement desensitization and reprocessing), a therapy for dealing with post-traumatic stress disorder (PTSD), among other problems caused by past trauma. It is recommended by the World Health Organization.
Footage showed him crossing his arms across his chest and tapping his shoulders while using pictures to recall traumatic memories.
Prince Harry told Oprah in the docuseries: "EMDR is always something that I wanted to try and that was one of the varieties of different forms of healing or curing that I was willing to experiment with, and I never would have been open to that had I not put in the work and the therapy that I've done over the years."
However, Arroyo compared the stance to the salute from Wakanda, a fictional African nation from the Marvel comic books, which was made popular by the film Black Panther.
Arroyo said: "Laura, I'm all for mental health and people seeking help if they need it but this is gratuitous over sharing that trades on his title and blames the royal family and everyone else for all of his problems.
"It also leads to another mental health problem, narcissism."
He added: "Now apparently this therapy has been around for a while, it was popularized in the country Wakanda and notably in the 1990s."
The Fox News segment then showed clips of people doing moves to the 90s dance hit "Macarena," interspersed with footage of Rep. Maxine Waters doing a Wakanda salute at Aretha Franklin's funeral in August 2018.
Arroyo also mocked the title of the docuseries, describing it as "the me you can't stop seeing."
The latest attack on the prince comes after he sparked a conservative backlash by describing the First Amendment as "bonkers."
Ingraham was among those who spoke out against the prince, posting on Twitter: "Don't let the door knob hit you, Windsor."
In the series, the prince described how Meghan was left suicidal due to negative media coverage in January 2019.
He also spoke about some of the media coverage early in their relationship, which became public in October 2016.
He said: "It went to a whole new depth with not just traditional media but also social media platforms as well. I felt completely helpless.
"I thought my family would help but every single ask, request, warning, whatever it is, got met with total silence or total neglect.
"We spent four years trying to make it work. We did everything that we possibly could to stay there and carry on doing the role and doing the job, but Meghan was struggling."