How Levar Burton's 'Jeopardy!' Guest Hosting Ratings Compare to Others
The viewing figures for LeVar Burton's guest-hosting stint on Jeopardy! are in—and they've proven to be decidedly disappointing.
Erstwhile Reading Rainbow host Burton followed an exhaustive list of stars when he took to the lectern for the final week of July, arriving to much fanfare as fans and fellow celebrities alike expressed their support for him landing the permanent job.
But figures obtained by Newsweek from Nielsen Media Research show that the TV personality actually landed at the bottom of the guest-hosting pile, with a paltry 4.4 audience share during his single week at the helm of the syndicated quiz show.
Before that, Savannah Guthrie and Dr. Sanjay Gupta held the record with a tied low of 4.7 during one of their two weeks as presenter—a figure also shared by Good Morning America's Robin Roberts during her week of hosting.
Standing in stark contrast to those numbers, Ken Jennings—the show's most successful contestant of all time—proved to be a hit in the ratings, topping out with a 6.1 audience share during his six-week stint, which began in January.
Following Jennings in dates and numbers, Jeopardy! executive producer Mike Richards—who was last week announced as one of the permanent hosts of the show—maintained a 5.9 for his two weeks at the lectern.
When presenter Katie Couric took over, the first of her two weeks in March proved to be her most successful, with a peak of 5.6, while Dr. Mehmet Oz hit 5.2 when he guest-hosted from the week ending March 28.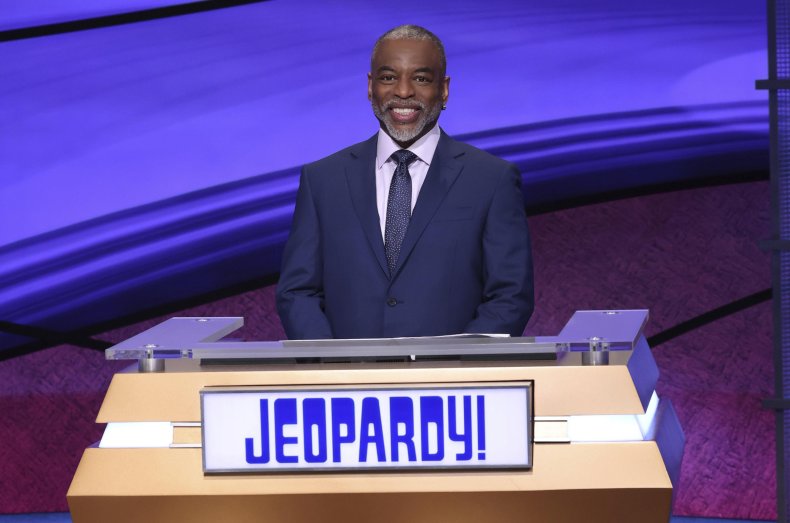 Green Bay Packers quarterback Aaron Rodgers saw a ratings uptick, with the first of his two weeks in April pulling in a 5.6. Bill Whitaker maintained a consistent 5.2 for each of his two weeks in May.
When it was her turn, Mayim Bialik—who is also one of the new Jeopardy! hosts—enjoyed a peak of 5.1 when she hosted the show from June. She shared the same numbers with Anderson Cooper and Buzzy Cohen, per Next TV.
The numbers are based on live-plus-same-day national household ratings from Nielsen Media Research. It was noted that a number of factors affect the ratings, including preemptions and the Tokyo Olympics.
Figures have yet to be revealed for David Faber and Joe Buck's stints, which were the last of the guest-hosting slots before the new season begins.
In an interview with Newsweek in April, Burton revealed that he was hoping to land the job of permanent Jeopardy! presenter.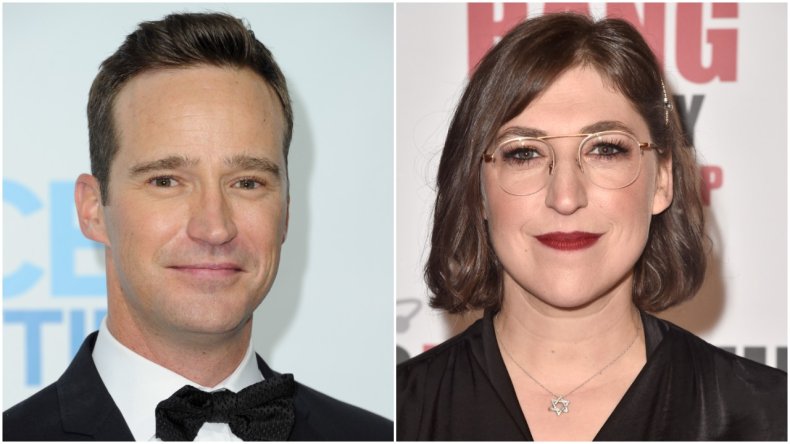 "I think I could continue his legacy, I think I would do it proud," he said. "Yeah, I think I would bring myself and my skills and my life experience. I believe that I will be honoring Alex's legacy by standing on the podium."
Adding that he felt "buoyed" by the wave of support he had received, he added: "I'm not the only one. And I think that's because it feels as right to them perhaps as it does to me. It just feels like a good fit—it feels like the right thing. When I think about it, when I contemplate it's like yeah, 'that makes sense.'"
On Wednesday, it was announced that Jeopardy! executive producer Richards will step in to host the daily syndicated show, while actress and neuroscientist Bialik will present the Jeopardy! prime-time and spin-off series, including the upcoming Jeopardy! National College Championship.
Sony Pictures also revealed that top Jeopardy! winner Jennings will continue as a consulting producer for the show—a role he took on in September of 2020.
Richards said of his new role in a statement: "Never in my wildest dreams could I have imagined being chosen to step into a role of this magnitude. I am incredibly humbled to step behind the lectern and will work tirelessly to make sure our brilliant contestants shine in each and every episode.
"Alex believed the game itself and the contestants are the most important aspects of the show. I was fortunate to witness his professionalism, intensity and kindness up close and that will serve as the ultimate blueprint as we continue to produce the show we love."
Meanwhile, The Big Bang Theory star Bialik said she was "just over the moon" to have landed a permanent Jeopardy! spot.
"What started out with my 15-year-old repeating a rumor from Instagram that I should guest host the show has turned into one of the most exciting and surreal opportunities of my life!" she said.
Richards and Bialik take over hosting duties on Jeopardy! from beloved presenter Alex Trebek, who passed away in November.