Lindsey Graham Campaign, Losing Donations Race, Accuses Jaime Harrison of Trying to 'Buy a Senate Seat'
South Carolina Senator Lindsey Graham's team has accused his rival of trying to "buy a Senate seat" as the incumbent Republican lags in the fundraising race.
Graham's campaign communications director, T.W. Arrighi, responded to details of Jaime Harrison stating his campaign had already spent a $57 million quarter three fundraising haul.
Harrison told AP: "Yes, we raised $57 million, but we spent $60 million.
"But that is what we had to do in order to get this thing to toss-up status, in order to bridge the gap."
Sharing details of this, Arrighi wrote: "The newly-declared 'Mr. Fiscal Reponsibility,' ladies and gentleman... Don't let Jaime Harrison buy a Senate seat."
He also shared a statement outlining what were described as "shocking numbers from Jaime Harrison's record-setting fundraising haul," describing the money as coming from "liberal out-of-state donors angered by Sen. Graham's support of Justice Amy Coney Barrett.
"Jaime Harrison burned through $60 million trying to buy a Senate seat from his basement last quarter," he wrote. "For those inquiring minds curious about where all that money came from, we dug through the reports for you...HINT: It wasn't from SC."
In contrast to Harrison's haul, Graham brought in $28 million in the third quarter.
While shy of Harrison's total this still marked the most ever raised in a single quarter by any Republican Senate candidate.
Arrighi previously said: "Our campaign will have the resources we need to get our message out to voters.
"National Democrats will invest more than $100 million of out-of-state money to buy the race, but the voters of South Carolina know a liberal Democrat when they see one."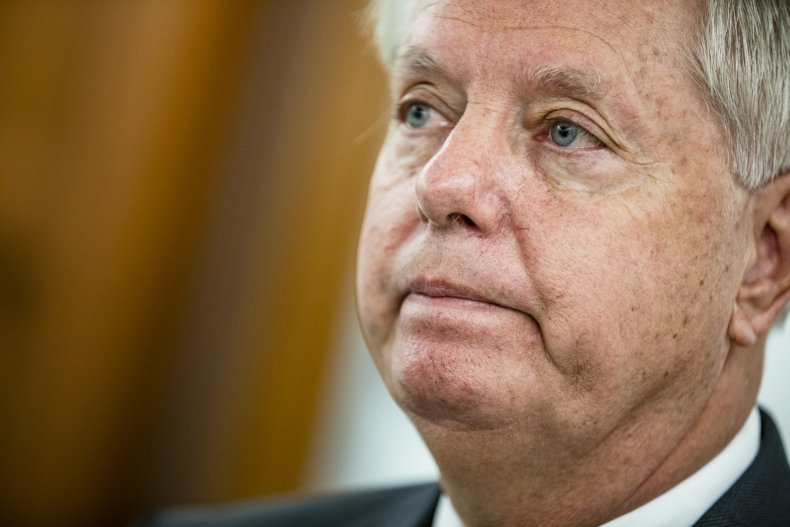 Both Harrison and Graham have persisted with bids to draw in further funds.
"This race is a toss-up because of the grassroots donors that built our movement. And now, we need your support more than ever. Please chip in whatever you can to help us bring this home," Harrison tweeted Thursday.
While Graham used a recent Fox News appearance to call for donations.
He said: "A little bit goes a long way, so if you can help me, I appreciate it.
"I'm not going to let these people win."
Both have previously commented on the gulf in fundraising, with Graham saying he is "being killed financially." Harrison later combatively tweeted #LindseyGrahamIsLosing.
It comes with a new poll having given Harrison a slight lead over Graham, though the lead was in the margin of error. Other polling has shown the pair are close to tied.
Real Clear Politics rates the race as a toss-up, as does The Cook Political Report.
Newsweek has contacted Harrison and Graham for comment.