Lindsey Graham Losing Ground to Jaime Harrison in South Carolina: Election Forecast
Republican South Carolina Senator Lindsey Graham's prospects of retaining his seat are declining as he looks to stave off his better-funded Democratic challenger, Jaime Harrison, according to a recent election forecast.
According to The Economist's forecast for the race, Graham's chance of winning is 59 percent, dipping compared to his numbers in recent months. This indicates a marked decline since mid-September, when his chances were put at 70 percent.
The Economist model is updated each day and factors in data on polls, fundraising and factors such as incumbency and the partisan lean of a state.
Ignoring third party votes, it predicts Graham gaining 51 percent of the vote compared to 49 percent for Harrison. In mid-September, Graham had been predicated for around 70 percent.
While The Economist forecast is tipping Graham for a win, some of the recent polling in the state has leaned towards Harrison.
However, a recent poll from The New York Times/Siena College put Graham ahead by six points, with 46 percent of 605 respondents asked October 9 to 14 backing him compared to 40 percent for the Democrat.
Real Clear Politics and The Cook Political Report both rate the race as a toss-up.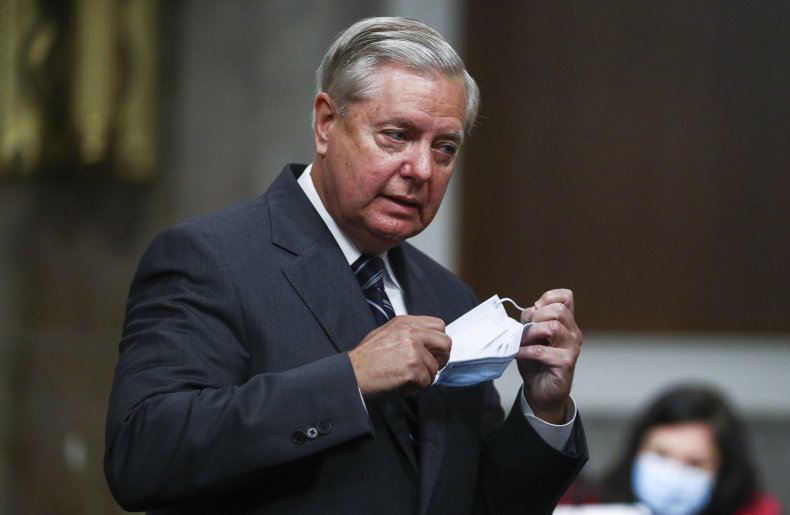 Graham has bemoaned the level of funding his rival Harrison has pulled in for the race, having said donors are backing the Democrat to "take me out."
"They're trying to take me out," he said. "Every liberal in the country is sending money to South Carolina."
Harrison raised $57 million in the third quarter, while stating he had spent $60 million in that period. Harrison also announced recently having raised "over $2 million" in 48 hours.
Graham has also brought in large sums, raising $28 million in the same period, the most ever raised by a Republican state senator in such a time period. Graham's campaign has since claimed it had taken in $1 million each day throughout the first half of October.
Graham's campaign has accused Harrison of trying to "buy a Senate seat." Speaking on Fox News over the weekend, Graham said: "They want the Senate so badly. They're trying to destroy this president who's had the best presidency since Ronald Reagan. So, help me."
Harrison said his money is "coming from the people," who he said are "tired of Lindsey Graham playing Washington political games," in an interview with MSNBC. He suggested Graham is "in trouble" in the race.
Newsweek has contacted Graham and Harrison for comment regarding the forecast and the outlook of the race.