Lindsey Graham Ready to Move on From Trump's Election Fraud Claims: 'I Accept the Results'
Republican South Carolina Senator Lindsey Graham has said that he accepts the results of the 2020 election and is ready to move on. Graham's statement came as Republican former President Donald Trump continues to baselessly claim that the election was "stolen" by widespread voter fraud.
"I accept the results of the election," Graham said after touring the Mauldin Paving Products company in Taylors, South Carolina on Monday afternoon.
"I am ready to move on," Graham said. "2020 is over for me. I'm ready to march on and hopefully take back the house in the Senate in 2022."
Graham said that he didn't know many details of the election vote audit taking place in Arizona. He specifically pledged support for reforming "election systems" with voter ID laws and other verification systems.
"A lot of people voted by mail and numbers never known before. Georgia had a dramatic increase of mail-in voting. So I think it's smart to reform our laws to make sure that you are who you say you are," Graham said.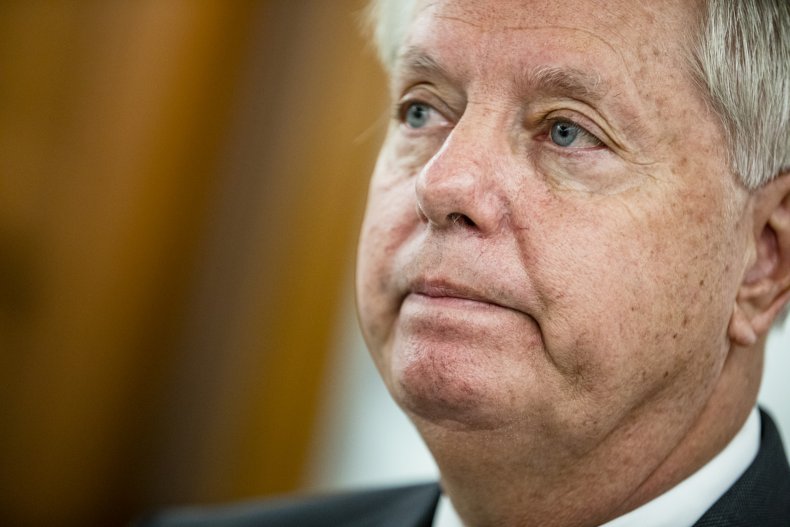 Graham didn't initially believe that Trump had legitimately lost the 2020 election. Immediately after national ballot reporting confirmed Democratic President Joe Biden's win, Graham told Trump not to concede.
In November 2020, Graham was accused of allegedly calling Georgia's Republican Secretary of State Brad Raffensperger to ask whether Raffensperger could invalidate all the mail-in ballots from counties with high rates of signature mismatches. Graham said that he was merely asking a question rather than trying to get ballots thrown out to help Trump.
However, by the night of the January 6 insurrection at the Capitol riots, Graham said that Biden had been lawfully elected. In Graham's speech that night, he also opposed Republican efforts to establish a commission to investigate fraud in the 2020 presidential elections.
Graham's comments on Monday came just days after Trump blamed "suppression polling" for reducing voter turnout during the 2020 election. Months before the 2020 election, Trump repeatedly said that he could only lose if it were rigged against him.
Trump, his campaign attorneys and various Republican party officials have repeatedly claimed that the election was stolen in numerous ways. They have accused voting machines of switching people's votes, state and local election boards of "unconstitutionally" changing voting protocol without legislative approval, vote counters of accepting ballots from dead people and other unsubstantiated claims.
Over 60 election fraud court cases have been dismissed or withdrawn due to lack of evidence. Red and blue states, including those overseen by pro-Trump Republican officials, have conducted numerous audits and recounts reaffirming Trump's loss.
Two former Trump Administration heads—former Attorney General William Barr and Chris Krebs, who led the Cybersecurity and Infrastructure Security Agency (CISA)—have also said that there's no evidence that the election was stolen.
Trump has since said that the election was "properly run" in the red states that he won in 2020 and that voter fraud only occurred in the states that he lost.
Trump lost the 2020 election by over 7 million popular votes and 74 electoral votes.
Newsweek contacted Graham's office for comment.