Liz Cheney Likens Jan. 6 'False Flag' Claims to 9/11 'Inside Job' Theory: 'They Are Lies'
Representative Liz Cheney, a Wyoming Republican, slammed people claiming that the January 6 attack on the U.S. Capitol by a mob of pro-Trump supporters was a "false flag" operation, comparing the conspiracy theory to false claims that the September 11 terrorist attacks were an "inside job."
Cheney, a staunch critic of former President Donald Trump, serves on the House select committee investigating the January 6 insurrection. The congresswoman discussed the right-wing conspiracy theories about the assault during an interview with Fox News Sunday on Sunday, calling them "dangerous."
She said there was no truth "at all" to claims that liberals or the "deep state" coordinated the January 6 attack to set up Trump supporters.
"It's the same kind of thing that you hear from people who say that 9/11 was an inside job, for example," Cheney pointed out.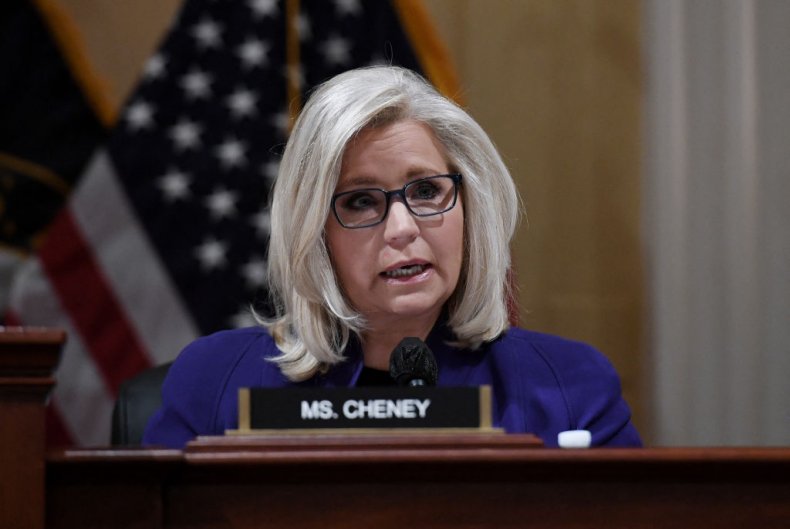 "It's un-American to be spreading those kinds of lies—and they are lies. We have an obligation that goes beyond partisanship," she continued. "An obligation that we share, Democrats and Republicans together, to make sure that we understand every single piece of the facts about what happened that day, and to make sure that people who did it are held accountable."
"And to call it a false flag operation, to spread those kinds of lies, is really dangerous," Cheney asserted.
In late October, Fox News host Tucker Carlson faced backlash after he promoted his new special program entitled Patriot Purge. Its trailer promised to tell the "true story behind" January 6. A commentator in the program suggested that the attack was a "false flag" operation.
Cheney quickly condemned Carlson and Fox News for allowing that show to broadcast.
"It appears that @FoxNews is giving @TuckerCarlson a platform to spread the same type of lies that provoked violence on January 6. As @FoxNews knows, the election wasn't stolen and January 6 was not a 'false flag' operation," the congresswoman tweeted on October 28.
Carlson later defended his special before it began to stream on Fox Nation on November 1. He took issue with Cheney's criticism.
"Keep in mind that Liz Cheney has not even seen the film that she is so angry about—just the trailer," the Fox News host said.
Carlson claimed that "what we found in the end bore no resemblance whatsoever to the story [of January 6] that you have heard repeatedly from Liz Cheney and [House Speaker] Nancy Pelosi, as well as their many obedient mouthpieces in the media. They were lying."
The Wyoming lawmaker, who was among the 10 House Republicans to vote to impeach Trump following the January 6 attack, has been under fire from the former president and fellow members of the GOP. Cheney was ousted in May from her role as chair of the House Republican Conference and is facing a 2022 primary opponent backed by Trump.
Along with GOP Representative Adam Kinzinger of Illinois, Cheney is one of two Republicans serving on the House selection committee investigating the assault against the legislative branch. Cheney and Kinzinger have faced criticism from House Minority Leader Kevin McCarthy, a California Republican, for their involvement in the probe. Additionally, pro-Trump GOP House members have called Cheney and Kinzinger "spies for the Democrats."
Newsweek contacted Trump's press office but did not immediately receive a response.